Published on:
09:47AM Sep 13, 2019

Now admittedly, the pump had been primed just a bit with stories of possible Chinese soybean business (sale of 204,000MT reported this morning), and concerns of dry weather in Brazil added in for good measure.  With this, the soybean trade had accelerated upward well ahead of the release of the USDA number, but I do not think that had prepared the bears for the reaction that was to come post report.  Do keep in mind that there was nothing overtly bearish in the numbers, albeit, for the most part, they came in above trade estimates, but by no means were they positive but nevertheless, at the end of the day, quite literally, we were rewarded with a positive reaction.  November soybeans posted the highest close since the 30th of July and are set to register the largest weekly gain in three months; up 39-cents as of this moment.  Both corn and wheat recorded outside higher reversal sessions, and currently for the week are up 14-cents and 26-cents respectively.  And while I do not want to get too far ahead of myself for fear of creating a jinx, but if December corn can close today above 3.70, we will have posted and outside higher weekly reversal.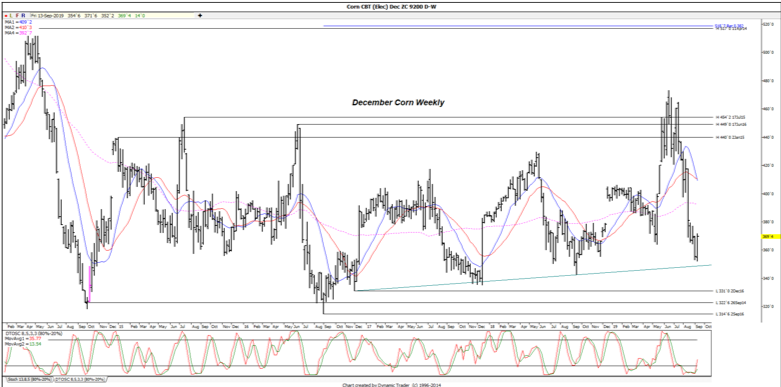 While one week does not a reversal make, what makes the action here particularly interesting is that we have rallied, on realistically what was negative news and just ahead of what will be the largest inventory for the next twelve months.  I would suggest that was a case of the market informing us that we have pressed far enough, long enough, and the day of bear has now past. 
Of course, you might ask, what is there to provide stimulus in the other direction.  While indeed the first two things I mention this morning, China and Brazilian weather, could develop as positive influences but do keep in mind that we very well may have already witnessed the largest production and supply numbers the USDA will print this year.  Probably the most disappointing element in the report for the bears was the fact that average yields were adjusted lower than expected; 1.3 bpa in corn and .6 bpa in beans and for those who live and die by the weekly beauty contest referred to as crop conditions, that was not something they wanted to hear.  Not only does that leave to door open for additional reductions in October, keep in mind that acreage will be revisited again in next month's report, with the chance of reductions once again.
I had mentioned previously this week that with the next U.S./Chinese trade discussions tentatively scheduled for early October in Washington D.C., there has been some conciliatory movement from both sides.  Already, we had heard stories of Chinese interest in beans, now confirmed as sales, and President Trump pushed back the proposed tariff increases a couple of weeks.  It was now China's turn and this morning; they announced that some U.S. ag products, including soybeans and pork, would be exempt from tariffs.  As we painfully are aware, all of this goodwill could be scuttled at the 11th hour, but things are sounding a bit more encouraging than they have for some time.  I guess a global economy that is showing more and more signs of ill effects from this war could be providing some incentive. 
While all of the above appears to have painted a brighter picture for the future, the is one last bug-a-boo that could enhance or detract from the outlook; The U.S. Dollar.  As most are aware, the dollar has consistently been climbing since early 2018, and the global uncertainty appears to have brought in additional buyers that are in search of a safe haven (that is at least those who do not want to hold gold, which has already rallied 24% this year). Considering that the European Central Bank cut rates this week, one might have expected the dollar to charge even further to the upside, but as it turns out, the opposite is happening.  This is not to say we are witnessing the type of reversal that has occurred in corn or beans, but we have turned lower on what should have been positive news.  I continue to believe; when the dollar does finally turn lower, it will be that final piece in the puzzle that will complete the reign of the bear and allow commodities to flourish once again.