Published on:
09:27AM Jul 22, 2019

Now that the high-pressure system and accompanying extreme heat has been swept out to the east coast and beyond, it would appear so has any potential buying that may have surfaced in the grain/soy trade this week.  At this point, corn is taking the brunt of the selling pressure, and it is still early, but even in this market, all we have done is to retrace the steps we climbed last Friday.  I am not going to suggest that we could not extend lower from here, but as I pointed out last week, we remain within the trading zones that have been established post-Memorial Day and will likely continue to do so until we have a greater understanding of acreage and yield potential.  I traveled a few hundred miles into Wisconsin over the weekend, and if using the number of fields planted and the overall "green" health of crops as the gauge, I would conclude that South Wisconsin looks better than Northern Illinois.  That said, we/they are going to need all the growing degree units we can get to bring crops to maturity before the fall.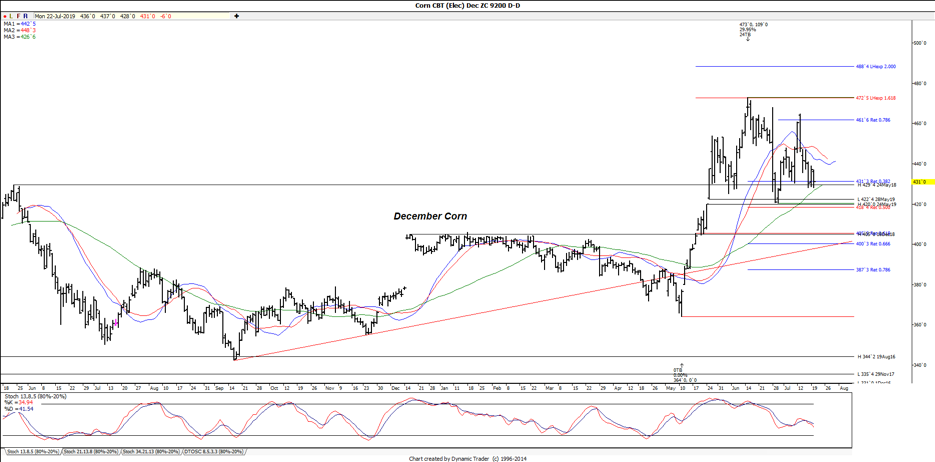 Over the weekend, the official Chinese news agency, Xinhua, reported that a number of Chinese companies are making inquiries about purchasing U.S. ag products. We already witnessed one of the largest purchases of sorghum in months last week, and obviously, others are laying the groundwork of new business when/if the situation improves.  I am not sure I want to read too deeply between the lines here and suggest that someone has inside knowledge of an upcoming breakthrough in negotiations, but no doubt, there are people on both sides that are looking forward putting this trade war behind us.  
There are more than a few people in South America who would like to see the U.S./Chinese relations to stay frosty, but they may be facing other challenges on their own.  It turns out that the protein levels in Brazilian bean slipped last year from 37.14% to 36.83% and may not meet the requirements of Chinese buyers.   While this very well could be the case but I suspect, such an issue would probably be more of a negotiating tool for a discount in price than a reason to take the business elsewhere.  After all, the average protein level for U.S. beans from 2018 was running around 34.2%. 
Condition reports will be updated this afternoon, and one would suspect that we should see an improvement once again.  Outside of that, macros are a mixed influence as energies and metals are higher but so are equities and the dollar.  For now, it would appear that we have more choppy, but overall directionless trade in store for the days ahead.