Published on:
13:19PM Aug 22, 2014
Machinery Pete has become the authority when it comes to auction values on farm equipment.  While his Classic Tractor Price Guide quotes true auction prices from the last four years, there are some that might argue that they would never sell their tractor for that price. 
There are several reasons for owning a classic muscle tractor today. Some are looking for horsepower in a tractor that they can actually work on themselves. For others it may be a tie to the good old days when they began farming.  But for some, it's not just a tractor - it's a member of the family.
Rubbing elbows with today's collector, I've seen many men and women look for a particular serial numbered tractor. Why? Because Grandpa bought it new and even though it was sold 35 years ago, they still have the original operator's manual that has the serial number written in it. 
I have witnessed grown men well up with tears when they laid eyes on their old tractor after a long absence. I have seen grandchildren help their elderly grandfather up onto the seat where he spent so many hours just to see his weary eyes light up and his hand reach out to the familiar throttle lever. 
Countless times I have received wedding pictures or family pictures that include the biggest member of the family - their tractor.  These are people who will let a new truck sit outside in a blizzard so the tractor can be inside. They are people who have a picture of their tractor as a screensaver or have it embroidered on their jacket.    They will sit at a show in a lawn chair with a photo album to show "the day the tractor came home to the farm."  Their wallet holds pictures of their children or grandchildren and the tractor.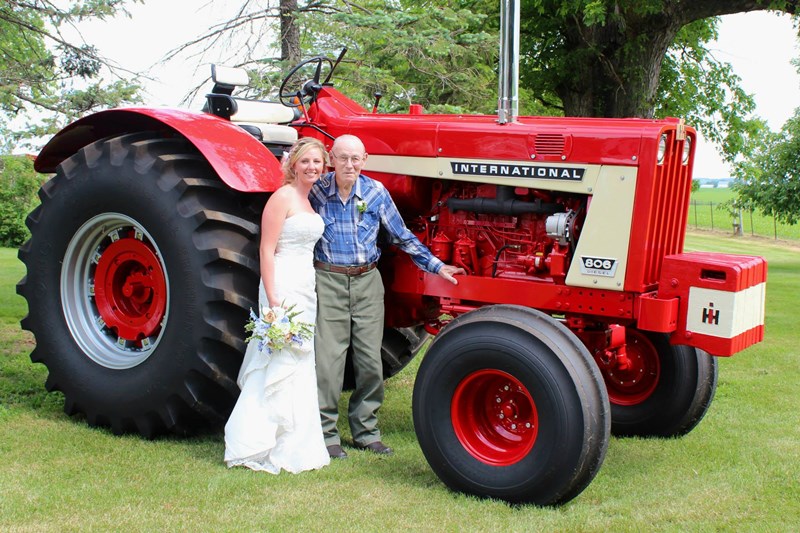 It is people like that who make the hobby of tractor collecting such an honor to be part of.