Published on:
10:34AM Jun 03, 2011
By Sherry Schaefer, editor Heritage Iron magazine 
In the early 1960s, every manufacturer was reaching for the 100 HP mark.
Minneapolis-Moline had the G900 on the drawing board but decided to shoot for an even larger machine. This new model would come closer to a 110 PTO HP and be tagged the G1000.
 
The marketing department at MM wanted to be able to sell a tractor that would pull and 8-bottom plow. Using the calculation that it took eight horsepower per bottom, it was going to require 104 drawbar HP. The G1000 was just what marketing wanted to keeps sales up with the large acreage farmers. 
 
This new model used the 504 CID engine that had previously been used in the G705.  To boost the horsepower, the RPMs were increased to 1800.  Other modifications were made to give the engine longevity and better performance.
 
The G1000, which came out in 1965, was designed to be a row crop tractor.
Therefore, the frame had to remain narrow, which worked well for mounted equipment. 
 
This model was tested at Nebraska with both the LP and diesel engine.  A gasoline engine was offered but it never made it to Nebraska.
 
In 1967, MM brought out their Cadillac version of the G1000 known as the Vista.  Several changes were made to offer a better ride and better view.
In Spanish, Vista means ³view². The controls were all grouped together and hydraulic brakes were added. It also had a heavier final drive.
 
The G1000 was produced from 1965-1969. The G1000 Vista was built from 1967-1969. This model was replaced by the G1050 but still remains a favorite among the muscle tractor collectors, with the front-wheel assist model being the most highly sought after.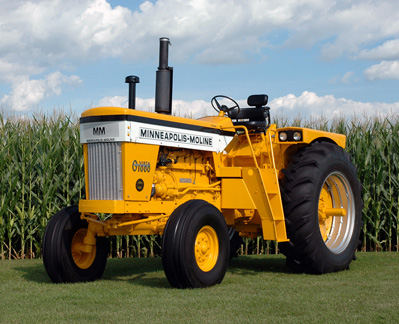 Tractor owned by Marlin Fowler
Photo by Super T