Published on:
02:16AM Aug 30, 2018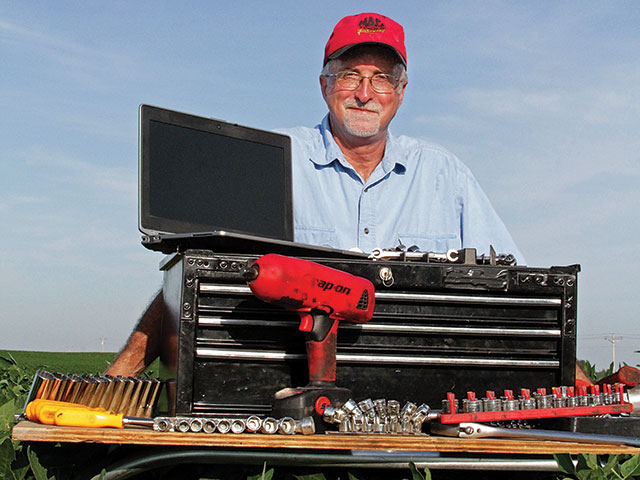 Blacksmiths are a dying breed, and it's because our memories are too good. We all remember the day when Ol' Joe, the neighborhood blacksmith, would hard-face some anhydrous knives or weld a busted field cultivator frame for $25 to $100 (depending on the size of the repair, and whether or not your financial frame of reference is the '50s, '60s, '70s or '80s.)  So with those memories in mind, when we take our broken farm machinery to whoever is now the local metal-working wizard, we're gob-smacked when he tells us it's going to cost $200 to $1000 for our "little welding job."
I understand both sides of the problem. I used to weld-up auger beds in combines, hard-face auger flighting, and do all sorts of welding and metalwork at the dealership. Today my customers can't afford to have me do extensive metalwork. Our shop rate is competitive with industry standards, and that means if I spend an hour grinding and cutting and preparing to weld something, then spend another hour actually welding it, and another hour putting away the welder, grinding off slag, re-assembling the pieces and a few minutes to paint it, my labor is often more expensive than the price of buying and installing a new part rather than rebuilding it.
The same applies to the local machine shop that tries to stay in business fixing farm equipment. In our region, machine shops charge from $80 to $100 an hour, plus the cost of any metal used in the repairs. If it's a fast, easy welding job, many farmers do the work themselves, so machine shops often get stuck with the complicated stuff that takes several hours to do right. Farmers come in thinking that "Young Joe" the machinist will be able knock out a particular repair for the same price as "Ol' Joe" used to, and just about swallow their tongue when Young Joe has to charge them hundreds or thousands of dollars.
The farmer is annoyed and Young Joe is frustrated because he quoted a fair price for his time (professional-quality welding) and his tools (MIG welder, TIG welder, plasma cutter, metal lathe, etc.) It's even worse if Young Joe is a one- or two-man shop; the farmer is quoted an hourly rate of $80 to $100 an hour, does some quick mental calculations, and gets ticked off because it appears Young Joe is making more than $150,000 a year. But the farmer should well understand from maintaining his own buildings and tools that it's not cheap to build/maintain Young Joe's shop and fill it with the sort of metal working tools required to deal with the mega-repairs required on today's monster farm equipment. The actual take-home wage from a local machine shop is probably in the range of $20 to $25 an hour. Do the math on that and you'll discover that many of the local metal working wizards are making the same or less money per year than the average farmer in his area.
So the next time Young Joe quotes you hundreds or thousands of dollars to make repairs you estimated would cost less than $100, take a deep breath and forget about the days of $25 trips to the blacksmith shop. Those days are gone, just like the days of $1/gallon gasoline, a 10-cent cup of coffee and $2 haircuts.