Published on:
09:10AM Nov 18, 2019
The soybean market is trading higher for the third day in a row and has recorded a higher weekly open for the first time in the past four weeks.  All that said, we are a whopping 4-cents higher than the lowest close posted last week, so hardly the type of action that would instill much confidence to a bull.  As the Chinese philosopher, Lao Tzu said, though, a journey of a thousand miles begins with a single step, and he made no mention of how big that needed to be.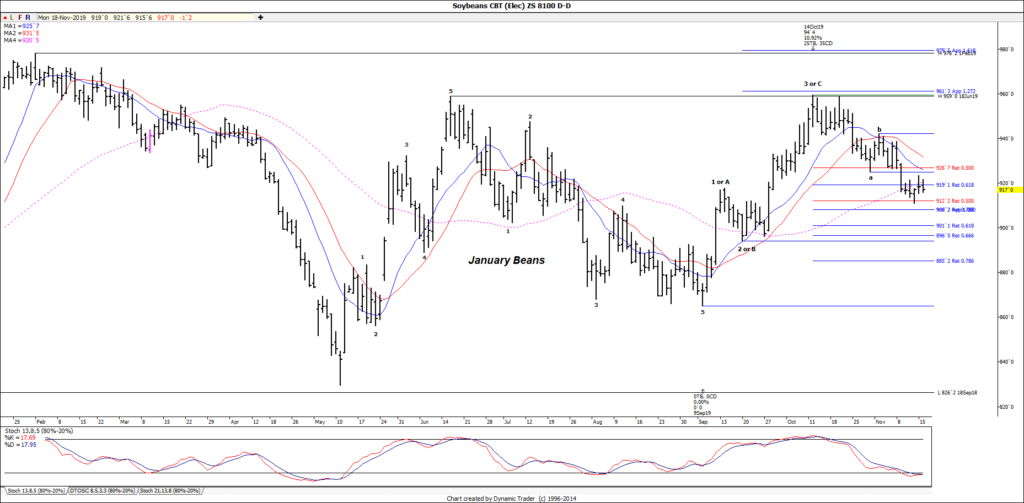 As it turns out, this minor strength is attributed to possible, encouraging signs in the U.S./Chinese trade negotiations. Over the weekend, Chinese state media reported the Washington and Beijing have had "constructive talks." On Saturday, there was a high-level phone conversation that included Vice Premier Liu He, U.S. trade negotiator Robert Lighthizer and Treasury Secretary Steve Mnuchin.  One has to suspect that both nations would like to have Phase One signed, sealed, and delivered before the end of the year.  Note that China cut interest rates again over the weekend to try and stimulate economic activity. It was also reported this morning that the Chinese Ag Minister Han Changfu has directed nine regional governments that they need to speed up efforts to increase hog breeding herds and were ordered to properly implement central government measures to boost financial assistance and provide more land to pig farmers.  If you have even been led to believe that China has really embraced Free Market ideology, think again.  No doubt, part of the push is an effort to at least show the public that the authorities are doing what that can as they approached the Lunar Year celebrations in late January.  I do not believe I would want to be one of the regional government officials who failed to carry out that directive, regardless if it is reasonable or not.
The wet fall weather across Europe has prompted Strategie Grains to make further revisions for the E.U. crops.  They have now reduced wheat area 200,000 hectares from last month, taking it to 23.7 million.  This would now be 100,000 hectares below last year.  They added these back to barley, but even then at 12 million hectares, that is 200,000 below a year ago. They also project that corn area will increase 2% this coming year, but of course, it is a long time between now and spring.
In the Southern Hemisphere, AgRural is now projecting Brazilian bean production for this year to reach 120.7 MMT, which would be 1.5% above last year.  They currently estimate planting to have reached 67% complete.
Last Friday, the USDA did announce that the second part of the three tranche MFP payment will begin this week.  The first represented 50% of the approximate $16 billion, and this should be another 25%.  The USDA did announce the sale of 132,000 MT of corn to unknown destinations this morning, but I suspect the report most are waiting to see will be this afternoon's harvest progress update.
Not much to report in macros this morning, outside of the fact that equities have reached record higher once again, and the U.S. dollar has begun the week on the defensive and this after a lower close last week.