Published on:
11:35AM Dec 03, 2019
Trade war rumbles are front and center again this morning, but thankfully grain markets appear to be looking beyond that news.  I suspect tariff fatigue may becoming more in more ingrained within the psyche of the trade.  That said, in case you missed, in addition to the announced tariff on steel and aluminum from Brazil and Argentina and a threat of a 100% tariff on $2.4 billion in French goods, President Trump suggested that the U.S./China trade war could drag out beyond the 2020 elections.  While that should not have really come as a shock to anyone, it did seem to unsettle the equity markets.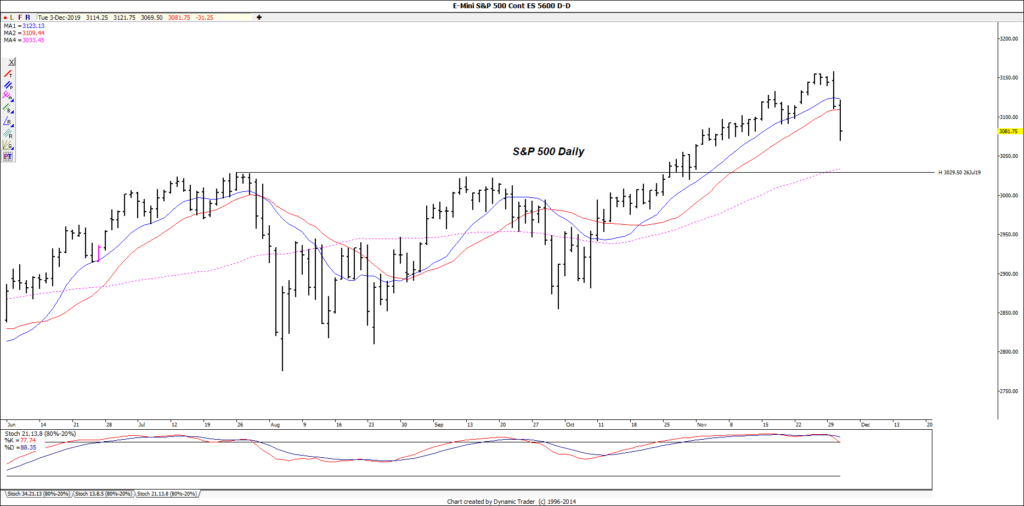 While there were no surprises in the weekly harvest update, there does appear to a slight recognition that we are behind pace.  It makes one wonder what took so long.  Corn harvest only increased 5% last week, bring it to 89% complete and 9% behind the 5-year average.  North Dakota stands at 36% complete and both Wisconsin and Michigan as at 66%.  Only 2% more of the bean acreage was harvested and reached 96% complete, compared with the average 99%.
Things have been moving along a bit better in Brazil, and it is estimated that 89% of the beans are now planted, which is 4% ahead of the average pace of 85%.  While there remain a few dry pockets here and there, overall weather has been good for planting/development.  Reuter released a survey they conducted with analysts in that country and now project a bean crop of 122.7 MMT.  This is right in line with Dr. Cordonnier's and the USDA's current estimates at 123 MMT. Full-season corn planting is nearing completion, but it is worth noting that because of the strong export and expanding corn ethanol demand, Brazil will very likely need to be an importer this crop year.  Just how much will be dependent not only on continued demand but on the safrinha crop, which is the larger of the two. Planted continues to advance in Argentina but at a rather slow pace. Beans are now estimated to be 39% planted, up 7.7% for the week, and corn is 46.2% planted, which was an increase of just ½%.  Dry conditions remain a problem.
One of the most noteworthy stories of the past 24-hours may have been the Commitment of Traders issued by the CFTC.  It would come as no surprise to anyone watching the bean market as of late that speculative funds have been sellers, and as it turned out, they sold a record quantity.  For the week ending November 26th, managed money sold just over 51,000 contracts of futures and, when combined with options trade, just over 61,000, moving them into a net short overall position.  Keep in mind that they have most likely added to this since.  While I would not suggest the boat is ready to tip, it is undoubtedly beginning to list to one side.  Managed money was a purchaser of nearly 20,000 contracts of futures between Chicago and KC wheat and bought almost 22,000 futures contracts in corn.
Looking at the macros this morning, we have energies soft, metals quite strong, equities in a panic break, and the dollar a bit lower.