Published on:
09:00AM Sep 20, 2019

Better than anticipated export sales helped breathe a little oxygen in the lungs of the corn and bean markets that were beginning to gasp for air yesterday.  Barring some type of collapse later today, we are now positioned to close the grains higher for a second week in a row, but the same cannot be said of beans. Finishing right now we would have December corn up 3-cents, December wheat 7-cents but November beans returning 7-cents of last week's gains.  Do keep in mind that the softer trade in beans by no means negates the impressive outside higher reversal posted last week, but it would seem evident that this market is going to require something more substantial on the fundamental front, i.e., disappointing yields or a breakthrough with China to extend beyond the 9.00 level for now.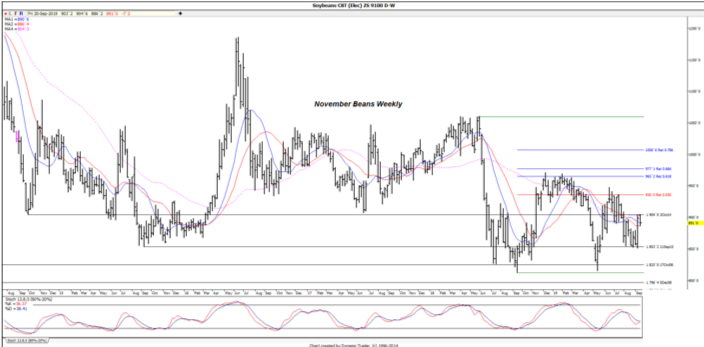 If the forecasts are correct, we may not see much assistance from South America as moisture appears to be on the horizon for Brazil.  The two largest production states in that nation have been faced with one of the driest winter periods in 20 years, which to date has kept most planters parked but both the U.S. and European weather models are calling for an improvement. But, just how much and improvement is yet to be seen though. The European model is more optimistic that the U.S.  As I have noted previously, this will potentially impact not only the bean production potential but the safrinha corn as well. 
There is another point on the globe that is seeing desperately needed moisture, and that is in India.  Monsoons are expected to produce above-average rainfall for the first time in six years.  Not only should this been a boon for the winter planted crops such as wheat and rice but should help replenish reservoirs.  
That I have seen as of yet, there has been no announcements from the energy meeting at the White House yesterday and considering that those in attendance we individuals from oil states such as Ted Cruz of Texas and Bill Cassidy of Louisiana, I would not suggest that no new is going to be good news.  In fact, Senator Cassidy tweeted after the meeting, "Just spoke with @realDonaldTrump on the renewable fuel standard – the president is very engaged on the issue, and feels as if we can work towards a solution which protects jobs."  Forgive me for being cynical, but when I hear someone representing the oil industry make a comment that would suggest they are pleased with what he heard, my suspicions run spike through the roof.  There is a little known historical fact that when Shakespeare edited his final version of Julius Caesar, he removed a line by Brutus, who while in the act of stabbing Caesar in the back was reported to have said, "this will be the best solution to protect jobs for Rome."  
It seems that we cannot go a day without hearing a new story about African Swine Fever being detected somewhere around the globe.  Just two weeks after an initial outbreak in the Philippines, a second case has been confirmed just outside of the capital Manila.  Keep in mind that the Philippines are the 10th largest consumer of pork in the world and the 7th largest importer.  The total herd in that nation is estimated to be 12.7 million head of which 8 million are in backyard farms.  Additionally, Russia is investigating a report of an outbreak near the border with China.  
Last but not least, time to tidy up the homestead. Ag Secretary Perdue announced that next week, a delegation of Chinese would be visiting farms as a goodwill building mission, ahead of the upcoming trade talks in October.  While I suspect most of the visits have already been pre-arranged, you never know.  They could just pop up anywhere unannounced to capture the real flavor of an American farm.