Published on:
10:17AM Jul 02, 2020
While the origin is in question, there is an old proverb that says, "Keep your friends close and your enemies closer." I could not help but think of this when I read that Senator Ted Cruz of Texas has now joined Senator Joni Ernst of Iowa in threatening to block any nominations to serve at the EPA until there is official clarification concerning blending requirements. Needless to say, the two are motivated by diametrically opposite reasons.  Senator Ernst in defense of the biofuel industry and Senator Cruz is supporting petroleum.  In making his declaration, Senator Cruz stated that rising costs and slumping fuel demand caused by the pandemic has created additional burdens on the industry and until the agency brings stability to the rising costs borne by oil refiners, he will block all nominees.  I will give those of you in the farm and biofuels sector a moment to dab the tears in your eyes. Of course, this is what representative government is supposed to be about. Still, it is a reminder that the biofuel industry has strong opposition with deep pockets who have enjoyed the benefit of a "friendly" agency for the past several years.  While the 10th Circuit Court of Appeals provided hope and a victory back in January, the battle is certainly far from over.
Export sales were not particularly inspiring, particularly for corn, even though falling within the range of trade expectations.  For the week ending June 25th, wheat sales totaled 414,300 MT or 15.2 million bushels.  Taiwan was the top buyer with 89.3k MT, followed by Yemen at 80k, and then Japan taking 55k.  Old crop corn sales were 22% lower than the previous week, with a total of just 361,100 MT or 14.2 million bushels.  There was a familiar list of names as the top three purchasers were Japan (240.1k MT), Mexico (168.3k), and Colombia (75.1k).  There were reductions of 282,600 MT in the unknown destinations category.  New crop sales did perk up a bit, though, as for the 2020/21 season, and we sold 262,700 MT or 10.3 million bushels.  Do keep in mind that total exports last week set a marketing-year high of 1,439,900 MT or 56.7 million bushels.  Old crop soybean sales set a marketing-year low of just 241,700 MT or 8.9 million bushels.  Egypt, Mexico, and Indonesia were the top three purchasers.  New crop sales were not bad though at 841,700 MT or 30.9 million bushels. As expected, China was the top purchaser with 594k MT.  China was also a buyer of 76.8k MT of sorghum, 15,700 RB of cotton, 355,900 whole cattle hides, and 21,600 MT of pork.
We do have encouraging economic news released this morning as the Bureau of Labor Statistics reported that in the month of June, U.S. employers added 4.8 million jobs and the unemployment rates slipped down to over 2 points to 11.1%.  Not surprisingly, 2.1 million of these jobs were in the leisure and hospitality sector, and another 740,000 in retail, two of the worst-hit sectors.  We have now regained 7.5 million of the 22 million jobs lost since March. Not that it ever requires much encouragement to do so, equity markets rallied sharply on the news.

While there are still a few hours of trade, markets do close early today, and this is the final trading day for the week as we break for Independence Day.  If we wrapped things up right now, for the week, nearby corn would be up 27-cents, Chicago wheat up 22-cents and beans up 27-cents.  It has been a while since you heard those kinds of gains.  The combination chart is on track to close at the highest point since early April.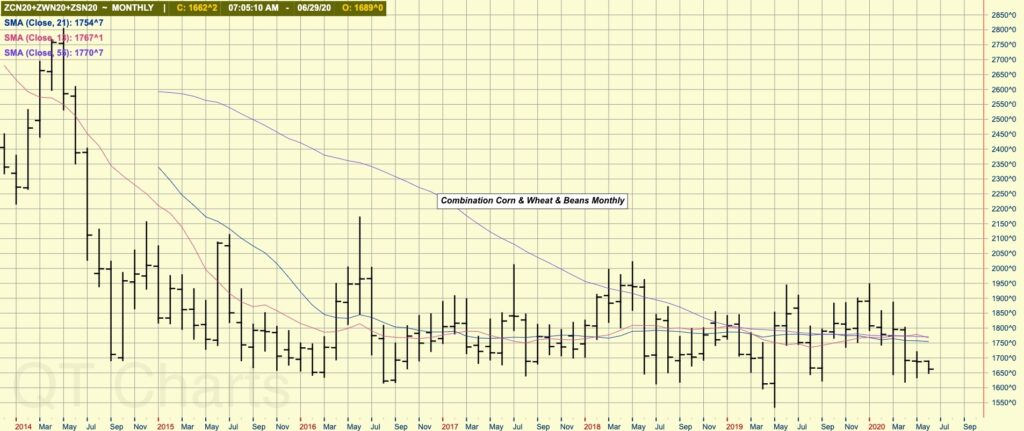 Have a Safe and Enjoyable Independence Day.