Published on:
09:39AM Jan 22, 2020
The wheat market continues to be a beacon of light in what remains a cloudy and uncertain forecast for corn and soybeans.  It is almost ironic that soybeans, the market that captured the attention of the world throughout this long journey to reach a détente in trade, has been anything but inspired since Phase One was signed. Yet, all the while, the wheat market has quietly and steadily marched into higher ground.  With the strength we have experienced already this week, spot futures are challenging the highs recorded in August of 2018, which themselves were the highest levels traded post the 2016 cycle lows.  If we are not careful here, someone might catch on to the fact that this pattern is looking long-term bullish.  Is a run for 6.50 in the cards?  Little by little, this market has been buoyed by the realization of production issues in the Southern Hemisphere, particularly Australia, an ever-growing global demand, up 16% in the past decade, requiring steady growth in production as well.  The resurgence of ag production in Russia and solid crops in Ukraine have allowed us to keep pace. Still, over there, demand has pushed prices to the point of bringing U.S. wheat into the competitive sphere and labor issues in France, shocking I know, have created delays in transportation and at loading docks, further increasing our competitiveness. Granted, none of this is wildly bullish, but it has laid the foundation for this advance, and with the uncertainty of producing the next crop still ahead, have provided us with the ingredients to keep this market marching to a bullish drumbeat. While it certainly would not appear to have helped much yet, keep in mind as well that if we continue with this onward and upward movement, it will be a positive factor in the corn trade as well.  The bean market may get all the attention and headlines, but it could be that it will be the grains that shine in the next year or so.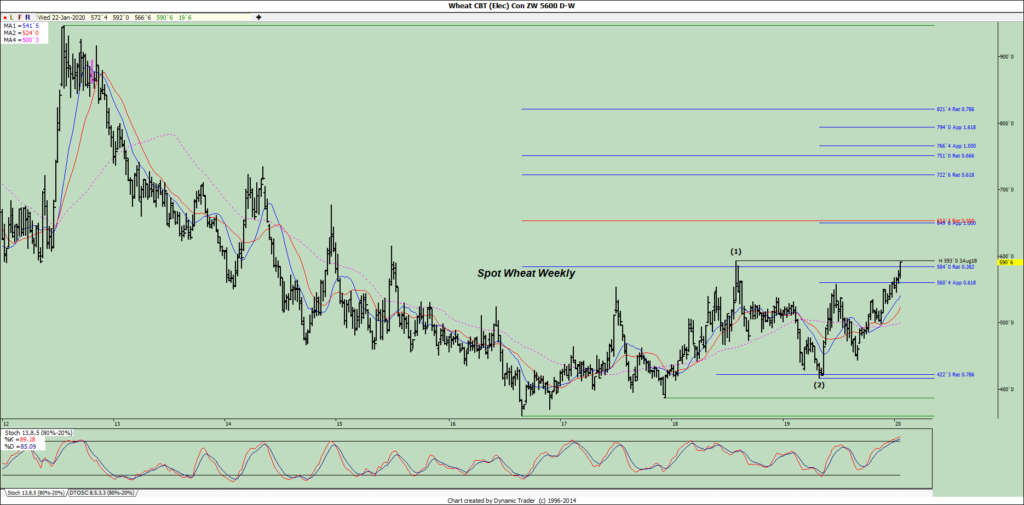 If you thought the risk for the further spread of African Swine Fever was eliminated, you would be mistaken.  The Chinese government collected 250 samples of pork from slaughterhouses and concluded that 5% of these contained the disease.  They also commented that adequate bio-safety measures were not in place a number of the facilities.  If you think that is only a risk for China, think again.  Italy has just seized and destroyed a 9.5 MT shipment of pork that had been illegally shipped from China this week.  It was hidden under a shipment of vegetables and brought in by an individual who was a Chinese citizen and has been arrested.  While I have not seen a reason as to why he was trying to bring this pork in, although one would have to suspect a profit motive and could be related to the upcoming Lunar New Year Holiday, but is certainly a reminder that there are always those who are willing to circumvent the law for their own benefit.  While this appears entirely intentional, there are innocent risks well as I read recently that one of the Beagle Brigade pups at Chicago's O'Hare airport, sniffed out a ham sandwich in the bag of a passenger arriving from China.
This morning we have grains and soy all trading positive and, in the macros, find energies soft, metal flat, equities higher and the dollar soft.