Published on:
10:14AM Aug 14, 2020
Is the number seven really lucky?  Gauging by how often we hear the term used, one might think so.  While it often seems to be associated with gambling of one form or another; Lottery tickets, slot machines, and even casinos have been named Lucky 7, it is interesting to note that, according to some scholars, the belief that it is significant is quite ancient.  Biblically we find that it took God six days to create the earth, and it was on the seventh day that he set aside as holy and for rest.  The ancient Babylonians who were keen observers of the cosmos, determined that there must be seven days in a week, (Egyptians thought there were ten and the Romans said eight), which they had based on the seven celestial bodies.  And of course, let's not forget that seven is a prime number, which means it can only be divided by itself and one.  While, as fascinating as this all may be, many of you are probably wondering what any of it has to do with commodity markets. Well, the reason I bring up is that as of yesterday, we have witnessed seven (business) days in a row of soybean purchases by the Chinese, which has finally brought about some good fortune for prices as we pushed up to the highest point traded since late July and back against what has been key resistance since March.  If my math is correct, over those seven days, China has purchased 1.949 MMT of beans, which does not include any of the sales to unknown destinations, which could be to China as well.  As it turns out, they have extended the buying streak to eight days now, with a purchase of another 126,000 MT of beans announced this morning.  I am not familiar with anything lucky being associated with the number eight, and in fact, the only thing that comes to mind is the expression "stuck behind the eight ball" which is not considered a good thing.  Is it just coincidence that bean prices are lower this morning?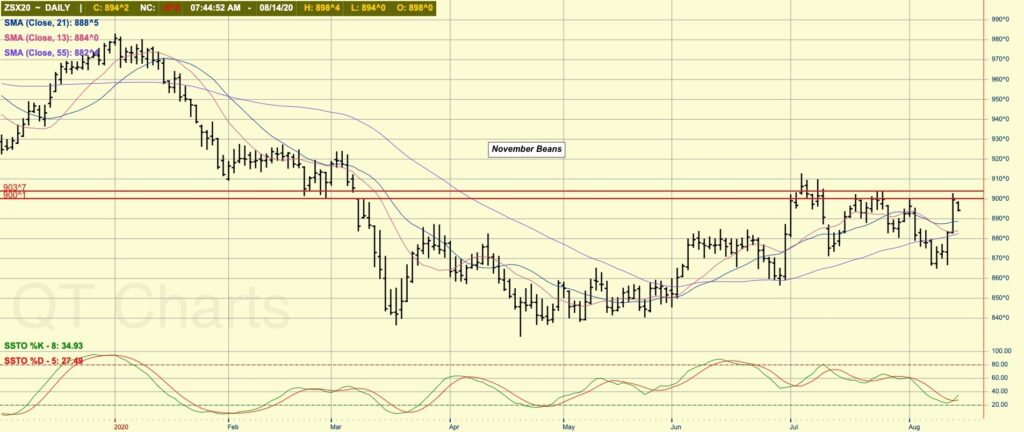 Not that I am of a suspicious or cynical nature or anything, there could be additional reasoning behind the recent spurt in Chinese purchasing.  Tomorrow, via a videoconference, U.S. Trade Representative Robert Lighthizer and his counterpart Chinese Vice Premier Liu He, will be holding a six-month review of the Phase 1 trade agreement.  There is no question that, to date, they have not kept pace with the level of purchases they need to meet the target of $200 billion above the 2017 levels, but with recent buying spree, it would seem that they could insist they are making a reasonable effort.
Looking around the globe, recent rains in France were obviously too little, too late to help improve corn conditions.  AgriMer lowered the good/excellent rating to 65%, down from 74% a week ago.  France experienced one of its driest July's in 60 years.  A similar situation has continued in Argentina, which is undoubtedly impacting winter wheat. Neither the Buenos Aires Exchange nor the Rosario Exchange have begun to lower estimates just yet.  One last note from Argentina as well.  It was announced that seven meat plants have suspended exports to China over COVID-19 concerns.  I guess the number seven is not at all lucky for them.
As it stands right now, for the week, corn is up 17-cents, Chicago wheat is 9-cents higher, and beans are up 30-cents.  The S&P 500 is up 18 points and could post the second-highest weekly close on record, and the dollar is down 31, which would be the lowest close since May of 2018.