Published on:
14:49PM Apr 23, 2017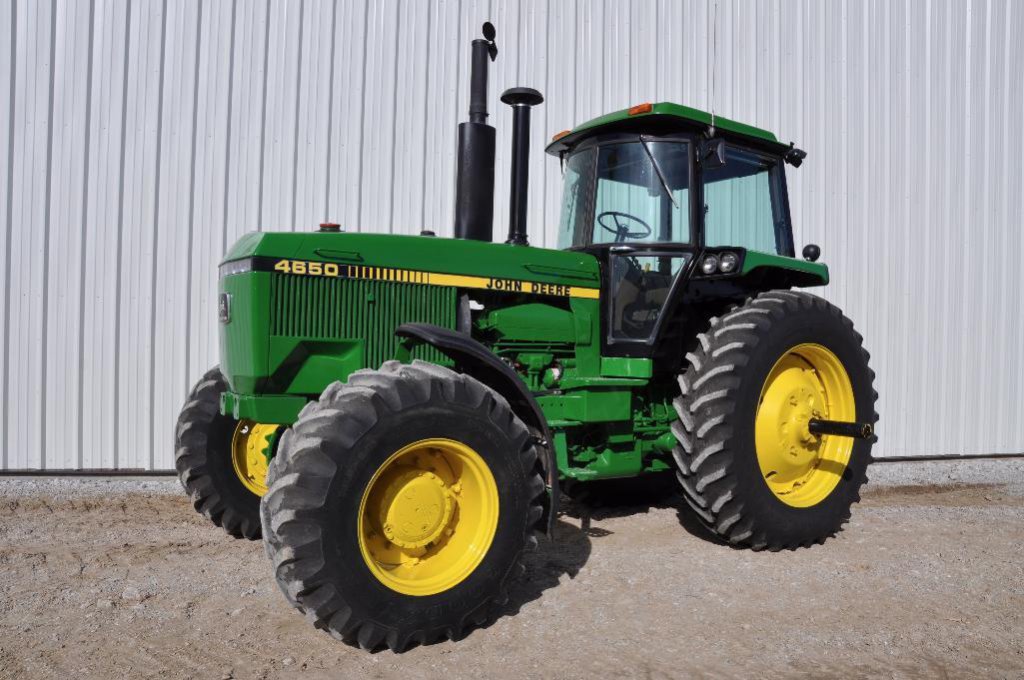 1984. The year I graduated High School. Benson, MN.
I was traveling for work this past week and had the opportunity to stop in and spend some time at home with the folks back home in Benson. Always good to go home.  Mom and dad are doing well, happy to report. Isn't it interesting, when we "go home" like this, to the place we moved away from decades ago, how part of you sees home in the now, in my case as a 51 year old graying machinery writer whose been happily married 27 years and has 2 grown daughters through college and out on their own…but another part of you sees and feels home as it was when you left.
1984.
Funny how time works. I have 2 younger brothers that still live back home in Benson. One has a son graduating from Benson H.S. in a few weeks. The other brother's daughter will be graduating from college at the same time.
Made me think of my Senior year at Benson H.S., 33 years ago, 1984. I recall strolling across the stage in the H.S. gym in my maroon & gold cap and gown, being handed my diploma while the band played loop after loop of Pomp and Circumstance. I wondered about my future. Where would I go? What would I do? Wonder what I would have thought if someone could have told me that day about my future wife, our 2 daughters, all the friends I'd make, the places I'd go, and this crazy wonderful Machinery Pete business. Wonder how I would have reacted to knowing I'd spend decades building a biz based on compiling auction sale prices on machinery and one day do radio and TV shows?
Best not to know the future. Just live it day by day and let life unfold. Every day truly is a gift and a blessing.
So, back to 1984, my High School graduation year. Here's a look at the highest auction sale prices on 1984 model Tractors from the past 16 months, going back to the start of 2016:
Highest Recent Auction Prices on 1984 Model Tractors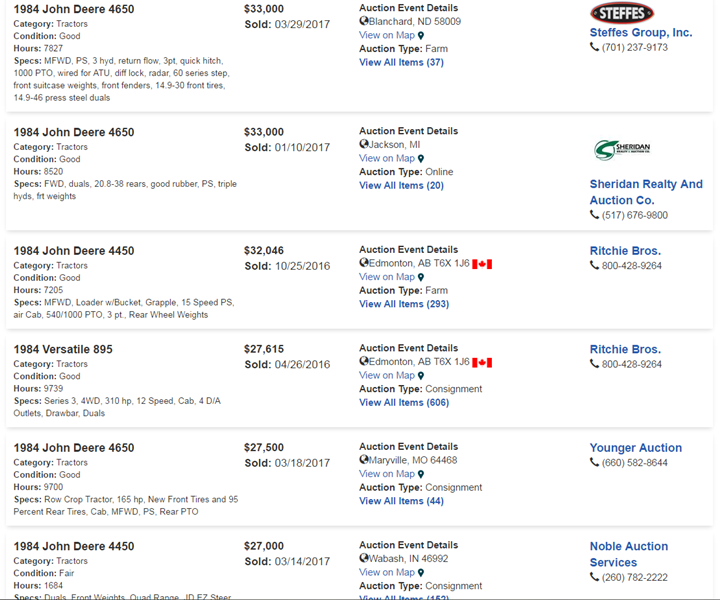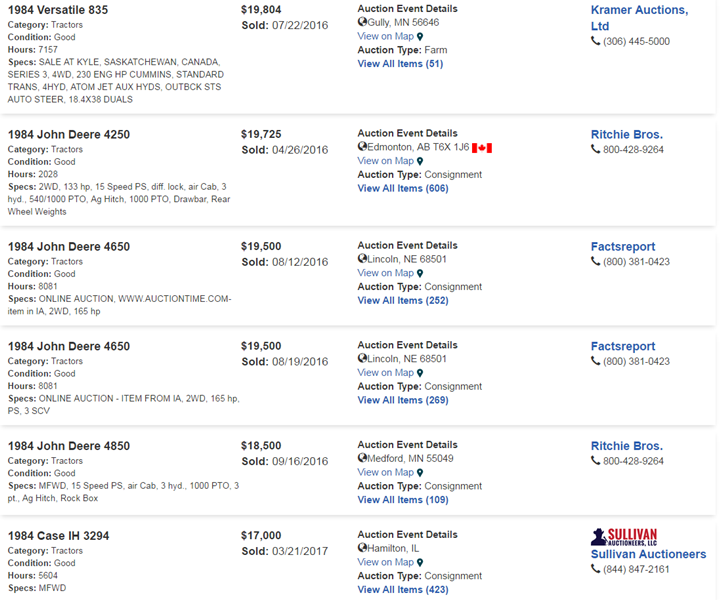 * data from http://www.machinerypete.com
Here's a pic of the highest selling 1984 model the past 16 months, a John Deere 4650 with 1,188 hours showing, been refurbished, sold for $38,000 on a March 8, 2017 auction I covered in Williamsburg, IA: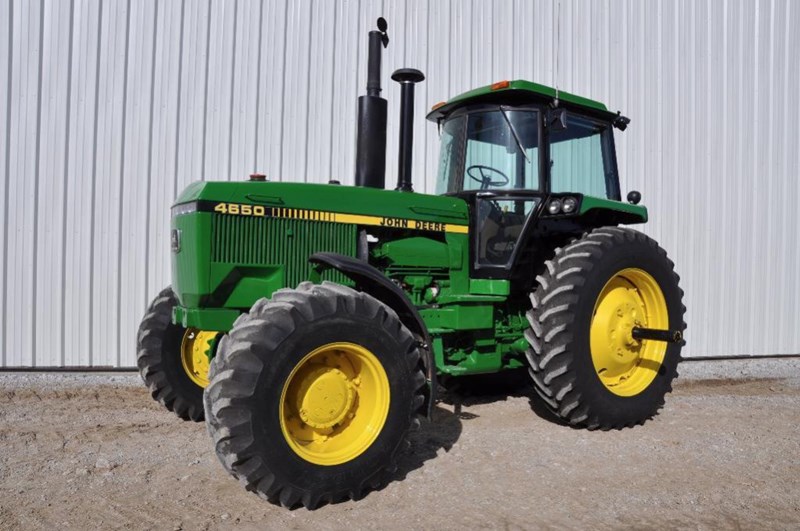 Right on its heels was this beautiful 1984 Allis Chalmers 8070 with only 718 actual "1 owner" hours sold for $37,750 on an August 2, 2017 online collector auction in Menomonie, WI: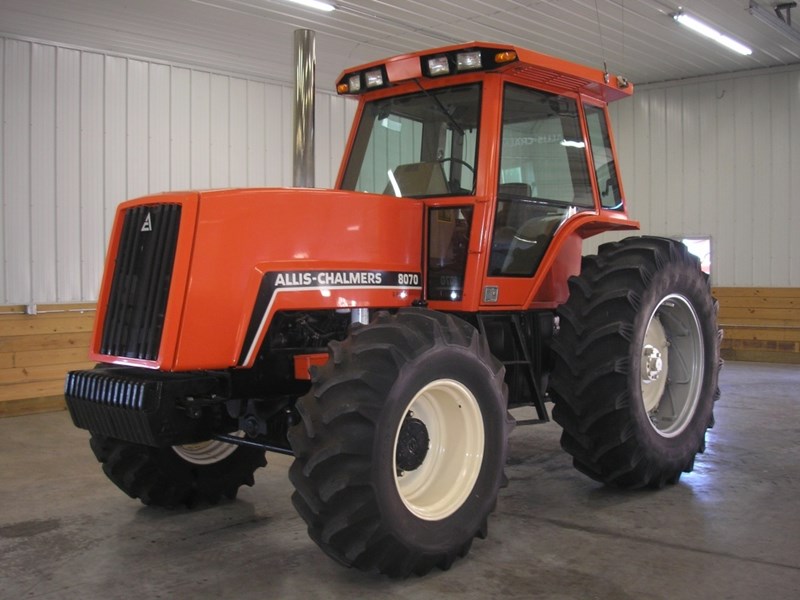 Here's a link to view 1984 model Tractors (100-174 HP) currently for sale in our Machinery Pete web site, click on this link to view: https://www.machinerypete.com/listings/tractors/100-174-hp?hours_max=&hours_min=&limit=12&manual_sort=&old_location_str=&price_max=&price_min=&sort_term=listing_price_high_to_low&year_max=1984&year_min=1984&zip_code=&zip_miles=100000