Published on:
22:32PM Oct 19, 2015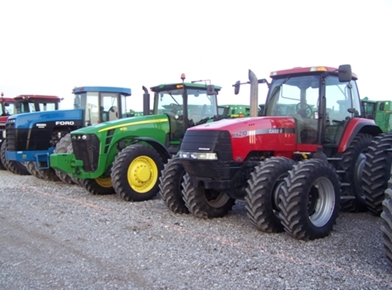 Let's call it the farm machinery story of 2015.
Leasing.
A huge push has been made by the biggest farm equipment manufacturers this year to offer up to farmers a new avenue to get into new machines featuring coveted factory warranty they've become used to over the past 6-8 years with all the new iron that was purchased during a very strong ag economy cycle.
Different ag cycle is upon us now. Profit margins are narrower. Dollars have been tighter, especially on the grain operation side. But aggressive farm operations still greatly value having their farm equipment fleet under warranty, so if something does go wrong during key planting or harvesting windows, they'll be covered and back up and running quickly.
Many farmers opting to lease this year are also seeing the value of not having to trade in their two year old tractor or combine at this particular point in time. Dealers already have a lot of them on their used lots. So leasing farmers keep their tractors and combines in the shed and keep the hours off. Come the end of the lease and now they will have a four or five year old tractor or combine with very low hours.
Ah.
So, kind of like insurance? Yep. Or as Casey Seymour, Remarketing Manager with Prairieland Partners John Deere dealership in central Kansas, told me, "It's like hedging your iron." Here's a video interview I did Friday with Seymour on the topic of farm machinery leasing here in 2015:
But I do wonder…who will buy all these tractors and combines leased in 2015 when they come off lease down the road? What will they be worth then? We shall see. There is always a price point. Always. Sometimes up. Sometimes not.
The hope from the manufacturer end is of course that by the time all this iron is coming off lease that the current down ag cycle will have turned around and times will be better. Again, we shall see.
The last time I saw a flood of "off lease" tractors hit the auction market was 15 years ago, back in 2000. Our data that year was loaded with prices from large dealer and consignment auctions featuring a ton of late model equipment. Check out what these "off lease" John Deere 8300 tractors, then just a couple years old, sold for on a "Dealer Only – Off Lease" auction in northeast Iowa on September 20, 2000: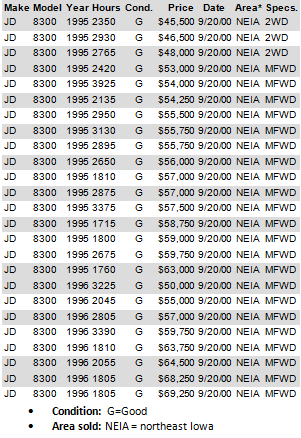 So very low hours, just couple years old, and they were selling in the mid $50K to low $60K range in 2000, not exactly a "hot" market at the time. Now compare to what nice John Deere 8300 tractors were selling for 12 years later, during a boom time in ag, in 2012: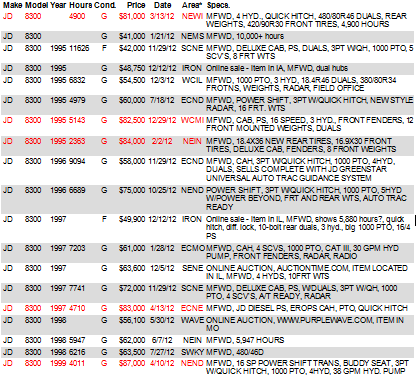 Wow, what a difference. 15-20 year old 8300's were now bringing as high $81,000 - $87,000 at auction. Four of the five 8300's highlighted sold over $80K at auction back in 2012 had between 4,000 – 5,150 hours.
Kind of makes you wish you could teleport back in time to 2000 and buy up as many of those abundant very low hour "off lease" 8300's selling at auction for $50K - $60K as you could, right? Buy them and put them in the shed and hold them. Then sell 'em when the used market is red hot like it was back in 2012.
Good old hindsight. Still 20/20.
http://www.youtube.com/machinerypete
http://twitter.com/machinerypete
http://www.facebook.com/machinerypete