Published on:
12:17PM Mar 28, 2014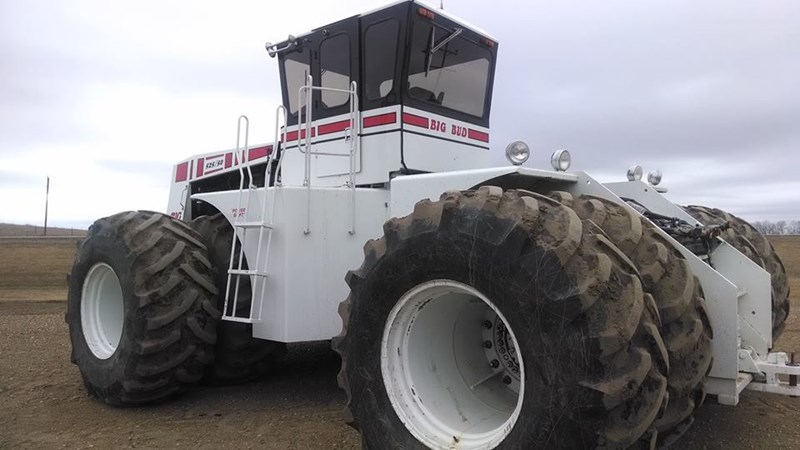 Big Bud.
Like a phantom, they sometimes appear. You might be driving along a country highway somewhere and spot one out at work in the field...."hmm, that was an awful BIG white tractor I think I saw." You crane your neck to see if it was what you thought it was. Maybe you loop back for a second look. Occasionally you might run across one in the classifieds, or on the internet, maybe a rare sighting sitting on a dealer's lot. 
But whenever you see one in person....you stop....you look....wow.
I'm talking Big Bud used tractors. I've been tracking auction sale data now for almost 24 1/2 years, all over the U.S. and Canada. I know how tough it is to find a Big Bud coming up for sale. Well, here one comes...on an April 4, 2014 consignment auction in Jamestown, ND, a sale by my friends at Orr Auctioneers. The picture above is of the 1980 Big Bud 525/50 with 1,440 hours showing for sale on this auction.
600 HP.
Yep, a bit turned up by the current owner from it's original 525 HP setting. I wanted to learn more about this tractor so I arranged for a video interview with auctioneer Troy Orr. I just posted the Youtube video preview (click on video below). A fun added feature: Troy arranged for a drone video cam fly around of the Big Bud sitting on their auction lot. Drone cam video action comes at the end of the video. We will have video of this Big Bud selling on the April 4th auction...stay tuned for that. How high will it go?? For now, here's the preview video...enjoy:
www.facebook.com/machinerypete