Published on:
10:00AM Aug 13, 2020
While often associated with sports, we have all heard the phrase "records are meant to be broken," and according to the USDA, there are several crop production milestones that will be broken this year. At 181.8 bpa, corn will have exceeded the 2017 yield of 176.6, and with a projected total production of 15.278 billion bushels, will top 2016's crop of 15.148.  For beans, the total production number of 4.425 billion will "only" register as the third largest on record, but the yield of 53.3, would be 2.5% above the previous top of 52 bushels set in 2016.  Of the three major crops, only wheat will be left out of the record-setting party as the yield of 50.1 is only the third-highest on record, and with century low acreage numbers, production does not even come close to record-setting.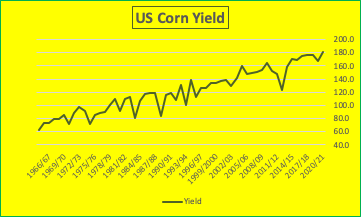 Of course, as evidenced by the response in futures prices, this was literally yesterday's news by the time it was printed, and we have seen both corn and bean prices begin a rebound.  There would seem to be no question that the corn market, in particular, was sitting in a very oversold position and due for a corrective rebound but no doubt, the somewhat surprising 5.37 million acres of prevented plant reported by the FSA yesterday and the uncertainty of crop damages suffered in Iowa earlier this week have provided additional support.  We will not quite record an outside higher weekly reversal in corn, but it will be an impressive turnaround on the weekly chart, nevertheless, and it would appear that we may have recorded our seasonal low. How much upside potential we have in store is another matter.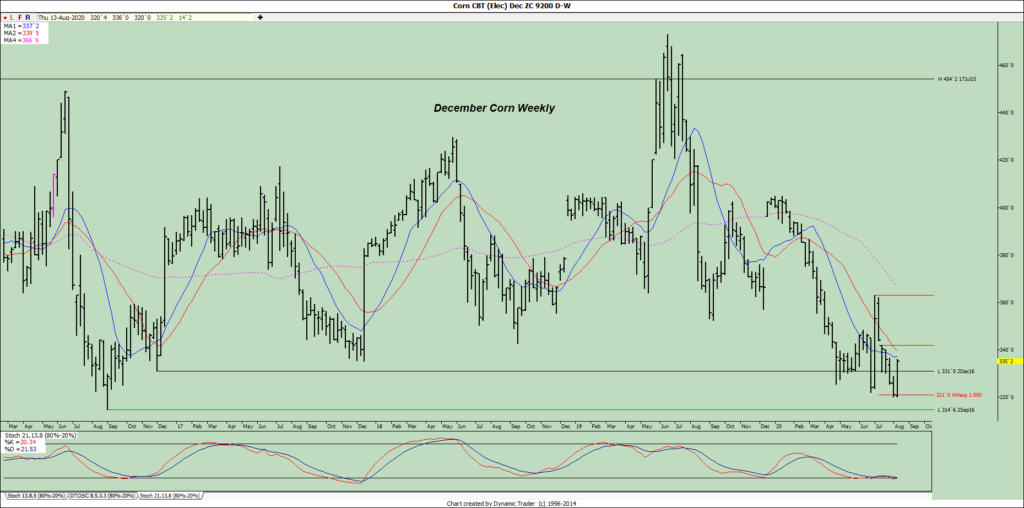 Weekly export sales have been released, and the beans have hit this one out of the park.  Even the most optimistic estimates were calling for combined old and new crop sales of 2.3 MMT, and we came through at 3.409 MMT or 125.3 million bushels.  Of this total, 570,100 MT were for the 2019/20 crop year, and 2,839,400 MT for 2020/21.   Needless to say, China was by far, the big buyer for both old, 420,500MT, and new, 1,705,000MT.  On top of this, in the daily system, the USDA informed us that China purchased another 197,000 MT of beans for the crop year, and 202,000 MT were sold to unknown destinations.  Of course, just about anything would pale in comparison to those figures, and corn and wheat just fell within the range of expectations.  Combined, we sold 930,300 MT or 36.6 million bushels of corn.  Of this 377,200 MT we for the current crop year and 553,100 MT for the next.  There was also reported this morning a sale of 110,000 MT of corn to unknown destinations, of which 30k is for the current crop year.  Wheat sales slipped 39% from last week, with a total of 367,900 MT or 13.5 million bushels.  In addition to the considerable bean purchases, China bought 76.5k MT of corn (old), 282.4k MT of sorghum, canceled 21,500 RB of cotton, bought 362,300 whole cattle hides, 1,900 MT of beef but were absent from the pork market.
We do also have some positive economic news this morning as the weekly initial jobless claims have finally dipped below the 1 million mark.  The actual number was 963,000, which was a reduction of 228,000 from the previous week.  Interestingly enough, the equity markets, which can typically make lemonade out of the sourest lemons, did not push higher after the release.  Of course, they are already within striking distance of record highs.