Published on:
03:08AM Jul 24, 2016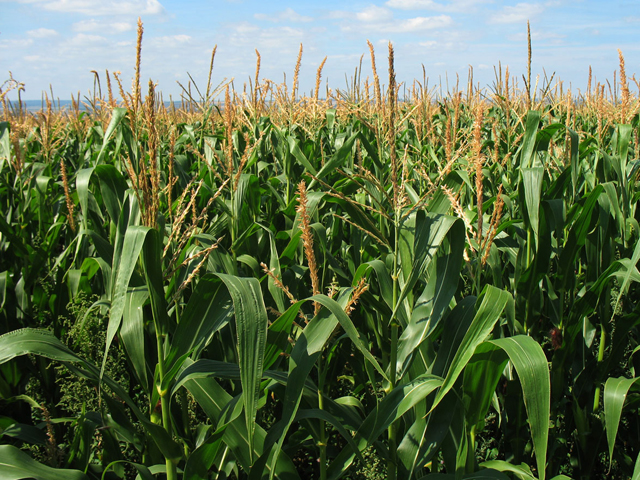 Market Watch with Alan Brugler
July 23, 2016
Comfort Zone
The US grain markets reached an apparent comfort zone this week, with traders bidding in higher average yields than USDA used in the July WASDE report. Our models suggest the market is trading a 170-171 bpa US average yield at this price level for corn, and a 47.5 bpa soybean yield. Those would add up to 200 million bushels to US corn production and 70-80 million to soybeans depending on your acreage assumption. The reason for the comfort? The heat dome for late July that spurred the post-USDA report rally is pretty much gone in the 8-14 day weather forecasts for early August. It has been replaced with calls for average precipitation, and normal to below normal temps in the WCB. What causes the market to build weather premium back in? It will take another hot/dry pattern setting up. Or a legitimate early freeze threat in September. It is too early to build that in, and hard to do psychologically given the focus all year on higher than average temps. A hurricane damaging production in the Gulf or Southeast would be another wildcard. There should be more activity given the demise of El Nino, but again nothing on the maps at present.  If they stay comfortable for a while, maybe the bears will fall asleep!
Corn futures lost 5.2% for the week, or $.17 1/4 per bushel for the week.  Demand continues to be solid. Daily average ethanol production rose to a new all time high, and ethanol disappearance absorbed nearly all of the increase. Weekly corn consumption for ethanol (before DDG net back) should be around 105 million bushels, with some sorghum also being used. US weekly export sales were 851,400 MT after accounting for a 342,900 MT reduction for unknown destinations. YTD old crop commitments were shown at 100% of expectd exports.  New crop commitments are ahead of the past two years for this date. A trucking strike in Argentina is being blamed for a slow down in corn vessel loadings at the ports. This should keep US exports on track to meet USDA's more aggressive target. Bears point to Brugler500 crop ratings that currently match the 2014 record yield values, and very benign weather forecast for early August in the Corn Belt. The Friday Commitment of Traders report shows that as of Tuesday the managed money spec funds had flipped to a net short position of 13,362 contracts in corn futures and options.  They had not been shown net short since mid April.
Nearby August soybeans were down a sharp 6.6% for the week with big losses on Tuesday, Wednesday and Friday. Meal futures dropped also dropped 6.6% for the week, with soy oil off 2 1/4% as it was the long side of some oil/meal spreads. With crop condition ratings still historically high for late July, traders were free to imagine a hike in the USDA average yield number come August. The strength in the US dollar is hurting US forward sales commitments for 2016/17 shipment.  China is also auctioning off old crop stocks, shrinking import requirements for the August-September period. The Friday Commitment of Traders report showed managed money held a net long CFTC position of 137,692 contracts as of the close on Tuesday. This was a week over week reduction to the net long position of 21,715 contracts.
Wheat prices were lower in MPLS, but higher in the other two markets.  MPLS was the weakest at -0.3%. The Chicago traded wheat markets held up better, with HRW up 1.25% and Chicago eking out a 0.12% advance (i.e. 1/2 cent). Projected US new crop ending stocks are seen topping 1.1 billion bushels, nearly 6 months of use.  The market is working diligently to get cash wheat cheap enough for large scale feeding.  LDP payments will provide some cushion and arbitrage opportunities for producers. On the other hand, USDA trimmed the world ending stocks figure from June to July due to larger feeding estimates. There is potential for a further reduction in August, as French wheat harvest is proving to be both slow and disappointing. AgriMer in France estimates wheat harvest at 17%  completed vs. 53% last year at this time. Some analysts now look for the EU wheat crop to total only 150-151 MMT, roughly 6 MMT smaller than the July WASDE report. US export campaign is off to a strong start, with export shipments 25% ahead of last year and unshipped sales 36% larger than they were last year at this time. Total commitments at 37% of the full year USDA forecast are just slightly ahead of the 36% average pace for this date.
December cotton was down 2.2% this week after an 11.4% gain the previous week. USDA reported weekly export sales of 260,500 RB, including 188,400 RB of new crop bookings. Last night, the USDA set the AWP for the upcoming week at 65.28. The LDP through next Thursday remains at zero. The Friday Commitment of Traders report showed managed money added 13,747 contracts to their net long CFTC position during the week ending July 19. As of the close on Tuesday, the group held a net long position of 63,266 contracts.
Live cattle futures ended the week 0.9% lower, extending a 1.2% loss from the previous week. Feeder futures were down 1.7% for the week despite the weakness in the feed grains. Cash cattle trade reported on Friday was light, but had live sales between $114 and $116.50.  Dressed sales averaged $184. Choice beef prices were another $2.43 or 1.2% lower this week, but select boxes were on average down just 2 cents week/week. Weekly beef production was up 10.1% from the same week in 2015. YTD beef production is up 4.1%. The USDA Cattle on Feed report on Friday afternoon showed July 1 On Feed at 101.17% of year ago, vs. trade ideas of 101.6% June placements were 102.97% of year ago and June marketings were 109.44% of year ago.  The trade was on average looking for 106.1% and 109.7% respectively.  The placements figure was below the low end of the published trade estimates. USDA had frozen beef stocks down 1.15% month/month and 4.86% year/year in the monthly cold storage report.
Lean hog futures dropped 3.5% for the week, but finished the Friday session higher. Most contracts hit the lowest readings since December this week. The CME Lean Hog Index was CME Lean Hog index for 7/20 was 51 cents lower to $77.87. The USDA national average carcass cutout price was 43 cents lower on Friday to $88.48, but still up nearly 1% from a week earlier. Pork production this week was estimated at 447.4 million pounds, up 1.9% from the same week in 2015.  Pork production since Jan 1 is actually 0.5% smaller than in 2015.  USDA's monthly cold storage report had frozen pork stocks down 4.65% from May, and down 7.66% from June 2015. Per the CFTC, managed money accounts had reduced their CFTC net long position by 4,834 contracts during the week ending July 19, to an updated net long position of 54,783 contracts as of the close on Tuesday July 19.   
Market Watch
The cattle market will begin the week reacting to the USDA Cattle on Feed and Cold Storage reports, which were issued after the market close on Friday. Grain traders will be reacting to any surprise futures positions acquired with exercise of August grain options on Friday.  USDA will issue the usual weekly Export Inspections and Crop Progress reports on Monday, with weekly Export Sales on Thursday. Not to be overlooked is the Fed meeting on Tuesday and Wednesday. The market is not pricing in a Fed hike in July, but will be watching for the parameters under which an increase would be implemented.  Friday will be first notice day for August soybean complex delivery notices.
Visit our Brugler web site at http://www.bruglermarketing.com or call 402-289-2330 for more information on our consulting and advisory services for farm family enterprises and agribusinesses.Clients can also get one touch access to our cash market and hedging recommendations via our mobile web site.  You will be taken to the mobile home page automatically if you visit our web site with the mobile device. Three times daily fundamental news from Brugler is available on the free side of the mobile site.
There is a risk of loss in futures and options trading. Past performance is not necessarily indicative of future results.  Copyright 2016 Brugler Marketing & Management, LLC