Published on:
21:30PM Feb 24, 2017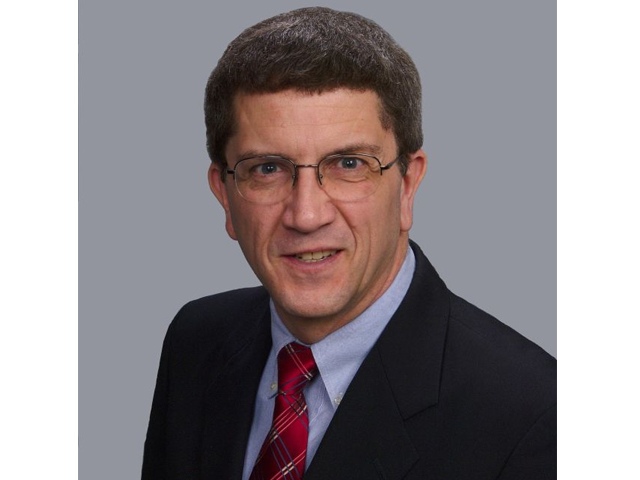 Market Watch with Alan Brugler
February 24, 2017
Down Mexico Way
There is a lot of fretting and fussing about ag export trade right now, with assumptions that assertive moves by the US will be countered by restrictions taken by the afflicted counterparty. Mexico is the major focus at the moment, with a visit by Secretaries Tillerson and Kelly this week met with skepticism by Mexican officials. Said officials noted large discrepancies between what their visitors  were saying and what President Trump was saying back home. It may have been a good cop/bad cop routine, but the Mexicans weren't seeing it that way.
We are noting some action on Mexico's part, whether coordinated with the government or not. Take a look at the USDA weekly Export Sales report for the week ending February 16. For that week, Mexico was the largest buyer of pork, beef and soy oil. They were the second largest buyers of soybean meal and sorghum, and the second largest shipper of corn. They were the #3 buyer of wheat. While Mexico is a large US trading partner, it is unusual to see the country topping the volume scales in all of those commodities at the same time. There is clearly some stockpiling being done while NAFTA and its zero tariffs are still in place.
US prices may be getting an articificial boost right now because of this stockpiling. What are the implications? The bullish angle would be that the NAFTA re-negotiations and immigration changes don't muck up US exports, the US keeps selling to Mexico, and extra market share was gained via the current buying ahead process. The second and less bullish outcome is that at some point in the future we hit a demand vacuum from a currently active buyer, because the goods are already there and they don't need any for a while. The third angle is that not only do they not need any, they have lined up competing supplies from South America and aren't coming back until US prices drop. In that event the US would eventually get to sell to third parties currently being served by Brazilian or Argentine supplies, but likely later and at a lower price.
Corn futures were down 4 1/4 cents this week, or 1.15%. Ethanol stocks continue to grow, hitting a 10 month high. Some relief via the export market or domestic driving demand is needed. USDA showed more bearish weekly Export Sales numbers, with old crop at 743,100 MT and new crop at 264,500 MT. That is still over 40 million bushels in combined sales. Export commitments are running 61% ahead of year ago, and total 76% of the full year WASDE projection. They would typically be 72% by this date. At the Outlook Forum, USDA went with 90 million planted acres for 2017, and a 170.7 bpa national average yield. Ending stocks are seen declining to 2.215 billion bushels, limiting the cash average price to $3.50 vs. $3.40 this year.  The Friday CFTC report indicated that spec funds added 6,856 contracts to their corn net long position. That brought their total net long position to 92,216 contracts  as of Feb 21.
 

Commodity

 

 

 

Weekly

Weekly

Mon

02/10/17

02/17/17

02/24/17

Change

% Chg

Mar

Corn

3.745

3.6825

3.64

($0.043)

-1.15%

Mar

CBOT Wheat

4.49

4.41

4.3125

($0.098)

-2.21%

Mar

KCBT Wheat

4.605

4.5625

4.5375

($0.025)

-0.55%

Mar

MGEX Wheat

5.725

5.4625

5.4475

($0.015)

-0.27%

Mar

Soybeans

10.59

10.325

10.135

($0.190)

-1.84%

Mar

Soy Meal

342.1

339.6

331.3

($8.300)

-2.44%

Mar

Soybean Oil

34.61

32.89

32.39

($0.500)

-1.52%

Feb

Live Cattle

116.4

117.925

123.75

$5.825

4.94%

Mar

Feeder Cattle

122.08

124.08

121.70

($2.375)

-1.91%

Apr

Lean Hogs

71.075

70.775

68.025

($2.750)

-3.89%

Mar

Cotton

75.82

73.48

75.42

$1.940

2.64%

Mar

Oats

2.545

2.5675

2.5175

($0.050)

-1.95%
Wheat futures were down on the week in all three markets. Minneapolis was only off 0.27%, while KC dropped .55% and Chicago March was down 2.2%. USDA reported that 451,300 MT of old crop and 256,500 MT of new crop wheat were sold last week. Commitments meet 88% of the newly revised export forecast of 1.025 billion bushels. The 5 year average pace for this date would be 90%. The Commitment of Traders report on Friday showed spec funds in CHI wheat futures and options (managed money) cutting their net short position by another 12,662 contracts.  They were net short 27,385 contracts as of Feb 21. At the peak of their bearishness in October, they were net short  151,417 contracts. The USDA preliminary estimate for All Wheat is 46.0 million planted acres and a 47.1 bpa national average yield. Projected 2017/18 ending stocks are 905 million bushels, firming the average cash price expectation to $4.30 from $3.85 this year.
Soybeans lost 1.8% this week, getting help from neither of the components. Meal was down 2.4% and soy oil was down 1.5%. USDA indicated that 442,200 MT of export soybeans were booked last week, which included 28,700 MT of new crop. That was clearly below expectations but fits the seasonal trend. Meal export sales were comfortably within trade ideas at 230,700 MT. Soy oil export sales for the week were 12,700 MT with Mexico a leading buyer. At the Ag Forum in DC, USDA's preliminary S&D for 2017 soybeans uses 88 million planted acres, a 48 bpa national average yield and foresees 2018 ending stocks at 420 million bushels. Average cash price would be $9.60, a dime above this year.
Cotton futures were up 2.6% for the week. Weekly export sales of old crop upland cotton were strong at 367,200 RB, with another 128,400 RB sold for 2017/18. Accumulated cotton exports since the beginning of the marketing year are up 74% from last year. Commitments (shipped plus outstanding sales) total 90% of the full year WASDE estimate. They typically would be 87% at this point. The managed money spec funds trimmed their long exposure by 5,182 contacts last week to 98,155 contracts. At the Ag Forum, USDA went with 17 million bales of US production in 2017 on 1.4 million additional acres. Ending stocks are seen rising to 5.2 million bales, with cash price retreating to 65 cents from the current old crop estimate of 69 cents.
Live cattle futures shot up 4.9% this week in the nearby February contract. Feb expires on Tuesday, but needs to stick close to the cash market during the delivery process. Cash jumped a sharp $5 on Wednesday with $124-125 reported. Feeder cattle futures lost 1.9% since last Friday, with all of the loss occurring on Friday. Wholesale beef prices were higher this week. Choice boxed beef was up an average 4.4% this week, with Select boxes up 3.3%. Weekly beef production was up 0.4% from the previous week and up 5.5% vs. the same week in 2016. Beef production year to date is up 2.8% from last year. The Commitment of Traders report showed the big spec funds paring back a mere 380 contracts from their huge net long in cattle. They were still net long 96,920 contracts as of Feb 21.   Friday's USDA Cattle on Feed report showed continued expansion. January placements were 111.35% of year ago, and February 1 On Feed was 100.68%. The January placements were the second largest in the past 9 years, as shown in the graphic. Marketings were expected to be up 10%, and the actual figure was 110.2% of January 2016.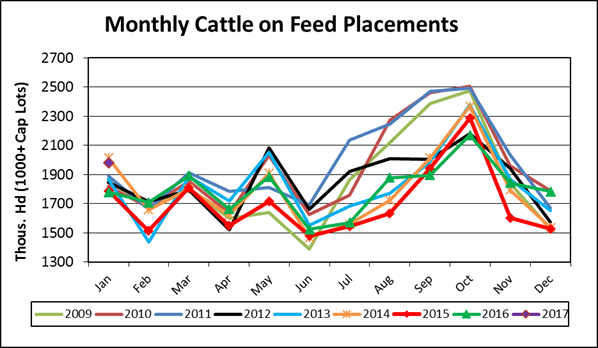 Lean hog futures dropped 3.9% this week, with wild swings in the pork belly cutout convincing some longs it was time to cash out. The latest reading on the CME Lean Hog index was $77.73, up another $4.93 from the previous Friday. Thursday's monthly Cold Storage report showed frozen pork stocks in all positions as of January 31 were up 10.8% month/month, but down 15.8% vs. the same date a year ago.  Belly stocks were down another 22% from December, and down 77% vs. the same date last year. There is no bacon shortage, but we are using more than we're making and not building inventory ahead of BLT season. The USDA pork carcass cutout value was $81.91 on Friday, and down 3.2% for the week.   The belly primal was down $20.44/cwt for the week despite a $6.57 rise on Friday. Weekly estimated FI slaughter of 2.28 million head was down 3.5% from the previous week. Pork production YTD is 0.9% smaller than last year. Weekly production was 3.3% larger than the same week in 2016.
Market Watch
Grain traders will begin the week reacting to any surprise futures positions arising out of March options expiration on Friday. Chicago wheat was trying for a 430 pin, but most markets got away from the obvious strike prices. Cattle traders will be reacting to the monthly COF report released on Friday afternoon and discussed above. We go back to the regulare weekly release schedule this week, with USDA Export Inspections on Monday and weekly Export Sales on Thursday. The EIA weekly ethanol report will be on Wednesday. Month end money movement/asset allocation adjustments will be a feature this week. We will also get the monthly USDA CAIR reports on Wednesday. Those include Grain Crushings, Fats & Oils, and Cotton Consumption.
Visit our Brugler web site at http://www.bruglermarketing.com or call 402-289-2330 for more information on our consulting and advisory services for farm family enterprises and agribusinesses.Clients can also get one touch access to our cash market and hedging recommendations via our mobile web site.  You will be taken to the mobile home page automatically if you visit our web site with the mobile device. Three times daily fundamental news from Brugler is available on the free side of the mobile site.
There is a risk of loss in futures and options trading. Past performance is not necessarily indicative of future results.  
Copyright 2017 Brugler Marketing & Management, LLC