Published on:
21:32PM Jul 17, 2015

Market Watch and US Dollar Tech Talk with Alan Brugler
July 17, 2015
Goldfish Bowl
While most of the ag markets lost ground this week, at times it felt like we were just swimming around in a goldfish bowl, getting a different view but not really going anywhere. For grains this has evolved into a weather market, which are notoriously difficult to trade because of conflicting forecasts, regional differences and a loose correlation between weather and national average yields. For more on that subject, see my rules for weather markets at www.bruglermarketing.com/weathermarketrules.  If you are in the Eastern Corn Belt, the goldfish bowl full of water certainly has an immediate connection. It should get drier this week.
Corn futures lost 3.5% for the week, with most of the drop on Friday.  Drier weather in the ECB and predicted rains in the upper Midwest were both seen as likely to improve yield prospects. The demand side is holding together. Old crop total export commitments have hit 99% of the recently increased USDA forecast for the full marketing year. They would typically be 103% by this date, but USDA keeps raising the bar. Ethanol stocks dropped 100,000 barrels from the previous week as use outstripped production. The Friday Commitment of Traders report showed the large spec funds adding 29,467 contracts to their net long position in the week ending July 14
 

Commodity

 

 

 

Weekly

Weekly

Mon

07/02/15

07/10/15

07/17/15

Change

% Chg

Sept

Corn

$4.285

$4.348

$4.203

($0.145)

-3.45%

Sept

CBOT Wheat

$5.905

$5.760

$5.540

($0.220)

-3.97%

Sept

KCBT Wheat

$5.918

$5.723

$5.465

($0.258)

-4.71%

Sept

MGEX Wheat

$6.240

$6.075

$5.748

($0.328)

-5.70%

Aug

Soybeans

$10.383

$10.320

$10.148

($0.172)

-1.70%

Aug

Soy Meal

$350.100

$355.600

$361.100

$5.50

1.52%

Aug

Soybean Oil

$33.480

$32.420

$31.780

($0.640)

-2.01%

Aug

Live Cattle

$151.225

$147.475

$146.650

($0.825)

-0.56%

Aug

Feeder Cattle

$217.45

$211.25

$215.20

$3.95

1.84%

Aug

Lean Hogs

$76.375

$73.650

$75.675

$2.025

2.68%

Oct

Cotton

67.570

65.510

65.870

0.360

0.55%

Sept

Oats

$2.600

$2.580

$2.503

($0.078)

-3.10%
Wheat futures dropped all week, losing a whopping 5.7% in MPLS for the week as weather forecasts brought needed rain into the northern Plains and Canada.  KC HRW was down 4.7%.  Chicago was down "only" 4% as wet weather cause harvest losses and serious quality issues taking a lot of wheat out of milling grade.  Net  US weekly wheat sales were the smallest since the beginning of June.  Strategie Grains cut their EU wheat production projection to 140.9 MMT.  Japan bought 75,600 MT of wheat from the US at the weekly MOA tender.
Soybeans were down 17 cents per bushel for the week, with another failed attempt to breach the high for the move in the August contract.  November did pick off stops above the high, but also lost ground on the week. Chinese new crop purchases are still very light compared to year ago at 2.4 MMT vs. 7.0 MMT. They continue to focus on buying South American beans for August and September shipment, with some October interest. The record crop in the Southern Hemisphere has longer "legs", with shipping extending into the traditional US slot.  US old crop commitments now total 102% of the increased full year forecast. They would typically be 103%, close enough to justify the WASDE hike.  The Commitment of Traders report confirmed that the large spec funds still had a very modest net long position of 85,104 contracts as of July 14.
------------------------------------------------------------------------------------------
Learn how to analyze these markets from both fundamental and technical perspectives. Attend our Brugler Marketing Summer Seminar in Omaha, NE on July 27-28. Call our office at 402-697-3623 for assistance, or go to www.bruglermarketing.com/omaha for the agenda and registration links.
We have a great mix of educational and outlook segments including our research on high rainfall effects on state yields, the new Trade at Settlement procedures at the CME and how you can use them, extensive corn, soybean, wheat, cattle and hog outlooks, and a Greek Tragedy segment. You will also learn how Alan uses the popular stochastics indicator, how it works, and when NOT to look at it.
Early registration discounts end on July 23, so don't delay.  Sign up today!
---------------------------------------------------------------------------------------------------------------------------
October cotton futures were up 0.55% for the week.  Net export sales were 167,800 RB for the week ending July 9.  US export commitments are 7% larger than last year, despite the drop in Chinese import quotas. They are 106% of the full year USDA number, but would typically be larger (109%) due to roll over business. The cotton marketing year ends July 31. USDA computed the average world price (AWP) to be 50.86 cents. That increased the LDP/MLG from 0.24 to 1.14 through July 23.
 Live cattle futures slipped 0.56% this week. Feeders were up 1.8% because of the weakness in feed grains. Futures are still about $7.50 below the CME Feeder Index. They don't have to converge until the late August FC futures expiration, though. Friday cash cattle trade was mostly $148 in the south, $2 below the previous week but above the August futures. Weekly beef production was down 2.1% from the previous week and 6.3% smaller than a year ago for the same week. Year to date beef production is down 4.7% on 7% fewer cattle slaughtered.  Wholesale beef prices were lower for the week, with Choice losing 1.6% and Select down 2.0%
Lean hog futures shot up 2.7% for the week, mostly due to profit taking after the market reached an oversold technical condition. The CME Lean Hog Index was up $1.89 for the week at $80.55 vs. $78.66 last week. Weekly FI slaughter was 2.09 million head, up 0.8% from last week but a huge 13.8% larger than the same week in 2014. Summer pork exports have traditionally been limited by lack of supply. That is definitely not the case this year. The strong dollar is another matter. Pork production YTD is now 6.8% larger than last year at this time, on 7.2% larger slaughter. Yes, average carcass weights are running below year ago. Wholesale pork prices firmed this week, with the cutout up 2.02% on a Friday/Friday basis.
Market Watch
The regular USDA Export Inspections and Crop Progress on Monday and weekly Export Sales on Thursday will get some attention, particularly the crop ratings. The main USDA monthly reports will be Cold Storage on Wednesday and the Cattle on Feed report, released after the market close on Friday.  
Tech Talk: September US Dollar Index
Note: Tech Talk is a regular feature of the subscriber version of Market Watch, featuring key ag related markets such as December corn and November soybeans so that you see them as the computers and technical traders see them. We are providing an example here so that you are aware that we provide this service to producers, under our Special Research Reports service.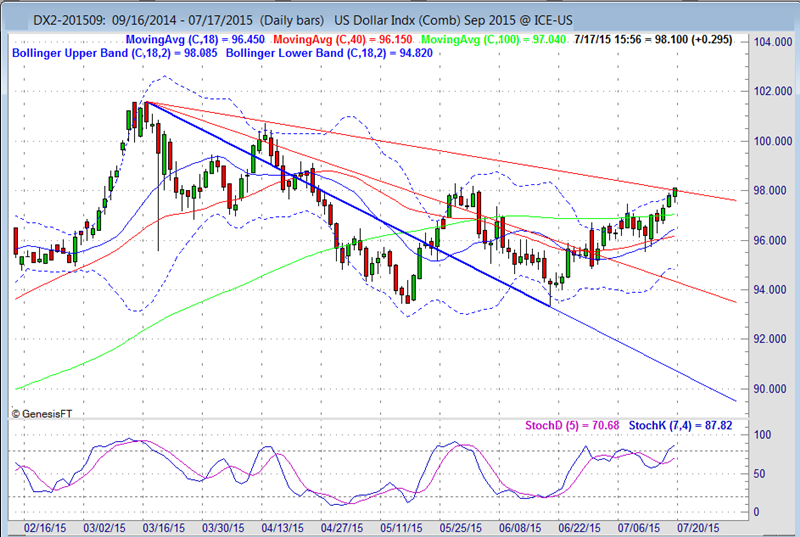 The US dollar index continues to prove that "if you trade the news you lose".  Despite all the day to day hysteria about the Greek debt situation, the dollar traded a fairly typical technical pattern over the past 4 months. It has swung from the upper Bollinger Band to the lower Bollinger Band to the upper Bollinger Band and continues to do so, reaching over bought stochastics or RSI readings on the highs and oversold readings on the lows. We are pushing the upper Bollinger Band again at the present time. The market is not as crisply overbought as it was on the last few swings, so we have to be careful about jumping the gun on the next sell off.
Please note that prices were also up against the 2/3 speedline resistance on Friday (red diagonal line).  In speedline theory, breaking the 1/3 leads to a test of the 2/3 and breaking the 2/3 points to an eventual re-test of the origin (101.615 for September DX futures).  Please note the action in May, however. The breakout above the 1/3 speedline was a bull trap, lasting only 4 days before a dive back below the speedline and eventual test of the prior low.  A "for real" breakout above the speedline would be a bearish input for commodities priced in dollars.
Visit our Brugler web site at http://www.bruglermarketing.com, find our iPad app "AgMarket" in the Apple app store, or call 402-289-2330 for more information on our consulting and advisory services for farm family enterprises and agribusinesses.
There is a risk of loss in futures and options trading. Past performance is not necessarily indicative of future results.
Copyright 2015 Brugler Marketing & Management, LLC