Published on:
21:55PM Apr 12, 2019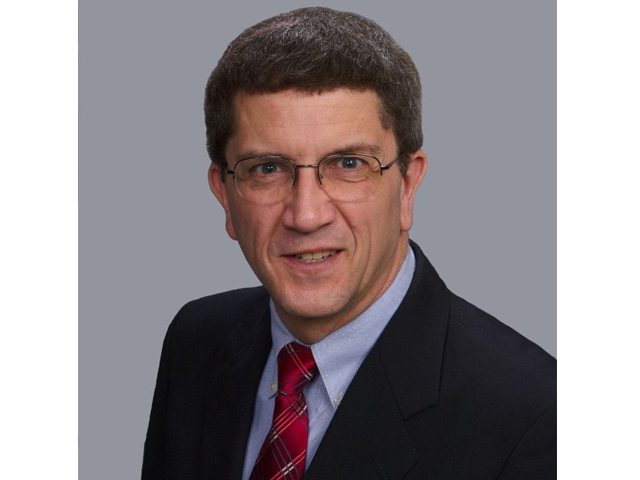 Market Watch with Alan Brugler
April 12, 2019
Newton's Laws Of The Market
Sir Isaac Newton is famous for establishing some of the laws of gravity based on seeing an apple fall from a tree. He's also known for his three laws of motion, outlined in Principia. They are 1) A stationary body will stay stationary unless an external force is applied to it. 2) Force is equal to mass times acceleration, and a change in motion (i.e., change in speed) is proportional to the force applied. 3) For every action, there is an equal and opposite reaction. It seems to me Sir Isaac could have come up with those laws after observing the ag commodity markets over the past two weeks. 
Let's examine my evidence.  For #1, also known as objects at rest tend to stay at rest, look at December corn. That apple fell off the tree on March 29, bounced when it hit the ground, and hasn't wanted to move since.  No new external force is being applied from exports or industrial use at the moment. For #2, see hogs. There is a massive amount of force being applied to pork prices globally via the ASF outbreak and production losses. The futures have been rising on a steep trajectory.  Hogs are also proof of the corollary of rule #1, that objects in motion tend to stay in motion.  The nasty 5 day sell off in late March interrupted but didn't stop the upward price movement. For #3, we can look at the nature of futures and cash markets in general. There is a buyer for every seller, and prices over time are mean reverting. The cattle futures have a downward bias due to rising feedlot numbers, but there have been a half dozen multi-dollar swings back and forth over the past two months.
Corn futures lost 0.4% this week, or 1.5 cents per bushel. The market handled bearish USDA numbers quite well.  The WASDE report on Tuesday contained a huge 200 million bushel hike in expected corn ending stocks. That's about 50 million more than the pre-report estimates. USDA also hiked projected world leftovers to 314.01 MMT from 308.53 MMT. Export sales commitment are still problematic, almost 9% below year ago as of Thursday's USDA report. YTD commitments are 75% of the full year WASDE estimate, lagging the 5 year average pace of 84% for this date. On Friday afternoon, the CFTC confirmed the managed money spec funds were crowding into the short side of the market in the week ending April 9. They added 25,011 contracts to the speculative net short position. That put them net short 271,746 contracts for futures and options combined.
Wheat futures were higher in two of the three markets. Chicago was down 0.7% as it shed a little of the premium on the W/KW spread. KC HRW gained on that spread, up 0.7%. Minneapolis spring wheat was up early and down late but held on for a 1.7% gain on the week. SRW crop condition ratings are still the worst in at least 18 years, and estimated ending stocks are at a 3 year low. The bomb cyclone and blizzard conditions further delayed spring wheat planting in the northern Plains and upper Midwest.  USDA hiked projected US wheat ending stocks to 1.087 billion bushels, trimming seed, feed and export disappearance from their previous figures. Weekly US wheat export sales slowed to 474,400 MT. US wheat export sales commitments are now 6% above year ago.  Commitments YTD still lag the pace to meet the reduced WASDE forecast. They were 96% of the total, vs. the average of 102% for this date. The marketing year ends May 31. The Commitment of Traders report on Friday afternoon showed the large spec funds stubbornly net short 54,269 contracts in Chicago SRW as of April 9, reducing it by 2,170 contracts from the previous week.
Soybean futures were down 0.4% for the week, giving back 4 cents out of the 15 they advanced the previous week. Soybean meal was down 10 cents/ton or 0.03%. Soy oil was down 0.7%. USDA cut projected soybean ending stocks to 895 million bushels on Tuesday, still the largest in history. World stocks were up a modest 190,000 MT from last month due to a higher Brazilian yield estimate from USDA.  Full year US export commitments are still 17% below last year due to the slow shipping pace in the first six months. Unshipped sales are 18% larger than year ago at 13.016 MMT, offering the potential for some "catching up". The Commitment of Traders report for the week ending April 9 showed the spec funds paring back their net bearish soybean position by 2,855 contracts of futures and options, taking it to -71,314 contracts.
 

Commodity

 

 

 

Weekly

Weekly

Mon

03/29/19

04/05/19

04/12/19

Change

% Chg

May

Corn

$3.5650

$3.6250

$3.6100

($0.015)

-0.41%

May

CBOT Wheat

$4.5775

$4.6775

$4.6450

($0.033)

-0.69%

May

KCBT Wheat

$4.30

$4.31

$4.34

$0.030

0.70%

May

MGEX Wheat

$5.548

$5.225

$5.313

$0.088

1.67%

May

Soybeans

$8.84

$8.99

$8.95

($0.037)

-0.42%

May

Soy Meal

$306.50

$308.00

$307.90

($0.100)

-0.03%

May

Soybean Oil

$28.36

$29.15

$28.95

($0.200)

-0.69%

Apr

Live Cattle

$125.70

$126.05

$126.55

$0.500

0.40%

Apr

Feeder Cattle

$145.25

$146.15

$145.43

($0.725)

-0.50%

May

Lean Hogs

$81.33

$91.00

$89.60

($1.400)

-1.54%

May

Cotton

$77.61

$78.25

$78.11

($0.140)

-0.18%

May

Oats

$2.6900

$2.8750

$2.8725

($0.002)

-0.09%
Cotton futures were down 0.2% this week, posting new highs for the move on Tuesday before retreating.  USDA cut their domestic consumption estimate on Tuesday, putting ending stocks at 4.4 million bales. The main influence for the week was China's announcement of a supplemental cotton import quota on Friday. That made for a wild May cotton option expiration and a 223 point daily trading range. Cotton export sales were strong again the week ending Apr 4 at 289,000 running bales for old crop upland varieties.  Another 209,900 RBs were booked for 2019/20 shipment. The CFTC Commitment of Traders report on Friday showed the large spec funds adding 5,945 contracts to their fledgling net long position last week. They were net long 14,652 contracts on April 9.
Live cattle futures were up 0.4% this week. Cash cattle trade was all over the place, with trades at $124 in the south at midweek and $127-$128 reported on Friday in snow bound Nebraska. Road closures made available cattle valuable cattle.  Feeder cattle futures were down 0.5% for the week. The CME feeder cattle index was 142.78, down $1.23 for the week and basically erasing the previous week rally.  Wholesale beef prices were higher again this week, with choice boxes up 0.8% or $1.91 per cwt. Select 600-900# carcass values were up $0.74 or 0.3% from Friday to Friday. USDA weekly beef production was up 2.1% from the previous week and up 2.8% from the same week in 2018. Beef production YTD is down 0.7% from last year despite 0.9% higher slaughter. USDA weekly beef export sales shrank 43% from the previous week to 11,800 MT. The Commitment of Traders report shows the big speculator funds adding 704 contracts to their net long in the week ending April 9, putting it at 148,941 contracts.
Lean hog futures were down 1.5% in the new front month May contract this week.  April expired on Friday. Several hog futures contracts posted new life of contract highs on Thursday after USDA showed record weekly pork export sales of 90,700 MT and identified China as the buyer for 77,700 MT. The CME Lean Hog index was $79.36 on Friday, up $1.10 from the previous week. The pork carcass cutout value rose $3.87 or 4.7% for the week. Pork production this week was down 3.0% from the previous week. It was still 0.5% larger than the same week in 2018. Pork production for the year to date is up 2.9% from last year on 2.7% higher slaughter. Commitment of Traders data released Friday showed the large spec funds adding 13,691 contracts to their net long, taking it to 50,482 as of COB on April 9.
Market Watch
This will be a short week, with US markets closed on Good Friday. Cotton traders will begin the week reacting to any surprise May futures positions inherited at options exercise on Friday. The USDA Export Inspections report is scheduled for Monday, along with the weekly Crop Progress report. NOPA will also release their March soybean crush and oil stocks report on Monday. The weekly EIA ethanol report will be out on Wednesday with USDA's weekly Export Sales report on Thursday.  The Cattle on Feed report is also expected on Thursday.
Visit our Brugler web site at http://www.bruglermarketing.com or call 402-289-2330 for more information on our consulting and advisory services for farm family enterprises and agribusinesses.
There is a risk of loss in futures and options trading. Similar risks exist for cash commodity producers. Past performance is not necessarily indicative of future results.  
Copyright 2019 Brugler Marketing & Management, LLC.