Published on:
22:01PM Jul 15, 2016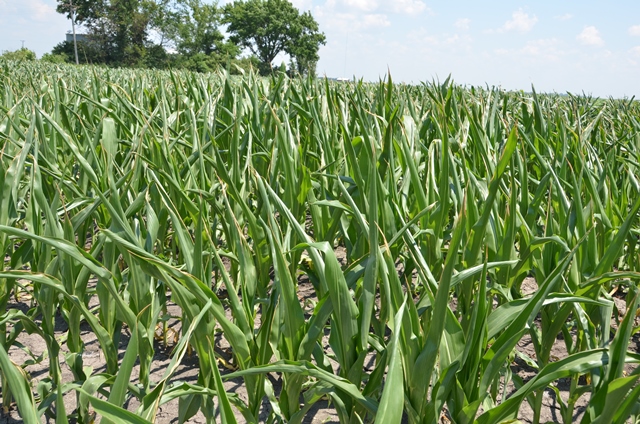 Market Watch with Alan Brugler
July 15, 2016
Summer Time Heat
It is the middle of July, and things are heating up.  The NWS 6-10 and 8-14 day forecasts are consistent in calling for much above normal temps and below to well below normal rainfall in the Corn Belt through at least July 29. The Corn Belt has generally good moisture going into period, with the typical local exceptions. Soybeans have the largest concern, due to tight projected stocks/use ratios. However, yields for beans are more typically impacted by August weather and not July. They have to wait and see. Corn yields can be hurt in a number of ways at this stage, including tip back due to moisture stress, and a shortened maturity period with resulting light test weights. The main question is how long the hot weather pattern sticks around, and whether problems start to be confirmed via the weekly crop condition ratings. As one veteran producer said, "the stuff was designed to grow outside".  He wasn't opposed to somebody other than him having a yield reduction, however!
Corn futures lost 2 3/4 cents per bushel for the week after early week gains evaporated.  As I said last week, "The bearish momentum appears to have run its course, which is not the same as saying that corn has to rally."  Daily average ethanol production rose to the second highest level of activity in history, and ethanol stocks shrank by 500,000 barrels.  The monthly WASDE report was bull friendly, as USDA trimmed old crop ending stocks to 1.701 billion bushels and put new crop well below trade expectations at 2.081 billion bushels. They left national average yield at 168 bpa. Bulls are arguing that number will drop after extensive Corn Belt heat next week and into late July.  Bears point to Brugler500 crop ratings that currently match the 2014 record yield values. The Friday Commitment of Traders report showed the spec funds exiting 94,401 contracts (net) of their long position through July 12. That left them net long only 8,702 contract of futures and options as of Tuesday night.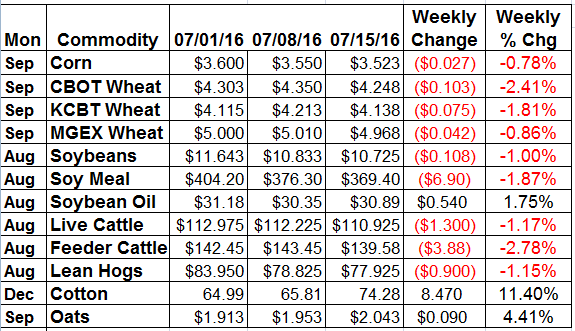 Nearby August soybeans were down 1.0% for the week with Thursday accounting for all of the weakness.  Meal futures dropped 1.9% for the week, only partially offset by a 1.7% gain in August soy oil.  USDA cut projected US ending stocks to 350 million bushels for 2015/16, and sees them tightening to 290 million bushels for 2016/17.  That was with the national average yield estimated at 46.7 bpa. With crop condition ratings rising, traders were free to imagine a hike in that number come August. The Friday Commitment of Traders report showed the funds trimming their net long by 7,921 for the week, but still holding a soybean net long of 159,407 contracts as of July 12.
Wheat prices were lower in all three markets this week, with Chicago SRW the weakest at -2.41%. The hard wheat markets held up better, with MPLS off only 0.86%. The NASS crop production numbers were bearish as anticipated, showing record winter wheat yields and HRW production over 1 billion bushels. The spring wheat number was slightly under the average trade estimate, however, at 550.5 million bushels.  Projected US new crop ending stocks are seen topping 1.1 billion bushels, nearly 6 months of use.  On the other hand, the world ending stocks figure was trimmed from June to July due to larger feeding estimates. US export campaign is off to a strong start, with export shipments running well above year ago levels.  Shipments YTD are up 47% from the same period in 2015. Export commitments YTD are 35% of the full year WASDE estimate. That is ahead of the 5 year average of 34% for this date.  Egypt was tendering for wheat for July 21-30 delivery on Friday, with results expected on Saturday.
December cotton was up 11.4% this week, not a misprint!  USDA trimmed projected old crop ending stocks by 200,000 bales on Tuesday, thanks to stronger than expected exports.  As  of July 7 they were still 22% smaller than last year, with 3 weeks remaining in the marketing year. They were, however, stronger than previously expected. USDA also hiked projected 2016/17 exports by a full 1 million bales, neutralizing a million bale upward revision in projected 2016/17 US production. The production hike had been expected, so that lack of a stocks hike was seen as bullish. Reductions in both old crop and new crop world ending stocks helped feed the bulls. With such strong price action, the LDP for this coming week is of course zero.
Live cattle futures ended the week 1.2% lower on see saw trading action with triple digit moves on several days. Feeder futures were down 2.8% for the week despite the weakness in the feed grains. The cash cattle market was slow to develop this week, with mostly $187-188 in the north and no representative trade in the south. Wholesale prices were lower this week. Choice 600-900# boxes were on average down 2.2%. Select grade carcass value were down 2.0%. Weekly beef production was up 16.56% from the holiday week, and 8.3% larger than the same week in 2015. Weekly slaughter @ 594,000 head was a whopping 9.6% larger than last year. Beef production YTD is up 3.8% on 3.1% larger slaughter.
Lean hog futures dropped 1.15% for the week, with August going home at $77.92. The CME Lean Hog Index was $81.00 on Friday, down $1.91 from the previous Friday. The USDA weighted average carcass cutout value was up 81 cents for the week, a 0.9% increase. Ribs and hams were lower, with the other primal cuts higher. Pork production this week was estimated at 444.1 million pounds, up 15.5% from the holiday week and 1.6% larger than the same week in 2015.  Pork production since Jan 1 is actually 0.6% smaller than in 2015 on 0.1% smaller slaughter.  Per the CFTC, managed money accounts exit 8,724 contracts from their net long position during the reporting week. That left them net long 59,617 contracts as of July 12.   
Market Watch
We have a full week of activity, with USDA Export Inspections and Crop Progress reports leading off on Monday. The market went home Friday expecting USDA to show crop condition ratings overall near multi-year highs. We expect the usual weekly EIA ethanol production and stocks data on Wednesday, with USDA weekly Export Sales on Thursday morning.  The main monthly reports from USDA will be on Friday, with the montly Cold Storage and Cattle on Feed reports.  August grain options will also expire on Friday.
Visit our Brugler web site at http://www.bruglermarketing.com or call 402-289-2330 for more information on our consulting and advisory services for farm family enterprises and agribusinesses.Clients can also get one touch access to our cash market and hedging recommendations via our mobile web site.  You will be taken to the mobile home page automatically if you visit our web site with the mobile device. Three times daily fundamental news from Brugler is available on the free side of the mobile site.
There is a risk of loss in futures and options trading. Past performance is not necessarily indicative of future results.  Copyright 2016 Brugler Marketing & Management, LLC