Published on:
21:23PM Aug 04, 2017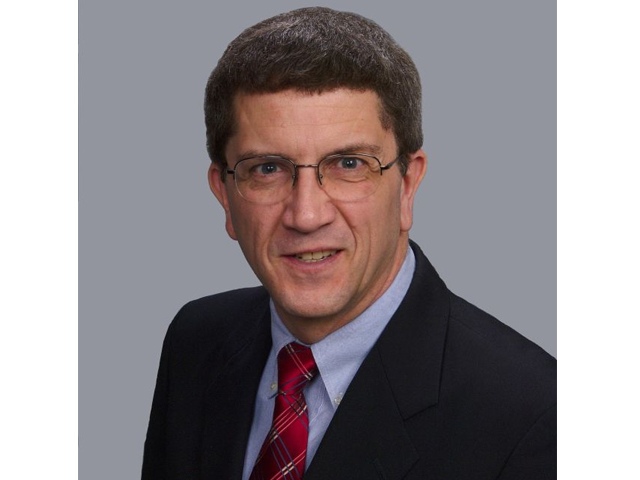 Market Watch with Alan Brugler
August 4, 2017
Two Different Perspectives
If you were hedged up in grains as a producer, or unhedged in livestock, this was a pretty good week for you.  Corn was down 2% and both wheat and soybeans were in the -5% bracket for the week. Grain producers who only use cash market tools or were standing aside took a beating as the weather moderated and the charts broke down. Any first of the month fund money allocations appeared to be on the sell side of grains, or at least allocating away from them. For livestock it was the best of both worlds, with feed costs declining and futures rising to create better hedging opportunities. That said, cash hogs were declining all week and cash cattle were a steady affair at best. The Board had just been a little too pessimistic about both.
Corn futures were down 2.1% this week. USDA crop condition ratings went against most expectations, as the USDA reported corn ratings of 61% good/excellent for the week of July 30, down 1%. The Brugler500 index was down 2 points to 357, which is down 8 points from the initial report and 32 points lower than last year. That didn't matter, as traders were focused on cooler temps and wetter forecasts for mid-August, as well as weak export sales.  Total export commitments are now 14.94% ahead of last year, but losing their lead. Compared to the USDA projection, they are now 100%, vs. the average of 104% for this date. The average trade guess (Bloomberg) for new crop ending stocks next week is 1.94 billion bushels, down from 2.325 billion in July. The Friday afternoon Commitment of Traders report confirmed that the managed money spec funds were exiting longs. Their net long shrank 22,171 contracts in the week ending August 1, taking it to 84,644.
Wheat futures were down hard this week.  Chicago SRW lost 5.5%, with KC HRW down 4.5% and bull leader losing 3.3%.  Crop condition ratings continued to deteriorate in the MPLS spring wheat to a Brugler500 index of 271 and down another 6 points from the previous week. That is now old news, however, and end users are finding solutions. The Bloomberg survey anticipates All Wheat production of 1.720 billion bushels from USDA on Thursday, down 40 million from last month. Informa estimates that total 2017 wheat production will be 1.69 bbu. This week's Commitment of Traders report showed the reportable spec traders subtracting 15,660 contracts from their net long in CBT wheat.  They also trimmed 6,468 contracts from their net long in KC HRW.
Soybean futures finished the week down a whopping 5.15%. Rain makes grain, and perceived rain can be just as damaging to prices. August meal was down 5.45%, with an even weaker price chart than the beans. Soy oil lost 2.9% after gaining 2.4% the previous week. Soybean conditions during the week of July 30 improved. The Brugler500 index is now at 352, up 3 from the previous week but still 27 below year ago. It is implying a yield with a 47 in front of it if current conditions continue into harvest.  Trade surveys suggest a crop of 4.2 billion bushels, down from 4.26 billion in July. Total export commitments are 106% of the USDA projection, and with a month left in the marketing year the USDA has room to increase that projection of 2.15 bbu. Spec funds cut 11,090 contracts from their net long in soybean futures and options, bringing the total down to 39,785 as of Tuesday evening.
 

Commodity

 

 

 

Weekly

Weekly

Mon

07/21/17

07/28/17

08/04/17

Change

% Chg

Sep

Corn

3.7975

3.7425

3.665

($0.078)

-2.07%

Sep

CBOT Wheat

4.9925

4.81

4.5475

($0.262)

-5.46%

Sep

KCBT Wheat

4.96

4.81

4.595

($0.215)

-4.47%

Sep

MGEX Wheat

7.6575

7.405

7.1625

($0.243)

-3.27%

Aug

Soybeans

10.09

10.0075

9.4925

($0.515)

-5.15%

Aug

Soy Meal

329.7

321

303.5

($17.500)

-5.45%

Aug

Soybean Oil

33.8

34.61

33.6

($1.010)

-2.92%

Aug

Live Cattle

116.425

112.9

115.45

$2.550

2.26%

Aug

Feeder Cattle

152.95

146.05

149.95

$3.900

2.67%

Aug

Lean Hogs

81.1

81.4

83.225

$1.825

2.24%

Oct

Cotton

69.14

70.22

70.99

$0.770

1.10%

Sep

Oats

2.9575

2.9575

2.8375

($0.120)

-4.06%
Cotton futures were up 1.1%, adding to gains from the past two weeks. Put one foot in front of the other and eventually you are going somewhere! Cotton condition ratings improved 1% this week to 56% g/e. That is part of a Brugler500 index of 350, with the overall ratings down 2 points from last week. All upland cotton old crop export sales were net negative due to roll overs. Total new crop outstanding sales (aka advanced book) are 95% larger than late July in 2016. The marketing year ends July 31. With just 4 days left in the MY for next week's report total old crop export commitments are 108% of the USDA projection, even with last year and 1% above the average. The CFTC Commitment of Traders report showed the managed money adding 2,938 contracts to their net long in cotton futures and options. They were new long 21,593 contracts on August 1 and adding longs for the second week in a row after 9 down weeks.   
Live cattle futures were up 2.3% this week after losing 3.03% the previous week. Feeder cattle futures were up 2.7%. The cash cattle market mainly traded $117-118 this week, with a few at $119. That was steady to $1 higher than the previous week. Wholesale beef prices were mixed this week. Choice boxed beef dropped another 1.3% for the week, but Select was up 0.2%. Weekly beef production was up 1.4% from last week, and 6.8% larger than the same week in 2016. Year to date beef production is up 4.1% on 5.9% more slaughter. Average carcass weights are still running below year ago by an estimated 15#. Data from the CFTC on Friday showed spec traders chipping another 8,176 contracts from their net long this week, to 102,526 contracts. This is the 7th week in a row their net long position was smaller.
Lean hog futures saw nearby August futures up $1.82 this week, as they tried to narrow the basis gap with the CME Index. August went home at $83.22, still a substantial discount. The CME Lean Hog index dropped to $87.11, down $2.28 from the previous week. It had declined $2.61 the week before that. Weekly pork production was up 0.5% from last week, and 2.1% larger than the same week in 2016. Pork production YTD is 2.3% above than last year. Weekly slaughter @ 2.25 million head was 0.5% larger than the same week in 2016. The USDA pork carcass value was down $2.98 for the week, a 3.02% decline. The two week drop is more than $7 per cwt.  CFTC showed the managed money spec longs taking another 3,476 contracts off their net long after to a net position of 73,826 contracts as of 8/1.
Market Watch
We have a fairly typical schedule next week for the second week in August. The USDA Export Inspections report will be out on Monday, along with weekly Crop Progress. The weekly EIA ethanol report will be on Wednesday. The USDA Export Sales report will be out on Thursday. The big story on Thursday will be the "other" USDA reports, i.e. Crop Production and WASDE balance sheets. This will be the first NASS attempt of the year at measuring ear counts and pod numbers and estimating grain weights. The July figures in the WASDE report were based on trend yields and the June 30 acreage report.
Visit our Brugler web site at http://www.bruglermarketing.com or call 402-289-2330 for more information on our consulting and advisory services for farm family enterprises and agribusinesses. Sound analysis and advice makes a difference!
There is a risk of loss in futures and options trading. Past performance is not necessarily indicative of future results. 
Copyright 2017 Brugler Marketing & Management, LLC