Published on:
21:30PM Jul 21, 2017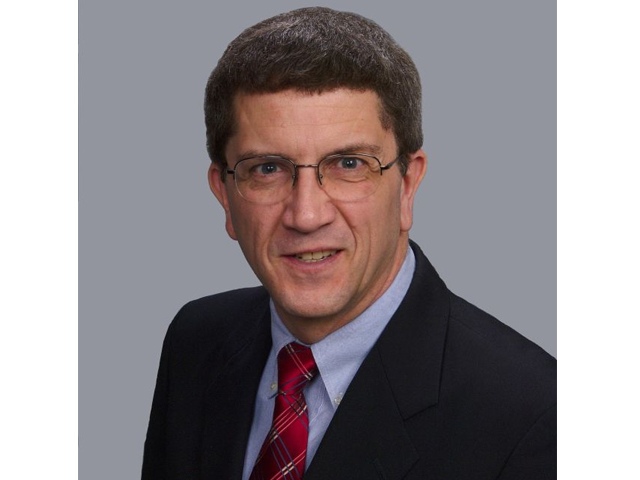 Market Watch with Alan Brugler
July 21, 2017
Your Back Yard
In my market outlook presentations around the country, I often remind producers in the audience that you can't see one millionth of the US crop from your back door. This is to counteract backyarditis, a phrase I coined to describe people who tend to think that whatever is going on in their vicinity is also happening to everyone else. This can be dangerous in commodity marketing, causing you to think crops are excellent when they are not, and more frequently the opposite. This year, I think a map of the high yield crop areas will look like Swiss cheese, based on the calls I was getting. Everyone's back yard is different. In the course of 10 phone calls, I got two who were fretting about soybeans being stunted by wet feet, three who were in the Dakotas drought area and expecting $5 corn, two who admitted to early crop problems but were growing out of it, and three who confessed to excellent yield potential but don't want me talking about where they are.  This diversity to me suggests record national yields are out of the picture, but divergence below trendline will be determined by late July and early August weather across all 320 million acres of principal crop acres. That is a big back yard!
Corn futures were up 3 ½ cents for the week despite losing 11 ¼ on Friday.  Friday action was discouraging for bulls, with stronger export sales this week, the hot & dry 6-10 and 8-14 day forecasts and yield estimates dropping into the 166 area. One old trade axiom says the bull move is over when good news fails to make it move higher. That said, it was still a higher weekly close and much of the weakness can be attributed to profit taking by nervous longs. USDA reported old crop export sales of 446,489 MT for the week ending July 13. That exceeded most expectations, as it was nearly 3 times above the previous week and 35.16% larger than this time last year. Consultant Informa updated their 2017 US corn yield projection to 166.2 bushels per acre, down 3.5 bpa from their previous estimate, with production at 13.9 billion bushels. The Friday night Commitment of Traders report revealed the spec fund shorts adding another 3,706 contracts to their net longs this week, to 104,670 contracts. This was not expected but is still a historically small net long for mid-July.   They were net long 279,665 on the same Tuesday in 2015.
Wheat saw the spreads widen again, with MPLS up 1% for the week while the other two marketsw ere down 2-3%. Crop condition ratings saw further deterioration in the MPLS spring wheat. The USDA announced 669,520 MT for 17/18 all wheat export sales during the week of July 13, well above expectations. That was 87.2% larger than the previous week and 40.1% above last year, as well as a MY high excluding carryover from 16/17. The Friday afternoon Commitment of Traders report showed the reportable spec funds reducing their net long in CBT wheat by 8,.759 contracts in the week ending 7/18.   They also trimmed 2,193 contracts from their record net long in KC HRW.  The fund net long in spring wheat rose by 251 contracts from the previous report.
Soybean futures were up 2.02% this week. August meal was up 1.85% and soy oil was up 1.68%. Soybean conditions during the week of July 9 dropped 2% g/e to 64%, as the Brugler500 index is now at 358. Expected world stocks/use ratios are still way too comfortable, and reliant on USDA's assumed lower South American production in 2018. Spec traders in soybean futures and options added another 19,303 contracts to their net long in soybeans, taking it to 38,351 as of Tuesday evening.
 

Commodity

 
 
 

Weekly

Weekly

Mon

07/07/17

07/14/17

07/21/17

Change

% Chg

Sep

Corn

3.925

3.7625

3.7975

$0.035

0.93%

Sep

CBOT Wheat

5.5

5.1075

4.9925

($0.115)

-2.25%

Sep

KCBT Wheat

5.43

5.135

4.96

($0.175)

-3.41%

Sep

MGEX Wheat

7.6675

7.58

7.6575

$0.077

1.02%

Aug

Soybeans

10.01

9.89

10.09

$0.200

2.02%

Aug

Soy Meal

330.7

323.7

329.7

$6.000

1.85%

Aug

Soybean Oil

32.85

33.24

33.8

$0.560

1.68%

Aug

Live Cattle

114.775

117.8

116.425

($1.375)

-1.17%

Aug

Feeder Cattle

145.03

154.28

152.95

($1.325)

-0.86%

Aug

Lean Hogs

83.225

79.9

81.1

$1.200

1.50%

Oct

Cotton

69.75

67.18

69.14

$1.960

2.92%

Sep

Oats

2.8275

2.87

2.9575

$0.087

3.05%
Cotton futures were up 2.9% this week thanks to a sharply weaker USD. That offset some of the 3.7% loss from the previous week. All upland cotton export sales were 27,216 RB for old crop, with 166,210 RB sold for new crop. Total sales were 16.79% larger than a week ago but 25.73% lower than last year. The marketing year ends July 31. Export shipments were shown at 280,526 RB, 43.65% above the previous week and 50.8% larger than this time last year. All upland cotton total export commitments are 108% of the full year WASDE forecast, vs. 104% last year and the average of 106%The Commitment of Traders report indicated that the spec funds continue to unwind their net long in cotton. They cut it another 5,147 contracts in the week ending July 19, taking it down to 17,363 contracts.
Live cattle futures were down 1.2% this week. Feeder cattle futures slipped less than 1%. The cash cattle market ignored the declining beef market, with cash trading $118-120, fully steady with the previous week. Wholesale beef prices were lower again this week. Choice boxed beef dropped $2.44/cwt for the week (-1.2%), with Select down $0.62/cwt from the previous Friday for a 0.3% loss. Weekly beef production was down 0.8 % from last week, but also up 2.4% from the same week in 2016. Year to date beef production is up 4.0% on 5.8% more slaughter. Friday's Commitments of Traders report showed managed money continuing to slowly reduce their net long by another 1,616 contracts this week, to 113,295 contracts.  The USDA Cattle on Feed report showed record numbers for July 1, with June placements shooting up 16.07% from year ago while marketings were up 4.03%.  The Cattle Inventory report was not issued in 2016, but showed a two-year increase of 4.5% in cattle numbers. Both reports suggest a slowdown in herd expansion with more heifers heading to feedlots.
Lean hog futures saw August futures up 1.5% as they tried to narrow the basis gap with the CME Index. August went home at $81.10, still a substantial discount. The CME Lean Hog index dropped to $92.00, down 84 cents for the week. Weekly pork production was up 0.8% from last week, and 2.9% larger than the same week in 2016. Pork production YTD is 2.3% larger than last year. Weekly slaughter @ 2.213 million head was 3.4% larger than the same in 2016. The USDA pork carcass value was down $1.70 for the week, a 1.63% decline. The belly primal was higher, but the other cuts couldn't support the market. CFTC showed the spec fund longs trimming 4,290 contracts from their net long after adding 6,578 contracts the previous week. That had been their largest net long since the PED days of 2013.
Market Watch
We have a typical late July schedule this week. Cattle traders will be reacting to the large numbers shown in the Cattle on Feed and Cattle Inventory reports from Friday evening. Grain traders will be reacting to another surprise positions inherited at August options expiration (and any weather surprises). The USDA Export Inspections report will be out on Monday, along with weekly Crop Progress. USDA will also release the monthly Cold Storage report. The Fed will meet on Tuesday and Wednesday, with any rate strategy announcements expected on Wednesday afternoon. The weekly EIA ethanol report will be on Wednesday. The USDA Export Sales report will be out on Thursday.
Visit our Brugler web site at http://www.bruglermarketing.com or call 402-289-2330 for more information on our consulting and advisory services for farm family enterprises and agribusinesses. Sound analysis and advice makes a difference!
There is a risk of loss in futures and options trading. Past performance is not necessarily indicative of future results. 
Copyright 2017 Brugler Marketing & Management, LLC