Published on:
15:30PM May 06, 2011
Current good to excellent winter wheat conditions are very weak. Of the 32 years of USDA available reported data, MGEX has identified four years, or 12.5 percent, when the good to excellent winter wheat conditions have been as weak as they currently are.
Early May 2011 winter wheat conditions are 34 percent good to excellent. The four years which nearly matched present conditions were 1989, 1996, 2002 and 2006. Despite the weak conditions, yield and price did not decrease by the time the January Annual report was released.
Two of the four weak condition years experienced decreases in yield of good to excellent winter wheat from early May to mid-summer. During this decline, prices increased from early May to the last day of January. When the good to excellent conditions of winter wheat increased, yields increased and ultimately prices declined.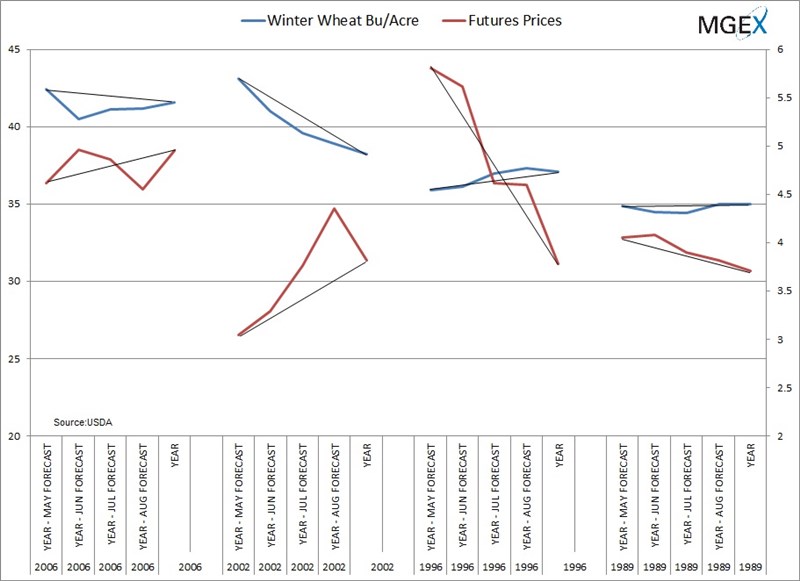 One business day before USDA released the present winter wheat conditions, the March 2012 closing futures price for Hard Red Winter Wheat (HRWW) was $9.576 per bushel and Soft Red Winter Wheat (SRWW) was priced at $9.19. This may suggest if good to excellent conditions erode, the late January closing price for HRWW March futures may be in a high range of $10.236-$12.01 and a low range of $4.446-$8.86. SRWW may discover a high range of $9.824-$11.52 and a low range of $4.646-$8.34 per bushel.
The odds of a decrease or increase in good to excellent conditions in the HRWW growing region are 50/50. If dry weather persists in the one to three day forecast, HRWW yeilds are likely to decrease while prices are likely to increase. 
MGEX will monitor Hard Red Spring Wheat conditions when data becomes available.
MGEX welcomes your questions.........Joe Victor
Information used to compile this update is from publicly available sources. Nothing contained herein should be construed as a trading recommendation of MGEX, its employee or its members. For informational purposes only.