Published on:
16:13PM Dec 17, 2010
MGEX has analyzed planted acreage for 2011 and there is a multitude of options which must take place.
Most recently the trade community is talking about a 2-3 million acre increase for corn, 500 thousand to 1 million acre increase for soybeans and 1-3 million acre increase for all wheat for Spring 2011 versus 2010 levels.
Total acres of corn, beans and wheat planted in 2010 were 219.5 million, down by 3.7 million acres in 2009 and 223.2 in 2008. The 5.4 million acres planting differential between 2008 and 2010 is as encouraging as additional Conservation Reserve Program acres expire for 2012 and 2013 plantings. CRP acres set to expire are as follows:  2011, 5 million acres; 2012, 7.2 million acres; and 2013, 3.6 million acres. Granted, not all CRP acres are expected to be planted, but it is nice to know there is a buffer out there.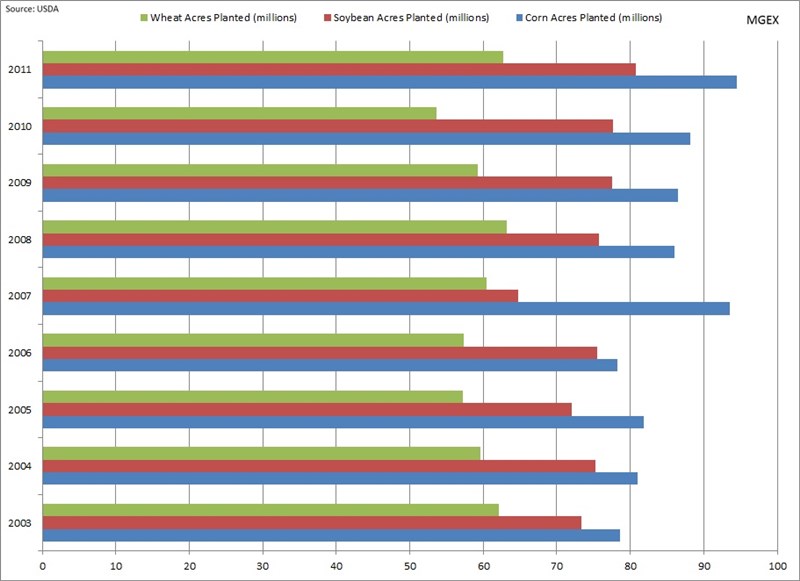 In order to maintain ending stocks at present levels, and using trend yield data and demand, minimum planted acreage must be 94.5 million for corn, 80.74 million for soybeans and 62.67 for wheat. The total of these represents 237.91 million acres, a 6.5% increase over 2008. Much will depend on what USDA uses for yield in the May 2011 WASDE.
Based on the MGEX data provided, the increase in planted acres for 2011 exceeds estimates which are discussed by the trade community in significant amounts.
Just a few of the items to be thrown in the mix will be the world economy, conditions of the winter wheat crop, performance pressure placed on 2011 spring wheat, ethanol, commodity ratio as well as crop rotation even before the transition of El Nino to La Nina weather.
MGEX welcomes your questions.........Joe Victor