Published on:
15:20PM Apr 08, 2011
In early April, the USDA unveiled its first winter wheat crop conditions for 2011. USDA estimates the crop at 37% good to excellent versus a five year average of 52%. Since 1986, the highest good to excellent condition was 78% in 1993. The lowest good to excellent rating was in 1996 when the rating was 27%. Notably, since 1986, 80% of the time the good to excellent winter wheat crop conditions have dropped from the early April ratings to the last USDA report in late July.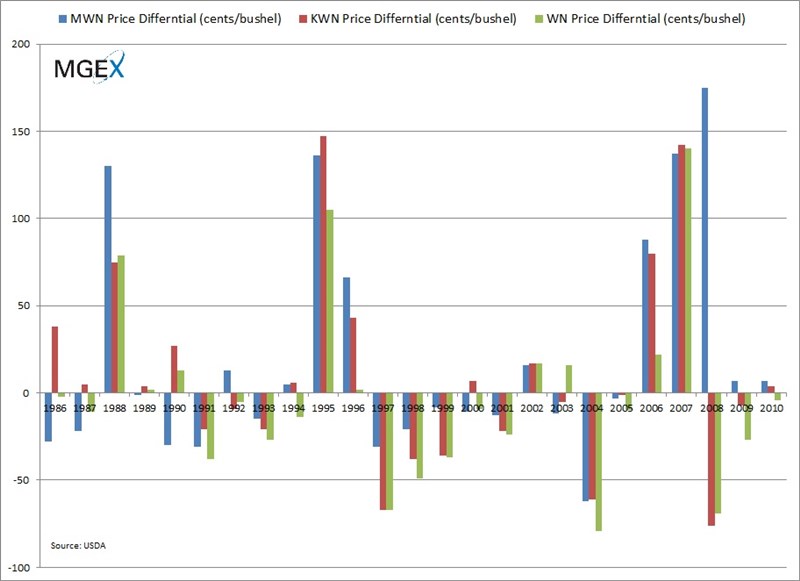 When comparing recent good to excellent crop ratings, consider 2006 and 2002. In 2006, the good to excellent rating was 38% and in 2002 it was 31%. In 2006, the MGEX Hard Red Spring Wheat (HRSW) July futures had an 88 cent per bushel increase. This increase occurred from the initial April report to the final winter wheat crop condition report released in July from the Kansas City Board of Trade. Additionally, Hard Red Winter wheat futures increased 80 cents, while the CME Group's Soft Red Winter wheat futures increased 22 cents. In 2002 the good to excellent crop conditions started at 31% good to excellent in April and finished in late July at 28%. With this 3% drop in conditions, the Minneapolis July futures increased 16 cents per bushel, while Kansas and Chicago were up 17 cents.
July winter wheat futures have been found to contract higher 16% of the time, and the other exchange's contract lower during April through July. Since 1986, 64% of the time the change has been in the single digits, but the change in July wheat futures varies widely.
Since 1986, there have been only two years when all wheat gains were one dollar per bushel or more from April to July. Conditions dropped one year to 24% and the other year to 31%. Provided current conditions are 37% good to excellent, could they drop from the minimum of 24% down to 13%? The answer is, not likely.  
In the future, it may not be wise to put a great deal of emphasis on the weekly crop condition reports the USDA publishes.  This is a report the public demands, but in hind sight may offer inaccurate information. 
MGEX welcomes your questions.........Joe Victor