Published on:
14:28PM Jun 24, 2011
The March 2011 Prospective Plantings issued by the United States Department of Agriculture (USDA) estimated durum wheat acreage at 2.365 million. Of the total acres, 67.6 percent is to be planted in North Dakota, 21.6 percent in Montana, 6.5 percent in California, 2.9 percent in Arizona and less than 1 percent in both South Dakota and Idaho.
The National State Statistic Service (NASS) in Montana has been archiving weekly planting progress data for durum since 2002. According to the June 19 weekly NASS reports from Montana and North Dakota, nearly 942,000 durum acres, or 39.8 percent of the March Prospective Plantings,  have yet to be planted.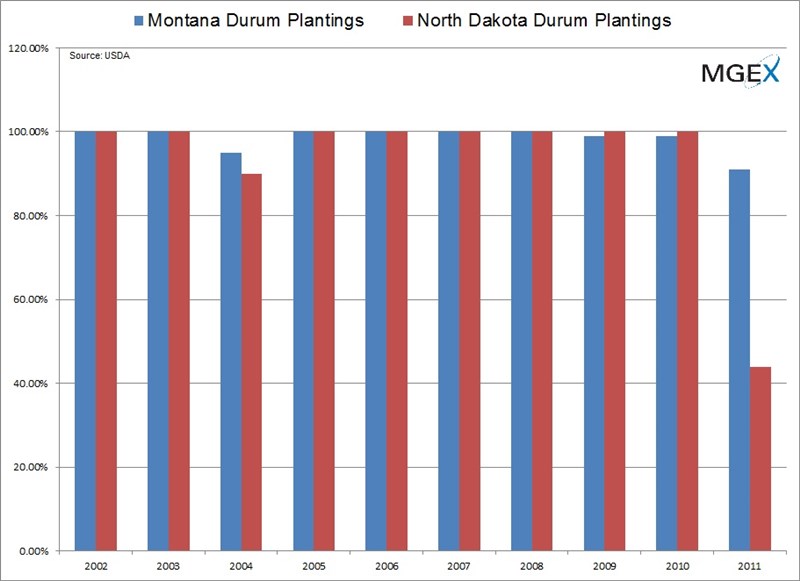 Based on the most recent five year yield and acreage average for Montana and North Dakota, total durum wheat production has been 61.67 million bushels, or 72 percent of total U.S. production. Planting progress in 2011 for these two states suggest there are 33.06 million bushels, or 38.8 percent of the past five year average total volume, at risk.
The five year average for total durum wheat domestic use is 83.96 million bushels. The lack of planting progress in Montana and North Dakota represents a void of 39.4 percent of the total five year average of domestic use and 27 percent of total use and exports.
Other major countries who produce durum wheat and are experiencing weather related problems include some European Union nations, Canada, Turkey and Syria.
MGEX welcomes your questions.........Joe Victor
Information used to compile this update is from publicly available sources. Nothing contained herein should be construed as a trading recommendation of MGEX, its employee or its members. For informational purposes only.