Published on:
11:58AM Jul 15, 2011
The United States Department of Agriculture's (USDA) World Agriculture Supply and Demand Estimates (WASDE) report for July provided the first details of supply and demand for Other Spring and Durum wheat for the 2011-2012 market year.
The WASDE report estimated 2011-2012 end stocks to use at 11.67 percent for Durum and 31.6 percent for Other Spring Wheat. The Durum number marks the second lowest end stocks to use since 1995. Only 2008"s 11.29 percent is lower. By the time the January annual WASDE report was released in 2009, the end stocks to use for Durum had increased to 19.63 percent and futures prices declined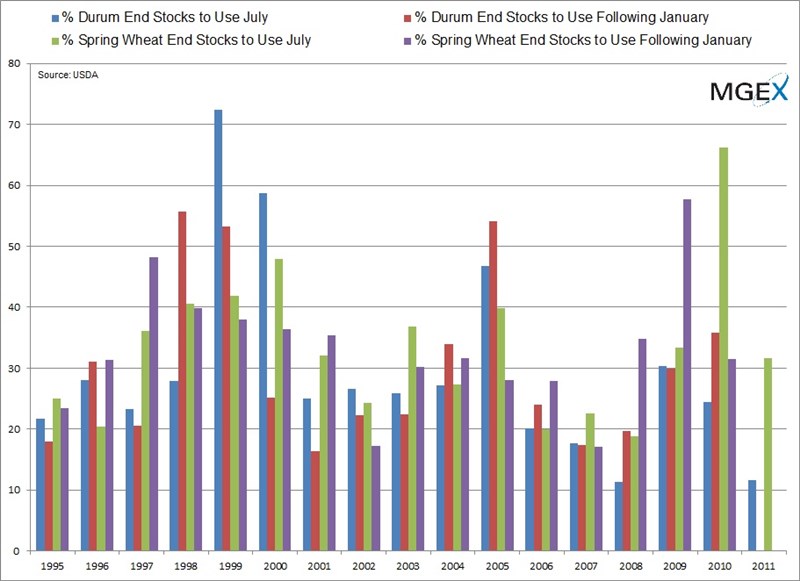 The end stocks to use in the July 2011 WASDE report estimated end stocks to use for Other Spring Wheat at 31.67 percent which closely resembles the 33.33 percent reported by the USDA in July 2009. When the USDA WASDE report was released the following January, end stocks to use increased to 57.67 percent and the futures price fell 25.5 percent.
From the July to the January WASDE, the Durum and Other Spring Wheat end stocks to use increased 44 percent over the past 16 years. Thirty-eight percent of the time the end stocks to use had one variety of wheat higher the other variety lower.
As this data shows, restrictive end stocks to use reported in the July WASDE does not necessarily mean higher futures prices when the subsequent January report is released.
MGEX welcomes your questions.........Joe Victor
Information used to compile this update is from publicly available sources. Nothing contained herein should be construed as a trading recommendation of MGEX, its employee or its members. For informational purposes only.