Published on:
15:18PM Sep 30, 2011
MGEX analyzed popular futures contracts to see gains and losses between the first day of trading in January 2011 and the last trading day in August 2011. The top three increases were in Gold futures with a 22.56 percent increase, Corn futures up 22.8 percent, and Hard Red Spring Wheat futures with an 8.7 percent increase. While a distant third, Hard Red Spring Wheat futures experienced an increase of more than four times that of the next wheat class.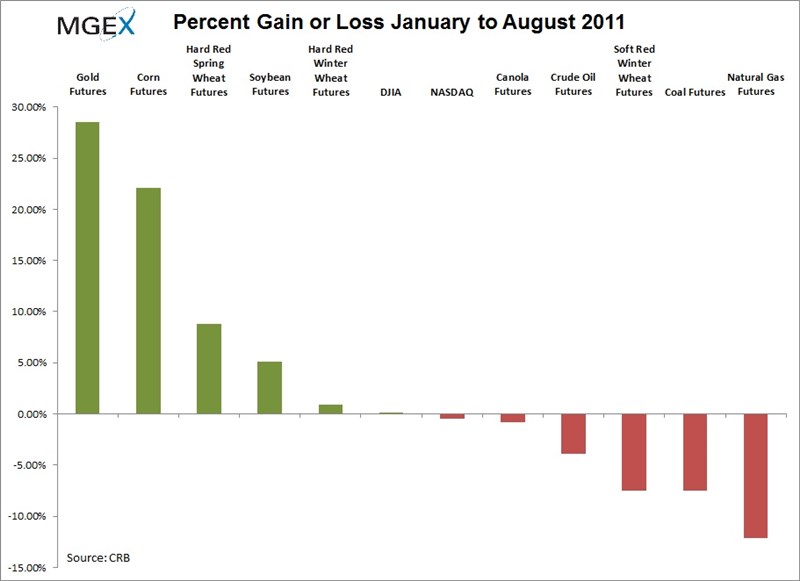 Next, MGEX looked at these futures on a monthly basis to ascertain an idea of how often these types of increase are experienced. Corn futures moved higher from the beginning to the end of the month 75 percent of the time; Hard Red Spring Wheat 62.5 percent of the time; and gold 50 percent of the time. The Dow Jones Industrial Average, Soybeans and Hard Red Winter Wheat also experienced an end of month gain 50 percent of the time.
When trading commodities and indexes, it is important to consider what is profitable in the long, short or spread. For traders who entered the short side of a futures position the first trade day in January and exited the last trade day in August, the largest profit was seen in natural gas.
MGEX welcomes your questions.........Joe Victor
Information used to compile this update is from publicly available sources. Nothing contained herein should be construed as a trading recommendation of MGEX, its employee or its members. For informational purposes only.