Published on:
12:24PM Oct 27, 2011
Take a look at the latest

wheat shipment data

from the USDA. It shows Hard Red Spring Wheat (HRSW) has the greatest export potential all the wheat classes in the current marketing year. USDA estimates 54 percent of HRSW production will be exported. This 54 percent is the top exportable amount among the wheat classes, with Soft Red Winter Wheat (SRWW) having the least exportable amount at 27 percent.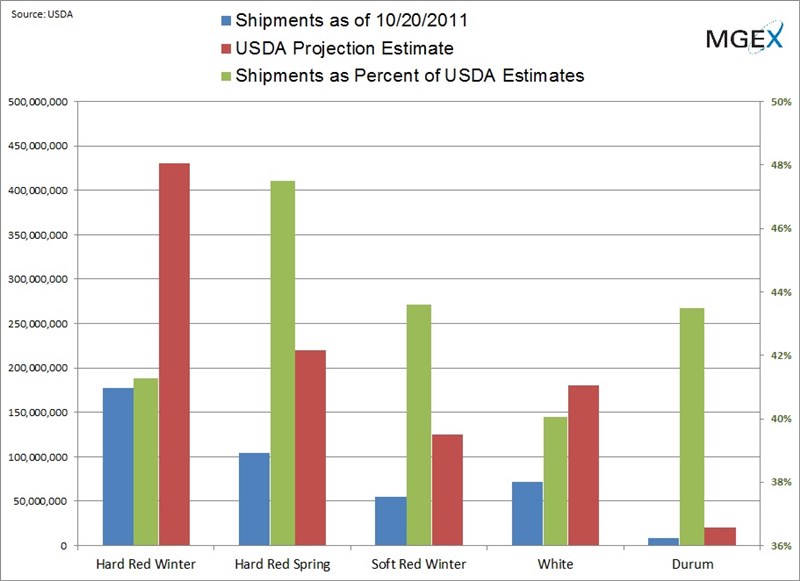 According to the October USDA World Agriculture Supply and Demand Estimates report, current ending stocks to use for HRSW is 33 percent. SRWW, by contrast, has ending stocks to use ratio of 60 percent.
With 60 percent of the 2011-2012 marketing year remaining, HRSW is the wheat class most likely to fulfill the USDA export estimate.
In order to reach these USDA estimates, HRSW shipments need to average 5.5 million bushels per week in the first 21 weeks of the marketing year and 3.7 million bushels per week for the remainder of the year.
USDA export data shows Hard Red Spring wheat outperforming the five year average by 34.6 percent for the current marketing year, while Durum wheat is outperforming the five year average by 16.1 percent.
The Italian head of European Union Association of Semolina Producers recently announced they must boost imports of durum wheat to meet increased demand. Italy is among the top durum suppliers in the world. Where will Italy receive their imports?
MGEX welcomes your questions.........Joe Victor
Information used to compile this update is from publicly available sources. Nothing contained herein should be construed as a trading recommendation of MGEX, its employee or its members. For informational purposes only.