Published on:
12:32PM Mar 18, 2011
Japan is making daily news headlines because of its earthquake last Friday. Since the March 10, 2011 through March 15th close May spring wheat futures prices have lost 8% of its value, while corn was 7% lower and soybeans lost 6.3%.
The news information varies widely with respect to the Japanese fatalities as well as its port systems. The Japanese earthquake news is overshadowing the USDA "Quarterly Grains Stocks and "Prospective Plantings" reports scheduled for release at the end of this month.
The trade mindset has switched to one of buying dips in the futures, to selling rallies. Every day the news reports out of Japan suggest a downward spiral with regards to the stability of the country.
MGEX research shows the per person, per pound, daily consumption of wheat is .2759 pounds, .7594 for corn, and .1741 for soybeans. Corn is Japan's number one U.S. import while wheat ranks second and soybeans third. 
When looking at stocks to use in Japan, the highest percentage is wheat at 20.6%.  But that number is down from its 2007-2008 market year high of 25.25%. Second place belongs to corn at 6.08%, off its recent high in 2007-2008 of 7.01%. Third place belongs to rapeseed (canola) at 3.87% off its recent high of 6.22% in the 2007-2008 market year and bringing up last is soybeans at 1.95% versus its 2007-2008 recent high of 6.5%.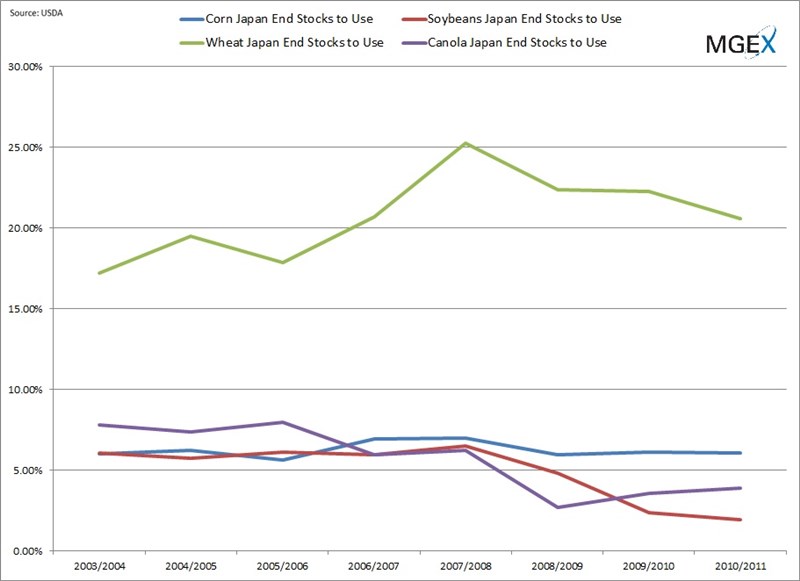 There is substitution taking place of soybeans oil in favor of another vegetable oil and high protein meal in rapeseed. There is no substitution for high protein milling wheat or feed grade corn.
In conclusion, once Japanese ports are open for business, the country is likely to import wheat over corn, soybeans or canola based on the information above.
MGEX welcomes your questions.........Joe Victor
Information used to compile this update is from publicly available sources. Nothing contained herein should be construed as a trading recommendation of MGEX, its employee or its members. For informational purposes only.