Published on:
15:34PM Jan 21, 2011
MGEX looked at China's effect on the end stock balance of wheat and corn. China announced they have canceled a agreement to import 2 million tonnes of Argentine corn. The deal between the two nations was to begin with Argentine corn imports at the same time China was to begin to planting its 2011 corn crop. 
Subsequently, China also bought 150 K tonnes of feed wheat from Australia.
There is talk in the marketplace that China has bought 500,000 to 1 million tonnes of Australian feed wheat and yet only 150,000 tonnes can be confirmed. Note the similarities of volume between Argentine corn and Australian feed wheat in the graph.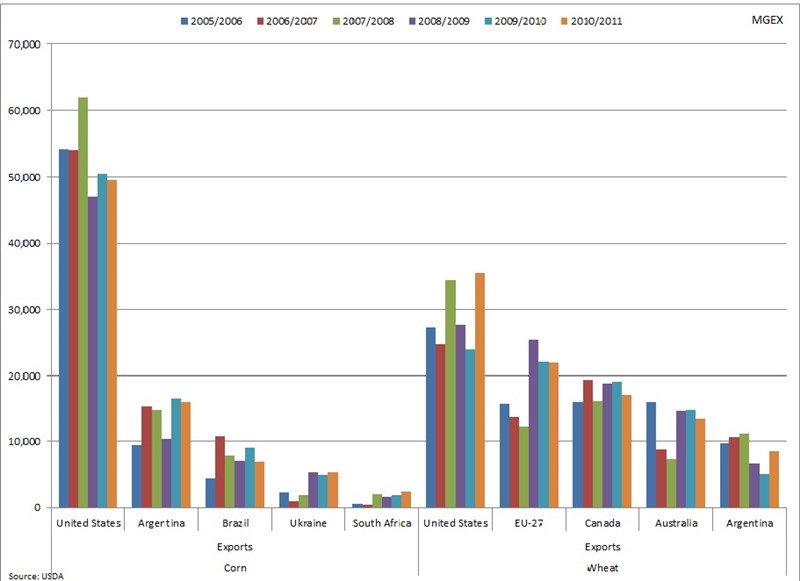 One Australian trade member suggested total sales of Australian feed wheat to China, South Korea, the Philippines and Vietnam has reached 1 million tonnes.
A potential crop of 25 million tonnes of Australian milling quality wheat has been downgraded by 1.8 million tonnes to feed wheat because of Australian rains. 
Feed wheat consumption brings projected wheat end stocks down and replaces corn consumption, which will likely raise end stocks. The cost savings for Australian feed wheat exported to China is 14% over corn.
According to the last USDA export sales report, cumulative sales of wheat to the top ten importing countries is up 47% versus last year. Cumulative corn export sales to the top five importing countries are up 1% year on year, with Mexico and Taiwan down.     
MGEX welcomes your questions.........Joe Victor
Information used to compile this update is from publicly available sources. Nothing contained herein should be construed as a trading recommendation of MGEX, its employee or its members. For informational purposes only.