Published on:
12:00PM Mar 03, 2011
At the end of February, the USDA unveiled its acreage estimates for 2011. The first question asked is where are farmers expected to find the additional acres above 2010?
Wheat, corn and soybean acres are expected to increase in 2011 compared to acres in 2010. The biggest jump is expected for corn, followed by wheat and finally soybeans.
The February USDA Grains and Oilseed Outlook conference is a precursor to a major report at the end of March known as Prospective Plantings. The key difference between the two reports is that the non-farmer data conference may captivate the futures market for now, but the Prospective Plantings report is generated by farmer data and is considerably more important.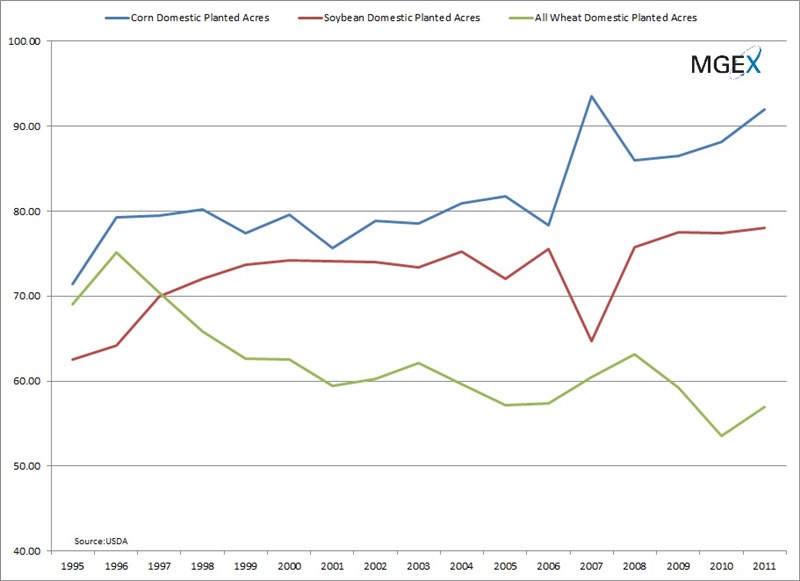 The February USDA Grains and Oilseed Outlook conference suggests wheat acres to be up from last year 6.3%, corn up 4.3% and soybeans up .7%. Total wheat, corn and soybean acres of 227 million are expected to be 3.6% higher than last year. With USDA estimated acres of 227 million, it surpasses the modern record of 224.89 acres which was established in 2008. However, this estimate is lower than in 1984-1985 marketing year when stocks to use were significantly higher.
The 2011-2012 end stocks for wheat are projected at 633 million bushels versus a five year average of 643 million bushels. For corn, the 2011-2012 end stocks are projected at 865 million versus 1.327 billion bushels, and soybeans for 2011-12 are forecasted at 160 million bushels versus 242 million bushels. As a result, trade will be more attentive to spring time plantings of wheat, corn and soybeans.
Key drivers of wheat, corn and soybean acres are unchanged in revenue dollars per acre, demographics and weather. Price and weather can change, demographics are least likely of the three to change.
MGEX welcomes your questions.........Joe Victor


Information used to compile this update is from publicly available sources. Nothing contained herein should be construed as a trading recommendation of MGEX, its employee or its members. For informational purposes only.