Published on:
14:24PM Dec 09, 2010
MGEX analysis; what is the trade preparing for when USDA releases its estimates this Friday? Important factor to the trade is not only the ending stocks of wheat, corn and soybeans, but also weather events for wheat and South America soybeans.
First, the trade is anticipating November to December U.S. end stocks to show a 1% reduction for wheat, 2.5% reduction for corn and 13.5% reduction for soybeans. If there is a surprise it is with soybeans as the trade is anticipating end stocks down to an average level of 160 million bushels versus last month's 185 million. The last time there was less than 160 million bushels for the month of December was 2003's 125 million bushels, unchanged versus its previous month.
Since 2000, the average end stock level for soybeans has been 294.3 million bushels, with a high of 565 million bushels and a low of 125 million bushels.
The trade is keeping a pulse on South American weather as Argentina (#3 world producer) is experiencing dry weather difficulties. USDA is likely to cut Argentinian production from its present estimate of 52 million metric tonnes.
The trade is also anticipating USDA to reduce the wheat produced in Australia, (#6 world producer). Not enough rain in its number one producing state of Western Australia, and too much rain in the eastern region is likely to require USDA to back peddle its one million tonne increase from its month of October to November estimate.
One topic of discussion, which is very important to consider, is the potential loss of milling grade wheat to feed grade wheat in Australia. This does compete with corn, and an item of interest is the spread between U.S. spring wheat versus corn futures. As you can see in the chart, the spread continues to be bullish MGEX spring wheat March futures versus corn.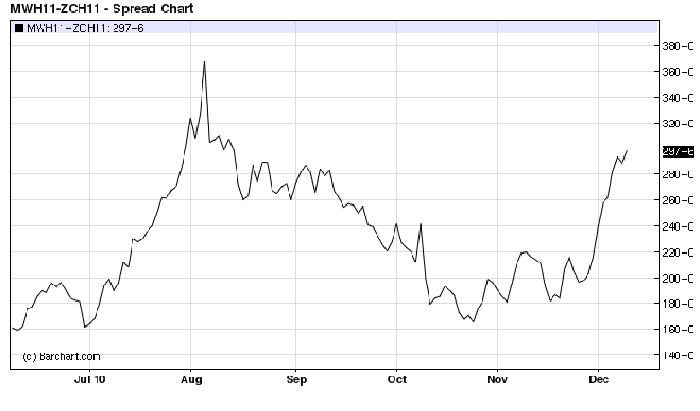 In conclusion the trade will have many expectations on Friday and will likely continue to focus on weather until USDA releases its January 2011 annual WASDE estimates.
MGEX welcomes your questions.........Joe Victor
Information used to compile this update is from publicly available sources. Nothing contained herein should be construed as a trading recommendation of MGEX, its employee or its members. For informational purposes only