Published on:
16:02PM Jul 06, 2011
When the most recent quarter's grain and oilseed use is subtracted from the previous quarter's use we can see how demand can effect futures prices.  United States Department of Agriculture (USDA) Quarterly Grain Stock's data released June 30 set two records.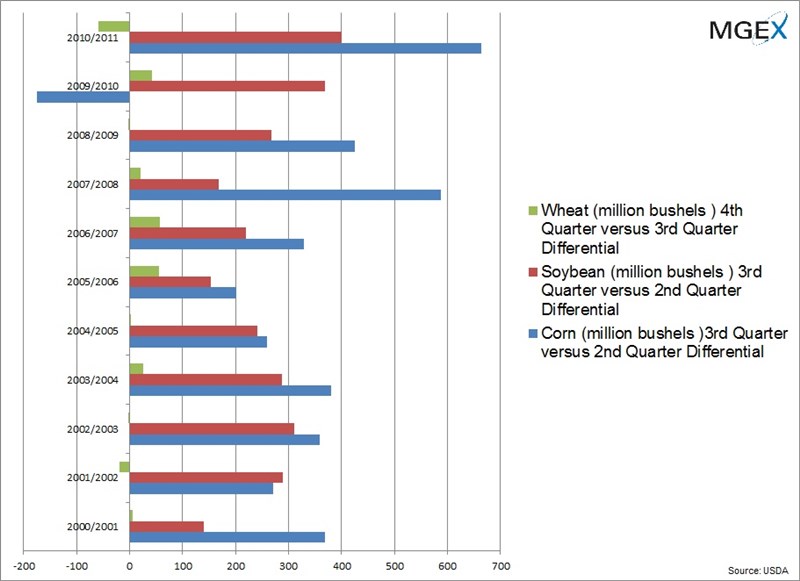 In the third quarter of the 2010-2011 marketing year, 2.853 billion bushels of corn were used versus the second quarter's 3.517 billion bushels of corn.
Dating back to the 1976-1977 marketing year, corn use has never been 664 million bushels less in the third quarter than the second quarter. The previous record was set in the 2007-2008 marketing year when 588 million bushels less were used in the third quarter than in the second quarter. In that marketing year, corn futures responded by dropping 4.2 percent in July 2008.
Another notable record was set in the soybean data.  The third quarter use was 401 million bushels less than the second quarter use which topped the previous record of 369 bushels less in the 2009-2010 marketing year. Following this decrease in soybean use, the July 2010 soybean futures increased by 12.2 percent.
In the same period, wheat use increased by 59 million bushels in the fourth quarter versus the third quarter. This increase is mirrors the 1998-1999 marketing year when the July Hard Red Winter Wheat futures increased 0.9 percent, Soft Red Winter Wheat increased 1.9 percent and Hard Red Spring Wheat futures decreased 2.5 percent.
 MGEX welcomes your questions.........Joe Victor