Published on:
11:35AM Apr 25, 2011
With dryer than normal weather conditions in the Southern Plains and wetter than normal conditions in the Northern Plains, MGEX looked to the historical weather maps to determine if there is any other year, or years, with similar weather patterns. Several years fit the pattern, including 1996, 1974, 1952 and 1904. But 1996 was not only very similar to the current weather pattern but is also the most recent. Of course MGEX is interested in the specific year which may lead to the specific price action of the major grains during March 1, through September 30th.
Soybean price action trends sideways in 1996 with a range high of $8.382 to a range low of $7.152 per bushel. United States end stocks to use in 1996 were relatively tight at 5.4% versus the present of 4.2%. This suggest current prices may consolidate until the crop production is verified near the end of July to the beginning of August when pod fill is important.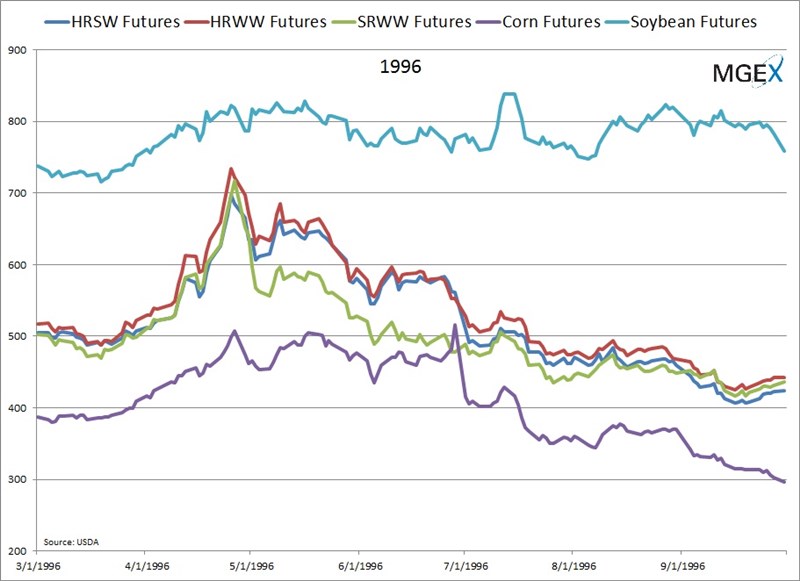 Corn futures in 1996 made a rally from $3.866 per bushel on March 1 to $5.074 on April 26. There was also a corrective low of $4.35 on June 5, with a high price of $5.162 on June 28. Prior to July fourth, corn futures made the peak before eventually selling off to $2.996. Corn end stocks to use were 10.05% in 1996 and are presently positioned at 5%. In 1996 corn reached 88% pollination on August 11 and corn futures were $3.75 per bushel.
Hard Red Spring, Hard Red Winter and Soft Red Winter wheats all reached peak prices in late April, with each following a downtrend to their respective lows by the middle of September. Wheat lost nearly $3 per bushel when 1996 end stocks to use were 19.3%, versus a present level of 34%. It did not matter that Hard Red Spring wheat, the second-most produced wheat in the United States, is planted in the Spring versus the Fall planted Winter wheats.  Prices fell lower in unison.
It is difficult to predict weather more than three days out, however history may be a good teacher when looking at current weather conditions and its relationship to price.         
MGEX welcomes your questions.........Joe Victor

Information used to compile this update is from publicly available sources. Nothing contained herein should be construed as a trading recommendation of MGEX, its employee or its members. For informational purposes only.