Published on:
15:45PM May 11, 2012
The National Agriculture Statistics Services releases a "Crop Progress" report each week from planting to harvest season. Currently we are in week 18 of the season. This week the report includes planting progress and emergence reports.  
The question this year is how a fast planting pace may influence the final bushel per acre (bpa) yield.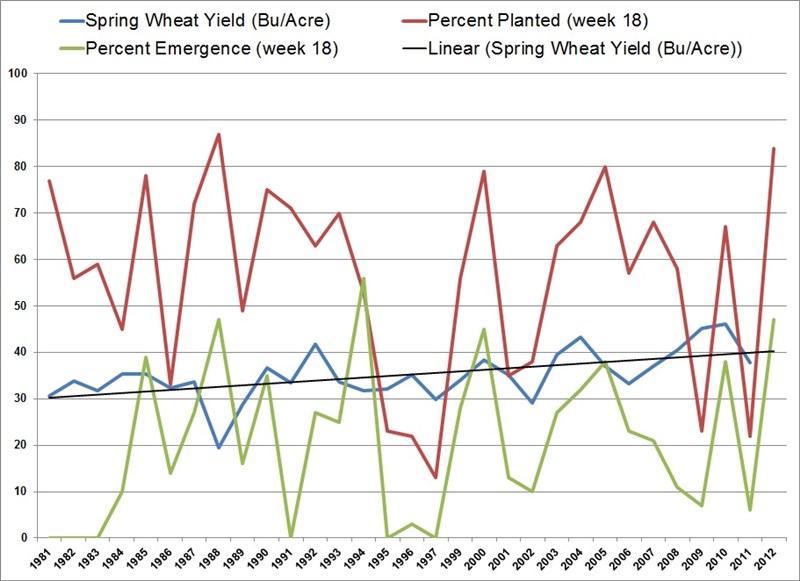 The chart shows information dating back to 1981. Only one other year, 1988, has experienced a faster planting pace than we are currently experiencing. Also in 1988, the percent emergence in week 18 was the same as it is today. Since 1981, the lowest yield occurred in 1988 with a harvest of
            As of week 18, emergence is at 47 percent. The only year with a higher emergence percentage was 1996 with 56 percent emergence and a yield of 35.1 bpa.
            As the chart indicates, 2012 has been a good year for planting and emergence. However, historical trends show this does not indicate there will be a high final bpa yield.
            A linear trend line on the chart shows the trend yield has increased despite good or bad planting and emergence pace In1981 yield was 30.6 bushels per acre. Since then, we have experienced the lowest bpa in 1988 with 19.5 bpa, and the highest of 46.1 bpa in 2010. Of the 30 years of data shown on the chart, the average, yearly bpa increase is .149.
            It is important to remember that a good planting and emergence rate in 2012 does not automatically suggest a high bpa yield for the year.
 MGEX welcomes your questions.........Joe Victor
Information used to compile this update is from publicly available sources. Nothing contained herein should be construed as a trading recommendation of MGEX, its employee or its members. For informational purposes only.