Published on:
16:07PM Apr 18, 2012
Each year USDA releases Prospective Plantings for the major crops in the U.S. at the end of March and Planted Acres at the end of June.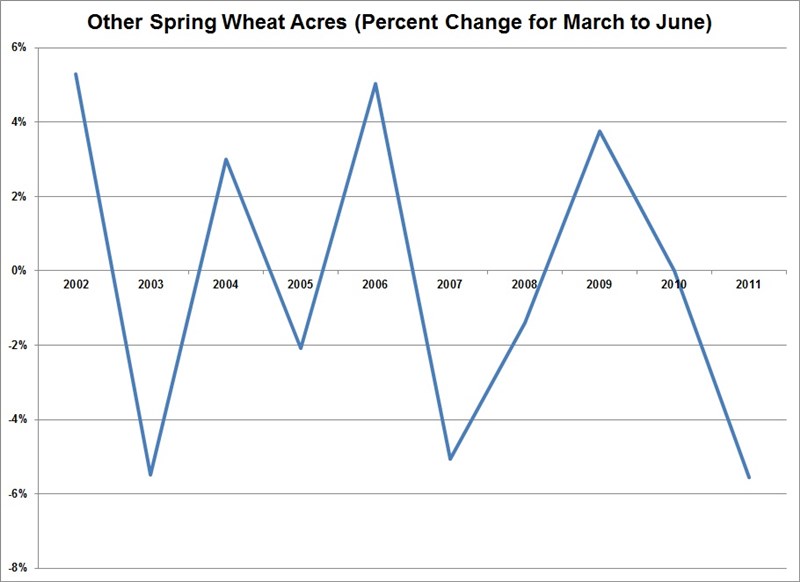 Between 2002 and 2011, USDA has decreased spring wheat plantings by an average of 2.49 percent from the March report to the June report. In the past10 years, spring wheat plantings have increased in the June report from the March report four times. The most recent increase occurred in 2009 when USDA's June acreage report was 3.76 percent over the March report. That year September futures increased three quarters of a cent per bushel. In 2011, spring wheat acres decreased by 5.56 percent while September futures decreased $1.4075 per bushel.
Since 2002, the largest June decrease from the March USDA report is 5.56 percent in 2011. The largest increase was recorded in 2002 when September futures rose 13 ¼ cents per bushel while the March to June increase was 5.30 percent in 2002.
Current prices for Hard Red Spring Wheat September futures are $8.05 per bushel, with a North Dakota grain elevator bidding new crop delivered cash wheat at $7.47 per bushel. This cash wheat bid suggests a farmer would need 5 cents per bushel per month, or 15 cents, to store the new crop spring wheat from September futures to December and to roll the hedged position.
The spread between the September and December futures is 4.5 cents per bushel inverted where the September futures are higher than the December futures. This suggests the spread will require a move of 21 cents for the farmer to roll the futures from September to December and consider storing the spring wheat crop.
The current spread between September and December futures suggests the world market end user prefers to buy the spring wheat as soon as it becomes available while projected supply is insufficient to meet demand.
 As long as the hedge from the long or short side is profitable for your business you don't have to be concerned the price movement in the futures.
 MGEX welcomes your questions.........Joe Victor


Information used to compile this update is from publicly available sources. Nothing contained herein should be construed as a trading recommendation of MGEX, its employee or its members. For informational purposes only.