Published on:
12:27PM Apr 15, 2011
An interesting recent discovery is there are poultry farmers blending wheat into feed rather than blending corn into its total mixed feed ration. History shows cattle feedlots replace up to 25% of their feed ration when cash wheat is 88% of the price of corn or lower.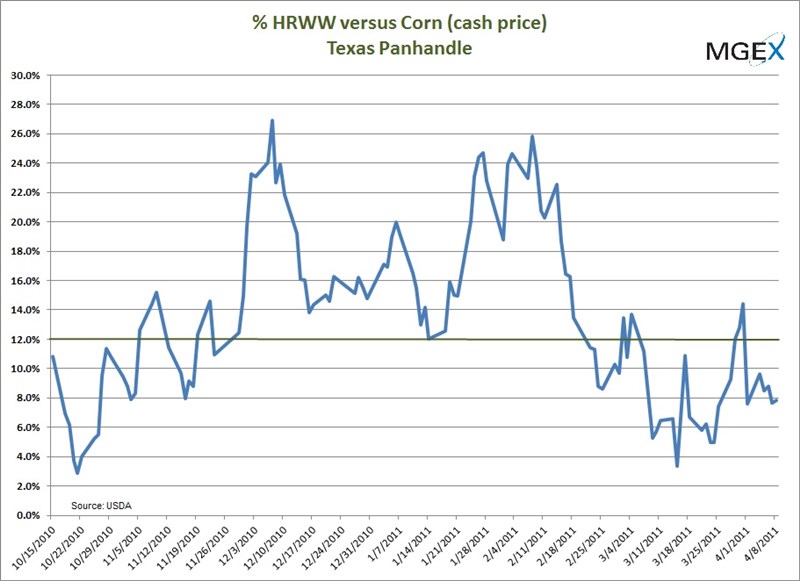 Quotes for cash, not futures, prices of number one Hard Red Winter wheat (HRWW) versus number two yellow corn in the Texas Panhandle region show wheat prices are now below the required 12% level. As of April 8th, 2011 there are locations within Texas that have cash wheat prices at 7.8% over corn prices which suggest it is less expensive to feed wheat.
Texas has the greatest percentage of beef cattle, followed by a two way tie between Nebraska and Kansas. Oklahoma and California round out the top five. There are 25 other states throughout the U.S. which follow the specific states listed above.
At about the same time the new lower yielding supply of U.S. corn was coming in, major exporter Australia's east coast milling wheat crop harvest was plagued by too much rain. These two incidents helped to push higher both the demand and prices for the U.S. HRWW.
As the world assesses the 2011 northern hemisphere wheat crop, a new U.S. winter wheat harvest only months away and tighter end stocks of old crop corn versus wheat, it now makes wheat more valuable for feeding.
If USDA does recognize the additional feed use of wheat, look for ending stocks to be tightening and ultimately supportive to wheat prices.
MGEX welcomes your questions.........Joe Victor


Information used to compile this update is from publicly available sources. Nothing contained herein should be construed as a trading recommendation of MGEX, its employee or its members. For informational purposes only.