Published on:
15:58PM Aug 05, 2011
The Wheat Quality Council (WQC) tour collected bushels per acre (bpa) for Hard Red Spring (HRSW) and Durum wheat during the last week of July primarily in North Dakota. The WQC tour discovered 41.5 bpa for HRSW and 31.8 bpa for Durum.
The tour is measured yield when the crops are still growing and does include quality observations. How does the WQC compare to actual United States Department of Agriculture (USDA) yields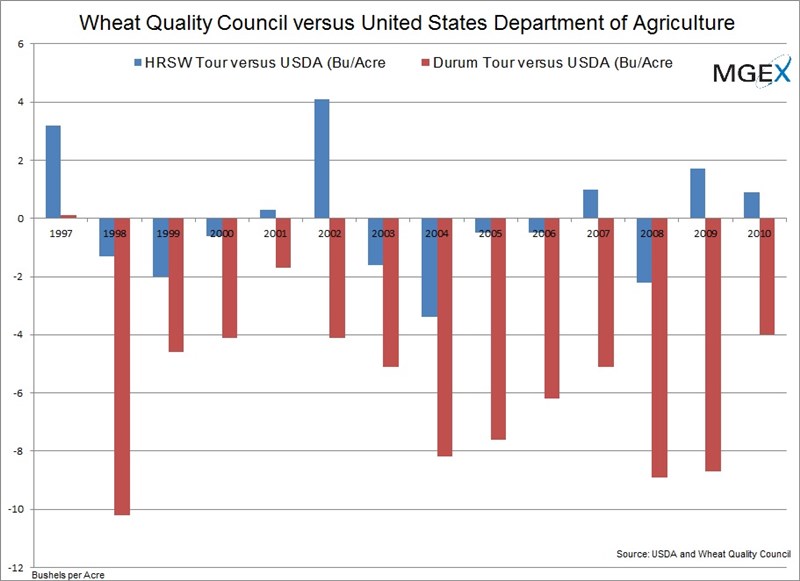 If you are analyzing the difference between the WQC versus USDA, 93 percent of the time the WQC data shows a lower yield per acre than USDA for Durum and 57 percent for the HRSW. Durum wheat has lower bushels per acre yield range of 1.7 to 10.2 while HRSW has been .5 to 3.4.
Remember weather can be a strong influence as one yield check is performed at a time of growing while the other after harvest. With 91 percent of the North Dakota wheat in the heading phase and a five year average of 99 percent, weather can be an influence to yield
The WQC tour group includes representatives from universities, media, baking, producers, grain, and others with the greatest percent attendance from government and milling.  
MGEX welcomes your questions.........Joe Victor
Information used to compile this update is from publicly available sources. Nothing contained herein should be construed as a trading recommendation of MGEX, its employee or its members. For informational purposes only.