Published on:
11:34AM May 20, 2011
The past 30 years of data from the United State Department of Agriculture (USDA) shows only three years with a planting pace slower than the current 36 percent for wheat and 63 percent for corn; 1995, 1996, 2009. But the data also shows a slower planting pace does not always mean weaker production.  According to the following year's January USDA World Agriculture Supply and Demand Estimates (WASDE) report, total spring wheat production increased in 1996 and 2009. (Conversely, corn production decreased in 1995 and 1996.)  
Ending stocks of spring wheat and corn compared to the total use, increased from initial new crop projections to the January Annual the USDA WASDE in 1996 and 2009. When ending wheat and corn stocks tightened in 1995, their corresponding futures prices reacted in an upward bias. The poor planting progress set the stage.
The world end stocks to use for wheat and corn are similar to the U.S. end stocks to use.  1995 saw smaller end stocks to use in the January Annual WASDE report versus the  preceding May official forecast.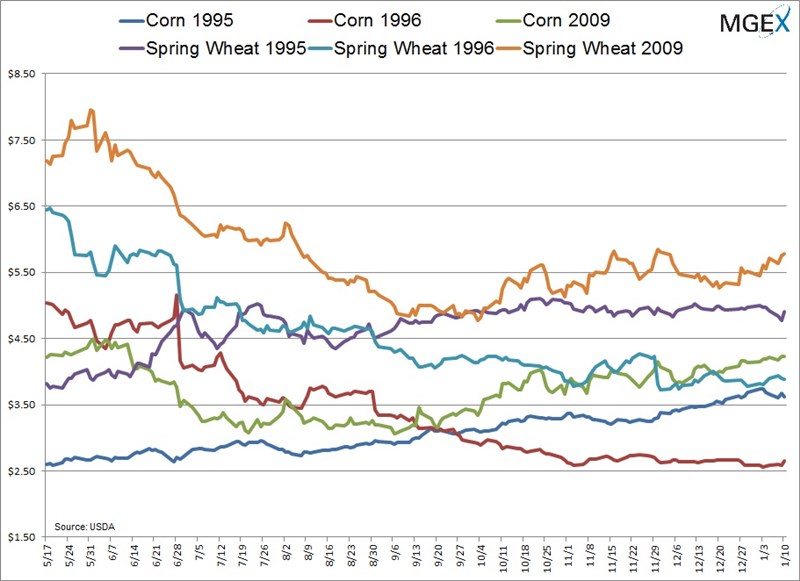 The history of USDA data shows that despite delays in both wheat and corn plantings, prices can fall. Ending stocks to use, planting progress, the growing season and a number of other factors can, as always, impact futures prices.  
 MGEX welcomes your questions.........Joe Victor


Information used to compile this update is from publicly available sources. Nothing contained herein should be construed as a trading recommendation of MGEX, its employee or its members. For informational purposes only.