Published on:
14:41PM Nov 11, 2010
MGEX analyzed the USA and world days of supply of corn, rice, wheat, (all starches) soybeans and all vegetable oils and discovered two records in the making. Dating back to the 1999/2000 market year, both of these records exist within the USA starches.
One record is the low number of day's supply within the corn at only 23 versus an average of 54 days, high of 72 days in 2004/05 and previous low of 34 days in the 2003/04 marketing year.
Another record set within the November USDA WASDE report is the day's supply of rice at 73 versus an eleven year average of 54 days and record low of 40 days in 2003/04.
MGEX analyzed US wheat which has dropped by 50 days from the previous marketing year to a level of 127 for the present marketing year and compares to an eleven year average of 108. The lowest level in the day's supply of US wheat since the 1999/2000 market year was 48 days in 2007/08.
It is suggested by the trade soybean end stocks may have been the surprise of the USDA WASDE November report. The 185 million bushels is the same as the November 2002 USDA WASDE with a low of 125 million bushels in 2003 and high of 565 million bushels in 2006. The ten year average has been 307.5 million bushels or 66% higher than present levels.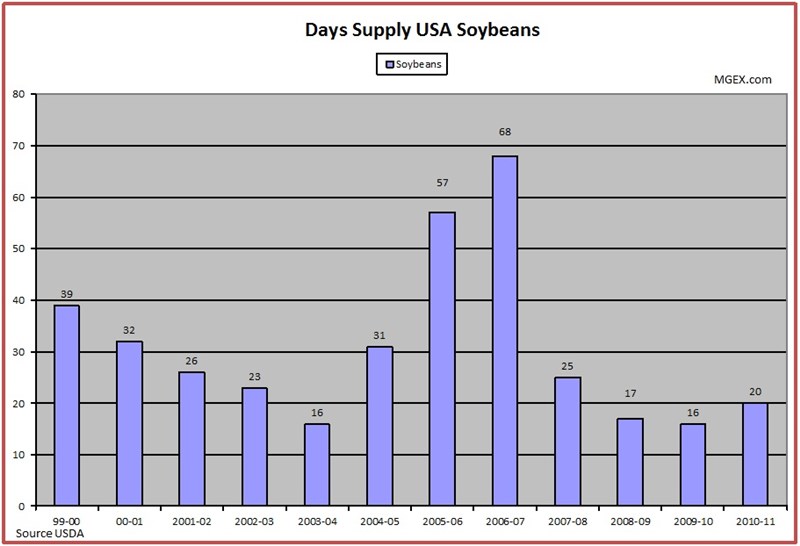 The average draw down since 2000 has been 87.5 million bushels by the time the subsequent July USDA WASDE is released. The biggest draw down has been170 million bushels in the year 2004 with the smallest draw of 20 million bushels 2003.
USDA's own probability studies suggest 72.7% of the time it overstates the soybean end stocks versus its final report.
Taking into consideration the soybean data above, this may be construed as basis and or futures friendly.
In conclusion be aware of the changes USDA has made for corn, rice, beans and wheat as well as weather in South America.
MGEX welcomes your questions.........Joe Victor
130 Grain Exchange Building   400 South 4th Street Minneapolis, MN 55415-1413
[email protected]
800.827.4746
  612.321.7164   Fax: 612.339.1155   equal opportunity employer