Published on:
12:30PM Mar 09, 2012
Since June 1, 2011 (the start of 2011-2012 market year) Hard Red Spring Wheat futures prices are down 18.2 percent, while Hard Red Winter is down 28.6 percent and Soft Red Winter down 29.8 percent. The losses in futures are a result of a larger supply brought in for Southern Hemisphere wheats during recent months and increasing world demand.
USDA released 2012 U.S. Winter Wheat Seedings on January 12. The report estimated 41.947 million acres, as compared with the January 2011 estimate of 40.99 million acres. The five-year average is 41.748.
USDA held its Outlook Forum February 23-24 and released 2012 all-wheat (winter and spring) acres at 58 million, as compared to 57 million acres the year prior.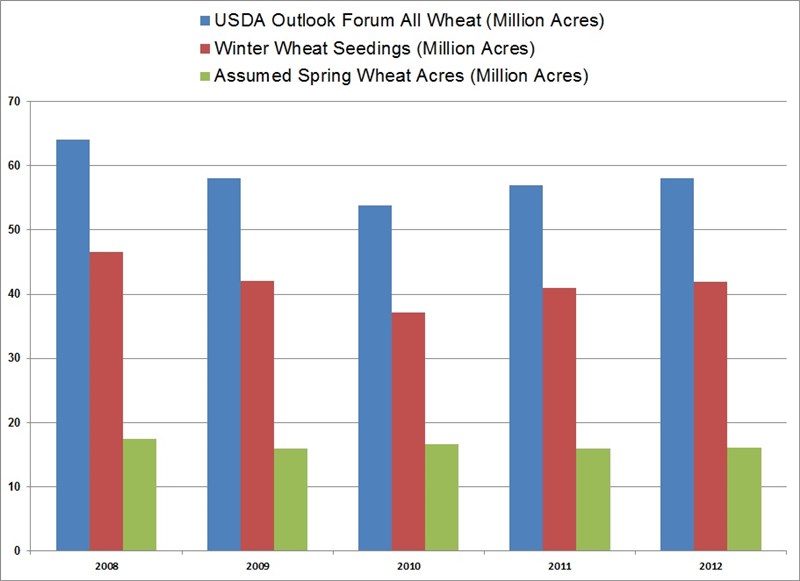 USDA estimated 16.05 million acres spring wheat will be planted in 2012. This estimate last year was 16.01 million acres. Despite a USDA estimate at its 2011 Forum of 16.01 million acres to be planted, the persistent rains in Northern Plains at planting time led to only 84 percent of this estimate being planted.
The graph shows that since 2010, the USDA Winter Wheat Seedings and USDA Outlook Forum have estimated winter wheat acres to increase and spring wheat acres declining to leveling off.
There are two very important upcoming 2012 acres reports: the March 30 prospective plantings and planted acreage report released at the end of June. MGEX will hold a Crop Report Conference Call for each report. Visit www.mgex.com for more information.
Economics and nature will determine how many U.S. wheat acres will be planted and ultimately harvested. It must be mentioned MGEX will present an educational webinar for Spring Wheat on March 29th at 2 p.m. and again on April 4th at 2 p.m. 
It is important to use the appropriate risk management tool for the appropriate wheat.
MGEX welcomes your questions.........Joe Victor
Information used to compile this update is from publicly available sources. Nothing contained herein should be construed as a trading recommendation of MGEX, its employee or its members. For informational purposes only.