Published on:
15:17PM Sep 23, 2011
MGEX analyzed the December versus March wheat future spreads in order to explore the potential benefits of storing recently harvested crops. Examining end stocks to use is fundamental for analyzing present spreads for the various wheats. Typically, ample end stocks and a new harvest suggest a widening in the spreads.  Currently the Hard Red Spring Wheat (HRSW) end stocks to use is 29.4 percent, the same as in 2008-2009 market year. The Hard Red Winter Wheat (HRWW) end stocks to use is 29.9 percent, also resemble the 2008-2009 market year. However, the Soft Red Winter Wheat (SRWW) end stocks to use is 43.8 percent, the third highest percentage since the 1988-1989 marketing year.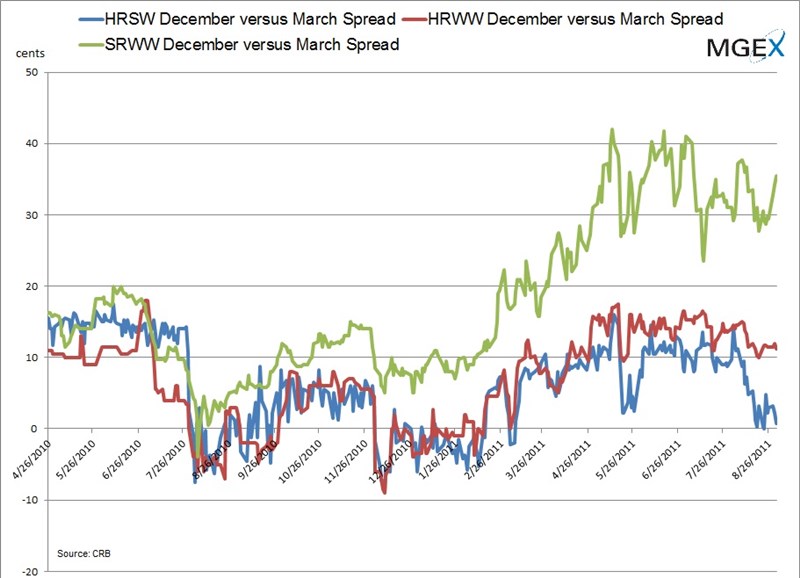 The loss in futures prices is a result of new winter wheat supplies harvested in June and July. The spring wheat harvest, which takes place in late August and early September, has few interruptions.
Farmers who are hedged in futures will see no advantage to storing HRSW and HRWW and selling at a later date; however, there is an advantage to storing SRWW. The HRSW farmer will incur 6.2 cents per bushel per month charge to store wheat. HRWW will cost 5.4 cents, and SRWW cost is 4.9 cents. The price per bushel per month may vary depending on size of the farm operation, borrowing limits, and insurance fees.
For the holder of cash wheat to realize a profit, the spread between the December and March HRSW should be 18.6 cents, 16.2 cents for HRWW and 14.7 for SRWW.
Only SRWW indicates a potential profit for the farmer to store after harvest. Typically following the movement of their cash inventory, HRSW and HRWW farmers lift their hedge
MGEX welcomes your questions.........Joe Victor


Information used to compile this update is from publicly available sources. Nothing contained herein should be construed as a trading recommendation of MGEX, its employee or its members. For informational purposes only.