Published on:
15:42PM Oct 13, 2010
MGEX takes a look at the day supply or "cushion" which various national and international commodities are experiencing. Upon exploring the "starches" consisting of corn, rice and wheat we discovered several surprises.
The first surprise comes within the corn as USDA WASDE October estimates have record low level of day's cushion of 24. This record level low surpasses the previous record set in the 2003/04 marketing year of 34 days. Within the present marketing year for corn there has never been a market year since 1999/00 where corn has lost 24 days from the previous marketing year as the previous record was 18 days lost in 2002/03. International corn also has set a record low day's cushion of 52 days beating the old record of 54 days set in 2006/07.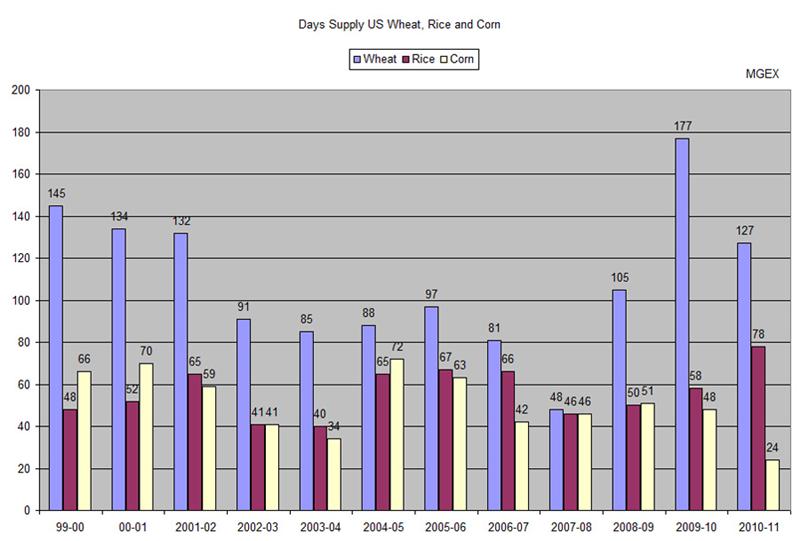 Yet another surprise is held within the wheat as USDA WASDE October estimates has trimmed 50 days to this marketing years 127 days cushion from the previous market year. The previous record days trimmed was 41 days in the 2002/03 market year vs the previous market year. To witness this present days lost may be a surprising as the US's day to day usage climb to a level of 6.68 bushels vs that of last marketing year's 5.53 bushel per day.
The present 127 days supply of wheat represents less than 5 months or 35% of one full year. Make certain you are aware of the potential fall and spring wheat seedings for the 2011 harvest for national and international price reaction. International day's cushion is now 81, off 10 days from the previous marketing year and compares to a five year average of 80 days.
The 20 day increase in rice for the present marketing year vs the previous market year is not a record. The 25 day record increase belongs to the 2004/05 marketing year. What may be a surprise maybe the production and ultimately end stocks dropped by 20% from The Sept to October WASDE.
In conclusion be aware of the tightness in the corn supply and restricting in wheat as well as growth within rice. You also need to be cognizant of the intentional field of play when referencing starches, all vegoils as well as soybeans.
MGEX welcome your questions.........Joe Victor
130 Grain Exchange Building   400 South 4th Street Minneapolis, MN 55415-1413
[email protected]
800.827.4746
  612.321.7164   Fax: 612.339.1155   equal opportunity employer