Published on:
09:03AM Oct 18, 2019
We have a mixed bag of price action as we enter this final day of this week, with the grains trading a bit weaker but beans higher.  Overall though, it has been wheat's week to shine as if we closed right now, December futures would be 12-cents higher and the 7th week in a row of higher closes with an overall gain of 17%. In turn, we find December corn 6-cents lower for the week and November bean unchanged.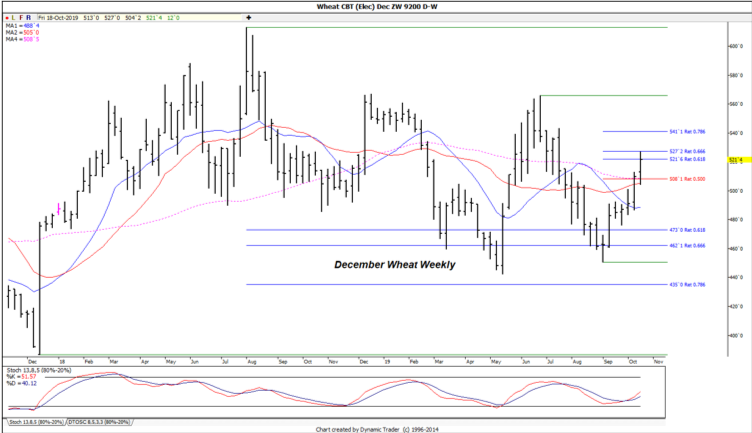 Take note that there has been additional positive news for wheat this morning as the National Australian Bank cut its production estimate by 3.5 MMT to 15.5 MMT from last month, and some regions of Argentina are projecting yield losses of up to 40% due to the dry weather.  Keep in mind; this is primarily a re-hash of news that has helped usher values into the higher-priced seats and may not qualify as fresh news anymore.  On top of that, with 15% of the crop harvested, Ukraine is reporting wheat yields 11% higher than a year ago, and as I outlined yesterday, we still have a very "comfortable" global supply. 
We have a couple of interesting stories concerning China overnight.  The first concerns hog production as the National Bureau of Statistics reports that for the period between January and September, total hog production is down 17.2% with a total of 31.81 MMT.  They also report that the total herd has declined 28.5% from a year ago.  If this does seem to jive with many private estimates of what has been occurring over there, that is because it doesn't, and I am going to suspect that the private estimates are the more accurate.  One point to consider though, is that the common practice when ASF was confirmed at a farm was to immediately liquidate the entire population, which in turn may have temporarily boosted slaughter numbers, but of course, that will show up in later data.  As a reminder, the Ag Ministry has reported that the herd has shrunk 41%, and with retail pork prices up 84% from a year ago, you can make your own decision as to who is closer to correct. The other story concerning China is that they have been active purchasers of Brazilian beans again this week, reportedly booking at least 8 cargoes. (They bought at least 10 last week) This is a bit strange for two reasons; first, this is not usually the time of year that they are overly active in the South American market, and second, this is happening the week after the big announcement of the intent to purchase $40 to $50 billion in U.S. Ag Products.  Maybe they are considering significant increases in the purchase of almonds and cannabis.  
The delayed weekly export sales have been released this morning and again provided little for the corn market to cheer about.  For the week ending October 10th, we sold 368,600 MT or 15.51 million bushels of corn.  Even the low-end trade estimate was calling for 400k MT.  We have the usual line up of customers with Japan taking 106.9k MT, followed by Colombia at 102.6k and then Mexico with 91.5k.  Wheat sales fell in about the mid-range of expectation but were still 24% lower for the week at 395,100 MT or 14.51 million bushels.  Mexico was the top purchaser with 78.9k MT, followed by Nigeria at 77k and then, unknown destinations with 56.5k.  For the second week in a row, bean did exceed expectations, and while were we 24% lower for the week, came in at 1.7 MMT.  As expected, China was the primary buyer making up 50% of the sales with 850.5k MT, followed by Egypt at 160.2k and then, unknown destinations in for 137.1k.
Last but not least, everyone was curious as to if China would be a dominate purchaser of pork again this week, and while they did buy 94,000 MT, they were not the largest.  That honor went to Mexico with 132,400 MT.  Overall though, we did set a new marketing year high for weekly sales with a total of 292,200 MT.  One thing does seem to be for certain though; China has an appetite for "pork 'n'beans."