Published on:
09:55AM Oct 22, 2019

Grain and soy markets were looking rather tired by the time the closing bell rang on Monday as the early morning optimism dissipated, and we turned lower for the day.  It was not looking good in the early hours of evening trade either as price opened lower, but hope does spring eternal for the bulls, and a couple of Chinese related news stories perked up the bulls once again.  First, there were comments by the Vice Foreign Minister of China that trade talks have made progress, and that he felt that any problems could be worked out as long as both sides "respected" each other.  Are you getting a sense of Déjà vu here? Regardless, that just helped prime the pump for the next story/rumor.  According to "sources," the Chinese government is supposedly ready once again to offer exemptions from tariffs on up to an additional 10-MMT of soybeans.  There is some speculation that this could be another goodwill offering in front of the next negotiations, but it could also be for the simple fact that we are now the only game in town.  Brazil has pretty well exhausted it supplies until new crop arrives after the first of the year and the fundamental laws of supply and demand is taking over, so prices are higher where supplies are tight, i.e., Brazil, compared to where supplies are plentiful, namely the U.S.  Realistically, this could mean we are in the driver seat, so to speak, for the rest of the calendar year and for this morning it has translated into double-digit gains in the soy-market.  If we can really make that stick could be another question, though.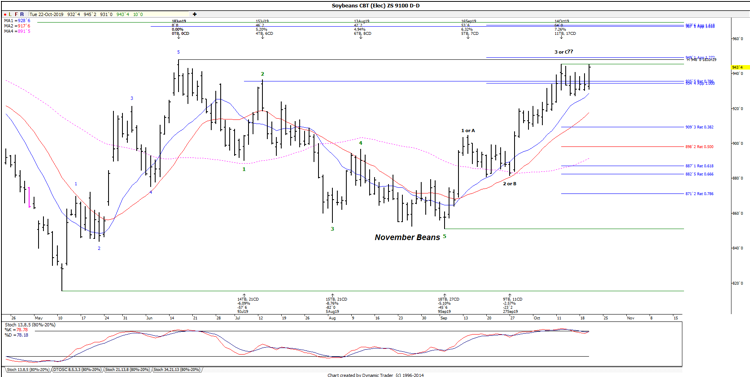 There were no shockers in the weekly harvest updates as corn is running a bit behind expectations while beans a smidge ahead.  As of Sunday, corn harvest was estimated to be 30% complete versus trade expectations of 34% and an average pace of 47%.  In beans, the trade was looking for harvest to have been 42% wrapped up, and it turns out we were 46% complete.  The average for this date is 64%.  The near-term outlook for the Midwest does show intermittent showers and colder temperatures, which could hamper bean progress, and a tropical disturbance in the Gulf of Mexico could keep the South and South East wet through the weekend. 
 Soy planting in Brazil continues to move forward at a historically average pace as AgRural estimates that 21% of the crop is planted, which was a 10% increase during the past week.  Dry weather continues to plague some states, and there are even reports of the need for replanting.  According to Dr. Cordonnier, there is now a strong possibility that some safrinha corn will be planted after the ideal window.  Argentina farmers continue to focus on planting corn, and the Buenos Grain Exchange now estimates that planting is 28.7% complete compared with an average of 32.6%. 
At this point in the morning, the Chinese-steroid injection is keeping the soy and grain prices higher, but we shall see if that is enough to sustain optimism into the close.  Looking over at the macros, it would appear we are getting a little help as well from higher energies and gold prices.  Equities are higher as well, and the dollar, which did close higher yesterday, has found additional buying again this morning.