Published on:
09:15AM Jun 30, 2020
Well, that turned out to be a pleasant surprise.  What began as minor short covering early in the corn market evolved into a rush for the exits as bears trampled over one another to try and get there first.  Politeness and common courtesy are the first to be cast aside when there is a dollar to be captured. Corn understandably witnessed the lion's share of the buying, which helped lift or at least stabilize others in the fold.  Prices have extended higher again this morning, and it might come as a surprise for some to know that if we closed right now, for the month, nearby corn would be 4-cents higher (second month in a row) and December corn unchanged.  Wheat has not fared out quite as well with nearby futures are currently 39-cents lower, but nearby beans are 30-cents higher, and November futures are up 14-cents.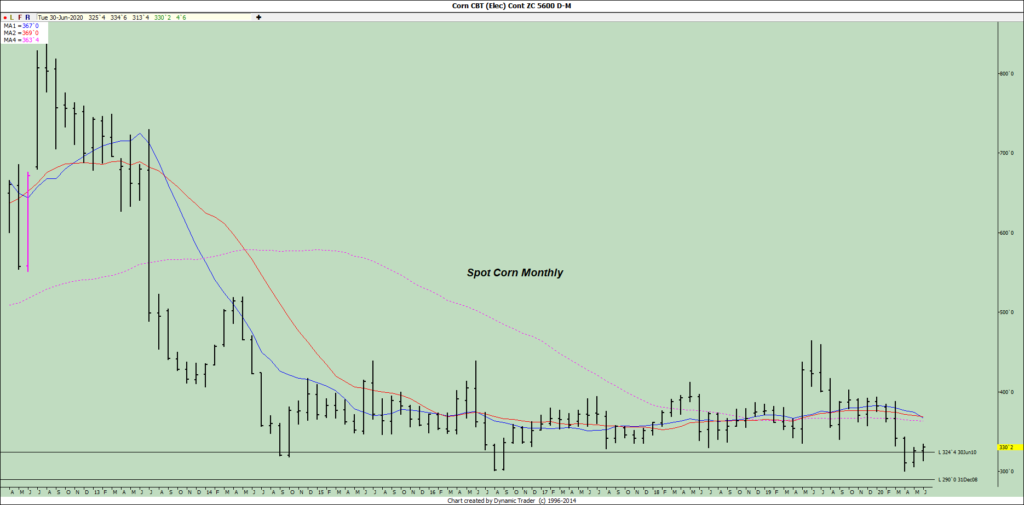 Considering that we have two reports to be released yet before the close today, I probably should not be counting these chickens before the eggs hatch.  Undoubtedly, the acreage number will be the release that will generate the most interest, but here again, are industry survey estimates for both acreage and grain stocks.  Corn acres are expected to be around 95.2 million (-1.8 mil.), beans at 84.7 (+1.2 mil.), and all wheat at 44.7 (+100k).  June 1st corn stocks are estimated to be 4.95 billion bushels, beans at 1.39, and wheat at 980 million.
There was nothing particularly enlightening in the weekly crop reports as just about anywhere rain had fallen, there was an increase in the ratings.  The net result was an increase of 1% in the good/excellent category for both corn and beans.  This places them at 73% and 71%, respectively.  Sorghum conditions slipped 2% and now stand at 45% good/excellent, compared with last year at 73%, and spring wheat dropped 6 points coming in at 69% good/excellent.  Winter wheat harvest moved forward by 12 points, reaching 41% complete, which is right at the 5-year average.
While off to a slow start, wheat harvest has begun in Russia as well, with an estimated 193,000 MT reaped thus far.  This compares with 1.5 MMT at this time last year.  As expected, the early yield reports have not been stellar, 2.12 MT per hectare vs. 5.26 last year but that has not stopped prices at Black Sea markets from pushing lower.
In the southern hemisphere, we find that the safrinha corn harvest has advanced to 15% complete.  This compares with nearly 27% last year and an average of 13%.  Dr. Cordonnier bumped his corn estimate up 2 MMT to 98 MMT because of an increase in the acreage estimate, still 3 MMT below the last USDA estimate.  The Argentina corn harvest has reached 78% complete compared with an average pace of 48.5%.  In both nations, farmers are trying to stay ahead of swarms of invading locusts.
Just as we are adapting to life with COVID-19, researchers in China have thrown out a warning of the potential for another virus that could be transmitted from animals to humans in a study published this week.  In this case, a strain of H1N1 influenza, labeled G4, has shown up in blood samples of workers at hog operations where the virus was found in the pigs.  While they stated there appear to be no imminent threat to humans, it has the hallmarks of a candidate pandemic virus.  One has to imagine that the Chinese are being exceptionally careful, not only because of the toll another virus could take on their country but also because of the poor manner in which the informed the rest of the globe concerning the spread of COVID-19.  Keep in mind that there is no evidence at this point that the disease has spread any further than this.