Published on:
09:50AM Oct 04, 2019

Grain and soy markets are trading softer as we move into the final few hours of this week, but for the week as a whole, except for wheat, which really did not receive any positive news on Monday, we are looking at solid gains.  If we finished right now, December corn would be up 15-cents, November beans up 27-cents, and December wheat unchanged.  Take note that this will be the highest close in December corn since mid-August, and we sit on the cusp of turning long-term technical indicators positive.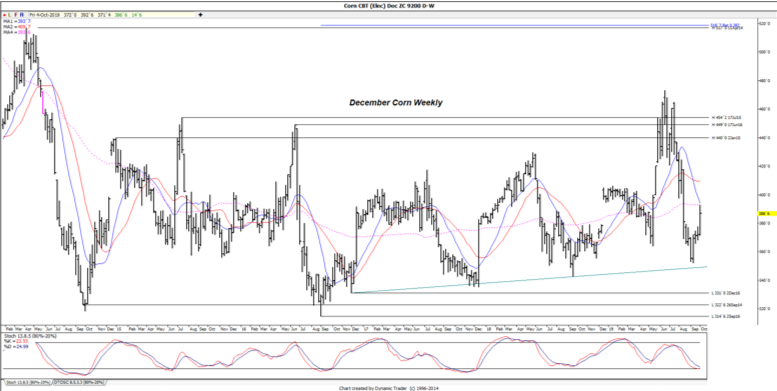 While it should be announced by the time you read this, the White House is reportedly going to publish its new biofuel guidelines yet this morning.  It is widely anticipated it will provide a nod to biofuel/ag sector so it is possible we will have been tossed two bones this week.  
With rains moisture predicted to begin moving out of the heart of corn and bean country, harvest activity should be in the increase next week, but as saturated as fields are in many regions, progress will still be slow to start.  I was stunned by the amount of water flowing in ditches, across waterways, and even roads as I traveled home yesterday. 
Harvest and or planting progress in other areas of the globe continues at a snail's pace as well.  In France, it is now estimated that 6% of the corn has been harvested, which has doubled in the last week, but remains well off last year's pace of 42%.  No progress was made in planting soft wheat and only a 1% increase in the planting of winter barley.  In South America, we find that corn planting in Argentina increased by 4.6% for the week and now stands at 20.6%.  In Brazil, there has been a pickup in rainfall in several areas, but overall certainly nothing that would compensate for the deficit just yet. We should have a planting update next week.
Next week as well, we shall have the October Production and Supply & Demand reports on Wednesday, which could provide a few more surprises.  Will there finally be some resolution concerning the prevented plant acres, which the FSA says amounted to 11 million corn and 4 million beans?  We shall see. 
Considering all the volatility, not to mention losses, we cannot close out the week without mention of the equity markets.  While we did recover well from the extreme yesterday, both the DJIA and S&P 500 are poised to suffer one of the most significant weekly setbacks in two months.  I would not go so far as to say we have tipped the scales lower just yet, growing concerns of a global slowdown accentuated by the ongoing trade war appears to be the driving force.  A resolution between the U.S. and China next week would be welcome news for both the Ag and Equity markets.  I should point out, though, that this month does mark the 90-year anniversary of the infamous crash of "29."