Published on:
10:13AM May 26, 2020
With the Memorial Day weekend now behind us and just a handful of days ahead to finish out the month of May, corn, and bean markets are showing us a little resiliency this morning as the attention shifts even more so to the uncertainty of the next 60 to 90 days of growing weather.  Weekly planting updates will not be released until this afternoon, but the trade will be looking for something along the lines of 90% completion for corn and 70% for beans.  A year ago, corn planting had yet to reach 60%, and beans were less than 30%.  The one state that continues to struggle this spring is North Dakota, which may not have reached the 50% threshold for corn planted, and with the prevented plant date rapidly approaching, one has to suspect that not planting could be the choice for more than a few this year.  Pile this on top of the financial debacle that has occurred in the shale oil business, and the outlook for that state would appear bleak indeed.
In light of the performance of the Real, China understandably continued to actively import beans from Brazil during April.  For the month, they unloaded 5.94 MMT, which was up significantly from weather plagued April when just 2.10 MMT came from that nation and even eclipsed the year-ago imports of 5.79 MMT.  Total bean imports for the month registered at 6.71 MMT, of which the U.S. sent 665,591 MT.  Last week there were again a number of rumors circulating that China has been purchasing additional beans from the United States as we are competitive for the August forward slot when supplies have dwindled from the Southern Hemisphere, and indeed, we have confirmation of business this morning. The USDA reports that 264,000 MT of beans have been sold to that nation, of which 66,000 are for the current crop year and 198,000 for next.  In addition to this, we sold 216,000 MT of soy meal to unknown destinations for the current crop year.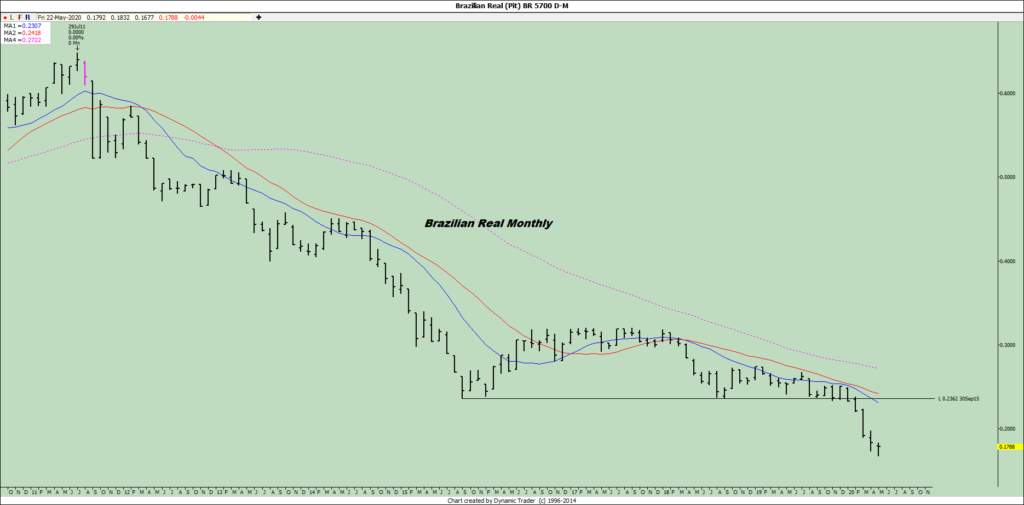 During the month of April, China imported a record 400,000 MT of pork. This was up 170% from the same month a year ago and brings the calendar year to date total up to 1.35 million MT.  Imports of beef were 28% higher than a year ago at 160,000 MT bring the YTD number up to 680,000 MT, up 54%.
As long as we are still on the topic of China, they and Australia continue to lob accusations at each other, as well as a tariff thrown in here and there for good measure.  Obviously looking for a little global sympathy, over the weekend the Chinese Commerce Ministry is quoted to have said, "Since the establishment of diplomatic relations between China and Australia, this case of Australian barley is the only trade remedy launched by China against Australia" and "In the same period, Australia has launched 100 trade remedy investigations, including three cases, against China this year."  I am sure most of you are reaching for the tissues right now to dab the tears from your eyes, but when I hear something like this, the first thing that comes to mind is that Australia was probably showing restraint in that they only lodged 100 complaints against the known bully.  Maybe I am just cold-hearted, though.
Ukraine has officially reached its self-imposed cap of 20.2 MMT of wheat exports this year with another month left in the season.  Never fear though, as evidently, that was a soft cap, no pun intended.  A deputy economics minister has stated that no restrictions above and beyond the cap will be put in place.
Large specs continue to pile it on in the corn market as, during the week ending the 19th of May, they sold another 22,500 contracts of corn futures.  This swells to the total to over 290,000 contracts, of which 85% is held by managed money.  If one of these traders held their hand over the railing on the ship, they would touch the water.  Large specs also sold a combined Chic/K.C., 33,700 contracts of wheat, and just over 20,000 beans, which swings them back to the short side in the latter.  Even with the selling in beans, Managed Money remained net long, just over 12,000 beans, and were buyers in bean oil, moving them to a net long position as well.
Early harvest of safrinha corn has begun in a few states in Brazil but not enough to develop any yield projection as of yet.  The southern reaches of that country have seen an increase in rainfall, which should still be beneficial for later planted corn.  In Argentina, the Buenos Aires Grain Exchange reports that 93% of the beans have been harvested and just over 43% of the corn.
A good swath of the major corn and bean areas in the U.S. witnessed rains over the weekend, and the 6 to the 10-day outlook appear mostly favorable. The far northwestern regions of the belt could be the exception.  This past weekend I had the opportunity to travel across parts of Northern Illinois and Southern Wisconsin, and the only comment I could add is that in Illinois if things dry out soon, there will be quite a bit of replanting to take place.
Looking at the macro markets as we begin the week, it would appear there is a growing sense of optimism that the world is emerging from lockdown.  Energies are higher, equity markets have exploded higher, and the dollar is under fairly sharp pressure.