Published on:
08:25AM Jul 28, 2011
Justin had two close calls on Michigan turkey hunt
I'm just rehashing some memories of this spring's turkey hunt with Justin Moore up in Michigan. Even if we didn't load up the back of the RAM with a bunch of long-bearded strutters, we still had a great time. And we found a little time to get some promo work done for the show. I don't remember exactly what was happening or what was said to get us laughing in this picture, but it's a good example of the fun we had...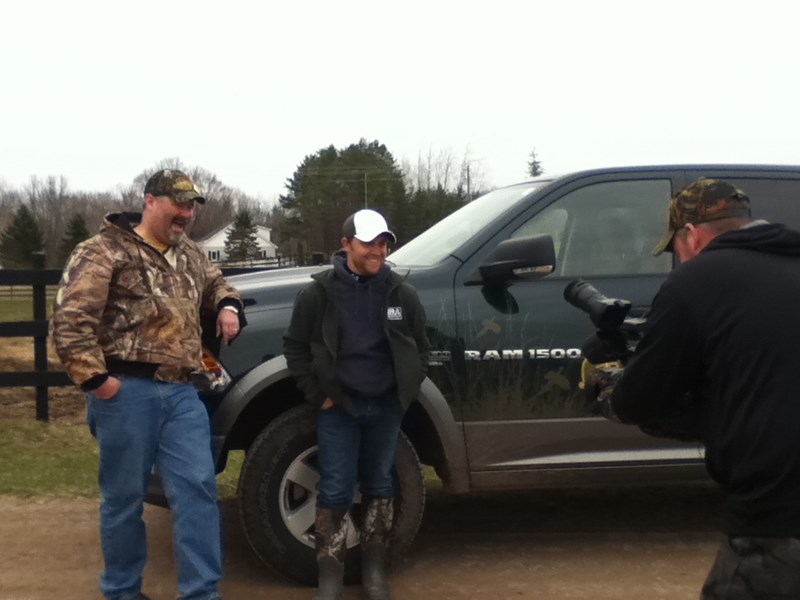 Here's a quick recap of how the hunt went:
It was me and Justin in one blind with his manager Pete and cameraman Eric in the blind next to us. I got a hen to come in... right into the decoys. She was putting and clucking and yelping... she sounded like a turkey ice cream truck calling the kids to the street! We were able to keep her in the decoys for at least 20 minutes... I told Justin she was doing a lot better job of calling than I could do so we wanted to keep her close.

Finally, a tom explodes just over the ridge. I basically asked Justin if he had a favorite recipe for wild turkey because I knew that hen would pull him in. He crossed in front of us at about 65 yards and all we could see of him was his blue head plodding along behind the crest of the ridge. When we got a look at his full body, he was a really nice tom... about 75 yards away and in full strut trying to get my flock of decoys to come his way. (Oh... we had about a half-dozen deer in front of the blind while this is going on.) After about 10 minutes, he dropped off the back side of the ridge, popped up on the other side, ducked into the hardwoods and just teased us for the next 45 minutes. We had to leave without a bird that afternoon.

Tuesday morning, we set up Justin and hunt winner Mike Oelschlager in the blind with me on the ridge behind to do the calling. Shortly after the robins started singing, two or three toms gobbled behind us and to the right. I called after they hit the ground and they started moving down the hardwood draw. I figured it was a done deal... when they hit the open pasture at the end of the hardwoods, they'd see the hen decoys and make their move over to where Justin and Mike were set up. I called again to check their location... they were working along nicely. Called one more time... got an immediate response and heard and immediate gun shot. Somebody (not in our group) was sitting at the bottom of those hardwoods and shot a bird right out from under Mike and Justin! I couldn't believe it...

You'll see all this in the show this fall... along with a tour of the ranch and what ranch manager Eric Cherry is doing to improve the deer, turkey and upland bird habitat on the property. That alone is worth watching!

Aside from the fellowship and good times, you'll also have to watch this show to get a look at the fireside "concert" by Justin. It was an awesome night of music and fun!

Here's a look at the crew we had in Michigan.

 

Left to right: Jeremy Stover (wrote theme song for the show with Justin and is a co-writer and producer on Justin's first CD as well as "Outlaws"), Tom Flory, me, Emily Flory, Mike Oelschlager, Justin Moore, Pete Hartung (Justin's manager). (What a crew...)
Don't forget...
If you can't watch on RFD-TV every Thursday at 7:30 a.m. CT or Saturday at 10:30 a.m. CT, you can always watch the shows here on the web site.
And most importantly, keep on having fun outdoors on the farm!